In 2020, business leaders across the world pledged to increase their commitment to diversity, equity, and inclusion (DEI) initiatives. Three years later, executives report mixed results from their efforts—and wonder why they don't see more progress. 
As business leaders question where they're missing the mark, an overwhelming number of employees want their companies to continue pushing forward with DEI initiatives. 
A study from JUST Capital reveals that 92% of U.S. workers think it's important their companies promote racial equity in their workplaces. A survey from GoodHire reports that 81% of workers would leave their jobs if their employers did not sufficiently commit to DEI causes. Business leaders say they are even more in favor of DEI initiatives, with 87% claiming they'd walk away from their jobs if their companies' DEI efforts were lacking. 
The numbers suggest that employees and employers still want to create more diverse, equitable, and inclusive workforces. But with the results not reflecting those ambitions, what are companies doing wrong—and how can they improve?
Discover why investing in DEI is not an overnight process—and four steps business leaders can take to see real long-term results. 
Improving DEI: Why Recruiting Diverse Talent Is Just the Start
If you're an HR or business leader disappointed by the lack of progress from your company's DEI efforts, remember one thing: Change takes time—especially when it comes to something as complex as increasing representation and inclusion in your workforce. 
DEI work is "not for the faint of heart," award-winning Workplace Culture & Inclusion Strategist Christine Lindor said, who has over 20 years of management consulting experience for firms such as Deloitte, EY, and IBM. 
"There are some organizations that were already steeped in [DEI] work and really focused on it, and the summer of 2020 just accelerated and helped further prioritize this work," Lindor said. "But then you have a lot of organizations that, all of a sudden, started to do things or started to be very declarative publicly about their commitments, and we've seen a lot of organizations, especially the ones that started to do this in 2020, many of them started to backpedal."
Many companies that have backpedaled on their DEI efforts did so because they became discouraged by the slow progress. By expecting to find an immediate solution to an enduring challenge, these companies approached their DEI efforts with unrealistic expectations—and set themselves up for disappointment. 
The good news is that your company can achieve the DEI gains you want to see if you take a patient and multi-faceted approach. 
Here are four steps you can take to do just that. 
Step 1: Source Diverse Candidates
Boosting DEI starts with creating a more diverse workforce—and increasing workforce diversity starts with expanding your hiring pool. 
To attract more diverse candidates, broaden your channels for recruiting and sourcing talent. This means going beyond your immediate network (which is especially important for men, whose professional networks skew 65% male).
Working with professional organizations, community networks, and advocacy groups is a great way to start. When you build relationships with leaders in these organizations, you give yourself recruiting allies who understand your needs and goals and can continually refer the qualified, diverse candidates you need to meet them.
There is no shortage of organizations you can partner with to access diverse talent. Here's an extensive list you can start with. 
Hiring across borders is another way to create a more diverse workforce. Going global allows you to boost diversity in many ways—from geographical to cultural. While building a distributed workforce might seem daunting, it's much easier than you think. Find out how working with an employer of record (EOR) helps you compliantly hire, pay, and manage global talent so you can focus on finding and supporting the candidates your workforce needs to soar. 
Step 2: Reduce Bias in Your Screening Process
While making efforts to build a more diverse workforce, you need to first acknowledge one hard truth: Bias is an inherent human trait. 
No matter how noble your intentions are, your judgment is influenced by engrained, subconscious biases. These biases affect your ability to impartially screen and evaluate candidates, introducing barriers to inclusive hiring that you may not even know exist.
"People might think they don't hold bias, but that's just a fallacy," CandidateX Co-Founder Jon Jacobs said. "Every human being has bias hardwired into us. It's a survival instinct, and it's been systemically reinforced throughout time. Fortunately, there are things we can do to get past implicit bias."
Jacobs co-founded CandidateX, an anonymous hiring platform, to help organizations do just that—reduce bias. CandidateX removes background information from a job seeker's resume, everything from their education history to headshot, and distills their qualifications to their experience and skills. Along with this AI-enabled anonymization technology, CandidateX hosts an e-Learning platform that helps recruiters increase inclusivity. As a result, the platform reduces bias and creates a more merit-based hiring process. 
CandidateX is one of several tools you can utilize to reduce bias during the hiring process. Other strategies include no longer asking applicants for demographic information, creating a more diverse team of hiring managers, and carefully vetting recruiters to ensure they limit bias when sourcing talent. Regardless of what strategies you implement, start with one essential step: recognizing bias is inherent in us all. 
Step 3: Create an Inclusive Culture
One common mistake employers make when attempting to boost DEI is focusing only on diversity during hiring. When business leaders aim only to create a diverse workforce, they neglect a key step: ensuring talent feels welcomed and included throughout their employment experience.
Shereen Daniels, Managing Director of HR Rewired, an HR advisory firm specializing in anti-racism and racial equity, said employers often prioritize diversity at the cost of creating an inclusive company culture. 
"That's because they're not honing in on the reasons why there wasn't the representation in the first place," Daniels said. "They've just [created] the symbols of change, which is hiring more diverse people...It's actually more important making a difference when they're actually there."
As Daniels said, committing to DEI does not stop with bringing in diverse talent. It requires creating an inclusive company culture at every step so employees feel empowered to do their best work, rise within your company, and stick around for the long haul. 
You can jumpstart the process of creating a more inclusive culture by taking three steps:
Take a Top-Down Approach to Representation
Rather than just trying to increase diversity in your workforce, pay attention to where you are placing your diverse talent. Make sure that your C-suite and leadership positions represent the diversity you want to see in your workforce overall. By ensuring that people from historically underrepresented groups are present at the highest levels of your workforce, you show talent that they can climb to any level of your company regardless of their identity.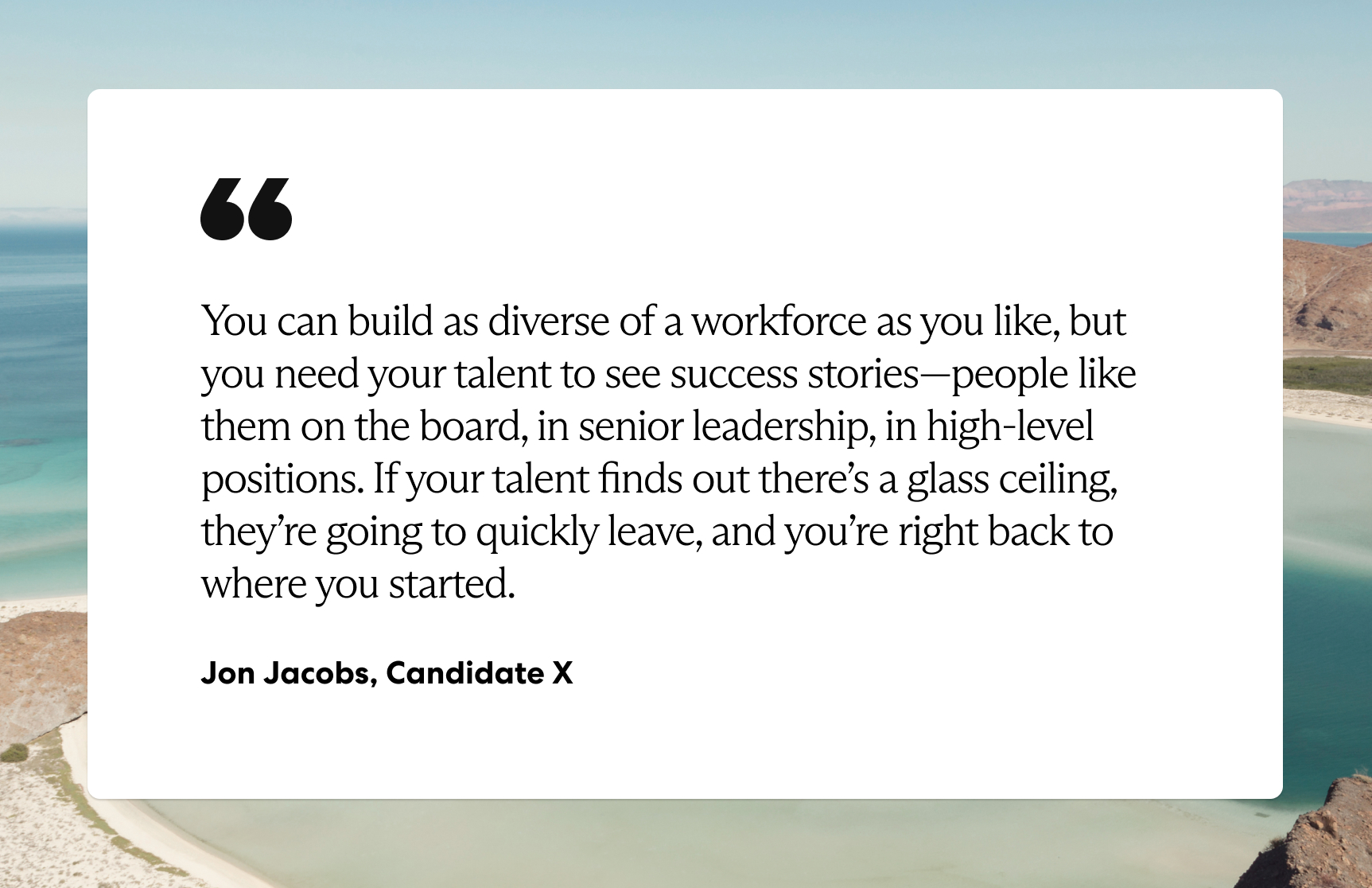 Communicate, Support, and Empower
Once you've secured hires from diverse backgrounds, give them what they need to stay happy at your company for the long term. That means asking your team leaders to regularly check in on talent so they can exchange feedback, offer praise, and identify areas for continued growth. Doing so helps talent advance their careers within your company so they don't feel the need to pursue other opportunities. 
Equally important, regular check-ins add an inclusive human element to your company by ensuring team leaders and managers take the time to make every employee feel cared for and valued. 
Create Internal Diversity Committees 
While no employee wants to be singled out for their identity, people appreciate being valued for their unique perspectives, experiences, and opinions. Create internal committees that reflect the diversity of your company so you can make people feel welcome to share their insights. 
Aside from signaling that you care about what your employees have to say, establishing internal committees helps you better understand the concerns of historically underrepresented groups within your organization. Even better, it allows you to implement and act on feedback from those employees. 
Step 4: Commit to Change for the Long Term
As previously mentioned, pursuing DEI initiatives is anything but an overnight process. Seeing real change demands a long-term commitment—and patience even when progress is not immediately visible. 
As a C-Level executive and member of both the Latina and LGBTQ+ communities, Skillshare Chief Marketing Officer Liana Douillet Guzmán understands the need for taking the long approach to DEI. 
"Real, long-lasting change happens when companies keep up their work after the spotlight fades," Guzmán said. "The underlying need for DEI doesn't go away, so it's important to continue their efforts year round, not just in the wake of a traumatic event."
By adopting a year-round DEI effort, year after year, your company will ultimately see results—even if you have to wait to see them. That's why it's important not to look at DEI as a short-term fix but as an essential component of your long-term business strategy. 
"DEI…is one of those fundamental core values…You determine how you weave that throughout so that it becomes a practice," Lindor said. "It just becomes how we do business as opposed to one of the things we do."
Retaining Diverse Talent: Work With a Global Leader 
Building a more diverse, equitable, and inclusive workforce takes time. Make it easier to get started by working with a partner to broaden your talent pool by hiring worldwide. 
Since 2014, Velocity Global has helped more than 1,000 companies hire and support talent worldwide. As an EOR in over 185 countries, Velocity Global gives companies like yours the ability to boost diversity by building teams virtually anywhere. 
In addition to removing the barriers of global hiring, we make it easy for you to manage talent anywhere. Our Global Work Platform™ gives you one place to streamline everything from onboarding to payroll. Even better, it seamlessly integrates with recruiting and screening platforms like CandidateX, helping you boost your DEI efforts by removing bias from your hiring process.
Reach out today to find out how we can help you advance your DEI strategy by hiring across the globe.
Share via: