In a global economy, attracting and retaining top talent is essential for companies competing on an international stage. Attrition remains a key challenge for employers and HR teams who must meet the needs of a distributed workforce in multiple countries.
Offering on-demand access to flexible workspaces around the world is one way to give your company a competitive edge in today's hiring market by helping your international employees feel valued and do their best work wherever they are.
Below is a look at how offering employees access to flexible workspaces helps global employers attract and retain top talent worldwide.
A flexible workspace is a full-service workspace designed to provide employees and teams with various ways to work depending on their unique needs. Examples include coworking spaces, hot desks, private meeting rooms, and open offices.
In today's world of remote work, talent desires flexibility and control when it comes to their working environment. Working from home is not always the right solution for remote employees, so having on-demand access to nearby flexible office space allows employees to do their best work in an environment that promotes focus, productivity, and in-person collaboration.
Employees today are not afraid to leave a job and seek opportunities elsewhere if their employer does not provide the competitive perks they need to feel valued and set up for success. Adding flexible workspaces to your unique employee benefits packages sets you apart from the competition and gives your talent what they need to stay engaged and productive.
Likewise, employees who are happy with their employer's global employee benefits packages are more likely to be satisfied with their jobs and stay loyal to their employer. Offering flexible workspaces is an effective way to give yourself a competitive edge and retain top talent across borders.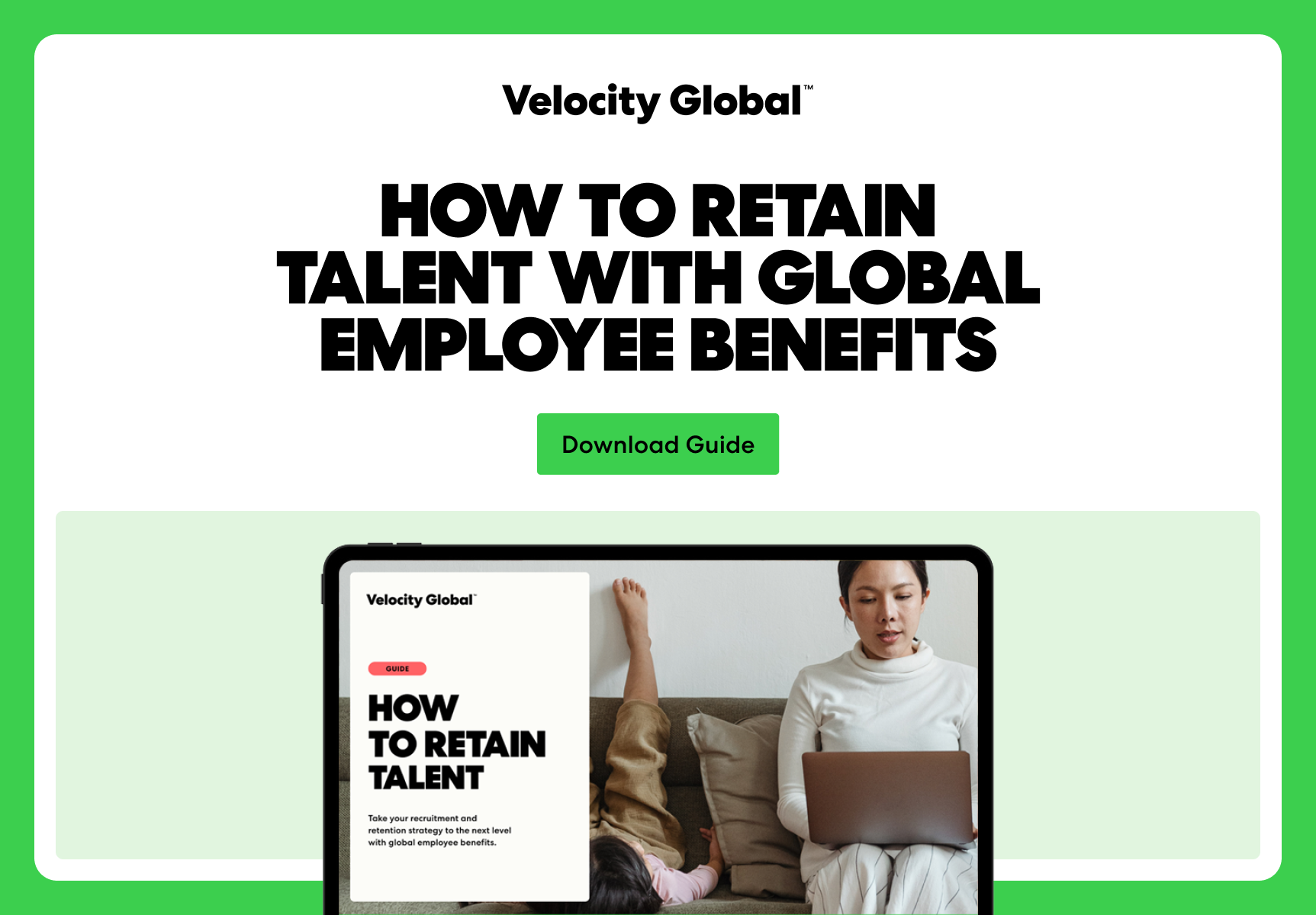 Flexible workspaces refer to a wide range of office types that help increase flexibility for remote talent, encourage collaboration, and reduce office space costs. Coworking spaces are just one example of a type of flexible workspace.
Specifically, coworking spaces are not restricted to just one company or team. They can host several companies and provide on-demand desks or office rooms to individuals at hourly, daily, weekly, or monthly rates. On the other hand, some flexible workspaces may be used by just one company and tailored to their preferences.
1. Happier Employees
With the rise of remote work, more employees want to work from locations that suit their needs and lifestyle—whether working from home, in a coworking space, or in a different city or country.
When employees have access to a global network of flexible workspaces, they can find a workspace that is convenient for them no matter where they are. Employees have more control over their work environment and can thrive in a space that works best for them.
2. Increased Productivity and Collaboration
Access to flexible workspaces also provides employees with new and different environments that can inspire creativity and innovation. This benefit is especially relevant to coworking spaces, which often bring together employees and businesses from various backgrounds and industries. This diversity of perspectives can lead to new ideas and approaches to work.
3. More Work-Life Balance
Providing employees with increased flexibility regarding when and where they work helps them balance their professional and personal lives. Work flexibility is especially important for employees with family obligations, long commutes, or no access to a stable and secure WiFi connection at home.
When employers give their teams more flexibility in choosing their work location and schedule, employees experience improved work-life balance, which boosts their productivity and satisfaction while reducing stress and burnout.
4. Better Connections and Engagement
Company culture is a critical differentiator in securing top talent. Two-thirds of employees say company culture is among the most important reasons for whether or not they stay with their current employer.
Employees with access to a global network of flexible workspaces feel more connected to their company and more involved with its culture. Employees who work from a convenient location are more likely to feel engaged. This benefit is especially significant for international employees who may feel isolated or disconnected from their colleagues and the company's headquarters.
5. Stronger Trust
Employers show that they trust their employees when they empower them to choose when and where they work. Showing trust means showing respect, which positively impacts employee performance and improves employee retention.
Plus, when employers demonstrate that they trust and respect their employees, trust and respect are reciprocated—leading to higher morale, better teamwork, and more innovation.
6. Cost Savings
Renting an office for a single or just a few remote employees requires significant financial investment. The overhead costs, such as utilities, maintenance, insurance, office furniture, and equipment, can add up quickly.
Providing flexible workspace solutions as a fringe benefit helps employers save office space costs since most flexible workspaces are already equipped with necessities like high-quality desks, meeting rooms, and telecommunication hardware.
Companies that use a flexible workspace provider can save on office space costs. Reinvest these savings—and the savings accrued from using online collaboration tools—into building a top-tier team across borders.
Employees everywhere want to avoid feeling stuck in an office or their home. Now, remote employees can use flexible workspaces that meet them where they are in work and life.
Velocity Global helps you stay on top of today's changing marketplace and attract top talent around the globe. Our Flexible Office Space solution offers access to over 10,000 flexible workspaces in 120+ countries so you can help global talent do their best work while you stay on top of the competition in today's hiring market.
Contact Velocity Global to learn how we can help you build top-tier teams across borders with tailored rewards packages that include flexible workspaces.
Share via: