After months of sourcing, interviewing, and evaluating an endless parade of job applicants, you've finally found the ideal candidate for a hard-to-fill role. You extend a job offer and wait for their response.
And wait.
And wait some more.
After what seems like an eternity, your dream candidate breaks the silence with an answer you didn't want to hear: They have chosen another employer.
Your search continues.
As you go back to the drawing board, you can't help but wonder why your target hire chose another employer. The obvious job considerations jump out—pay, title, time off. But one factor that HR teams often overlook is global employee benefits.
In a fiercely competitive global hiring landscape, benefits often make the difference between whether employees choose to work for your company or another employer. Just ask the 49% of employees who will leave a new job within the first year because of dissatisfaction with their benefits. That's why it's more important than ever that you offer talent the benefits they want—no matter where they are.
This blog explains everything you need to know to make global employee benefits a core component of your international talent acquisition and retention strategy.
Global employee benefits are any form of non-wage remuneration as part of a global compensation package provided to talent for their time, labor, and expertise.
Some global employee benefits, such as medical plans and life insurance, offer peace of mind to talent and their dependents should the worst occur. Other benefits, like paid time off, empower talent to better manage their work-life balance. Examples of global employee benefits include:
Supplemental health insurance. The most common benefit employers offer, health insurance covers everything from routine doctor's appointments and prescription drug costs to hospital visits, major surgeries, and more.
Dental insurance. While some employers include dental insurance in their general health insurance packages, other employers provide standalone dental plans.
Vision plans. Like dental, vision is sometimes included in health insurance packages but is often offered as an individual benefit.
Life and AD&D insurance. Life and accidental death and dismemberment (AD&D) plans offer protection for an employee's family in the case of unforeseen adverse events.
Retirement benefits. Common retirement benefits include pension plans or employer contributions to country-specific retirement programs.
Paid time off (PTO). PTO offerings differ around the world. For example, many European employers are required to offer five weeks of paid vacation every year, while other companies across the globe offer unlimited PTO.
Parental leave. Separate from PTO, parental leave guarantees time off for employees as they navigate pregnancies and/or take care of newborn children.
Education benefits. Some companies pay for their talent's continuing education or reimburse them for student loan debt.
Download our guide to learn more about how offering comprehensive benefits packages helps you attract and retain top talent: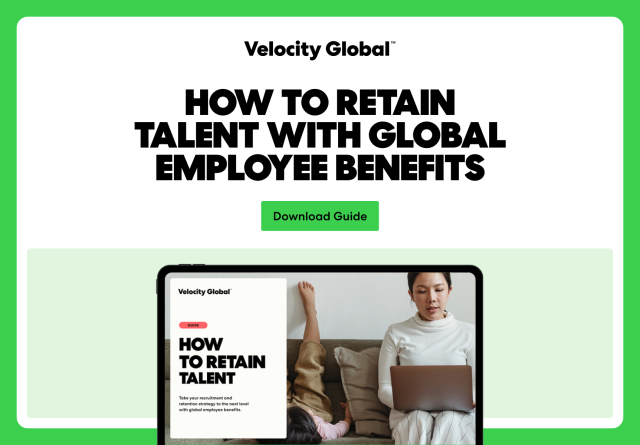 Offering global employee benefits is a must for any HR team that builds and runs a workforce across borders. Here are several reasons why.
Reason 1: Local labor jurisdictions require global employee benefits
Every country mandates that employers offer certain benefits, known as statutory benefits, to their employees. Failing to meet statutory benefits requirements subjects employers to:
Fines
Legal fees
Business interruptions
Reputational damage
We'll go into more detail about statutory requirements later.
Reason 2: Global employee benefits boost talent retention
Retaining the right talent often feels like an endless uphill battle for HR teams. New global workforce dynamics only compound the problem. The biggest emerging challenge? Record-setting turnover means talent is more willing than ever to walk away from employers.
The following statistics from McKinsey & Company indicate the percentage of talent that is likely to leave their jobs in 2022:
Projected turnover rates by country in 2022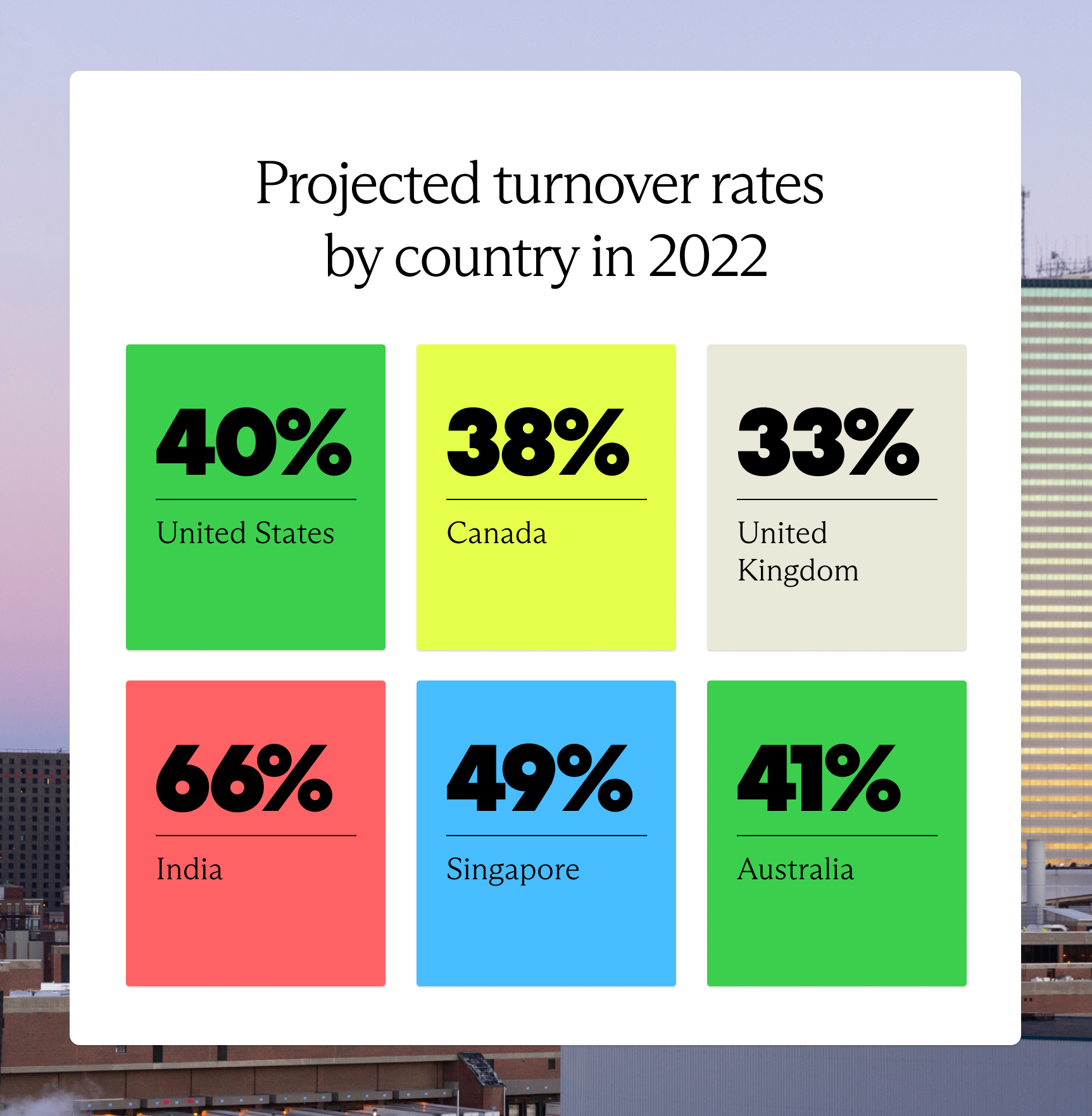 Turnover at those rates makes life significantly harder for HR teams. Consider the time and costs associated with replacing talent:
The high cost of turnover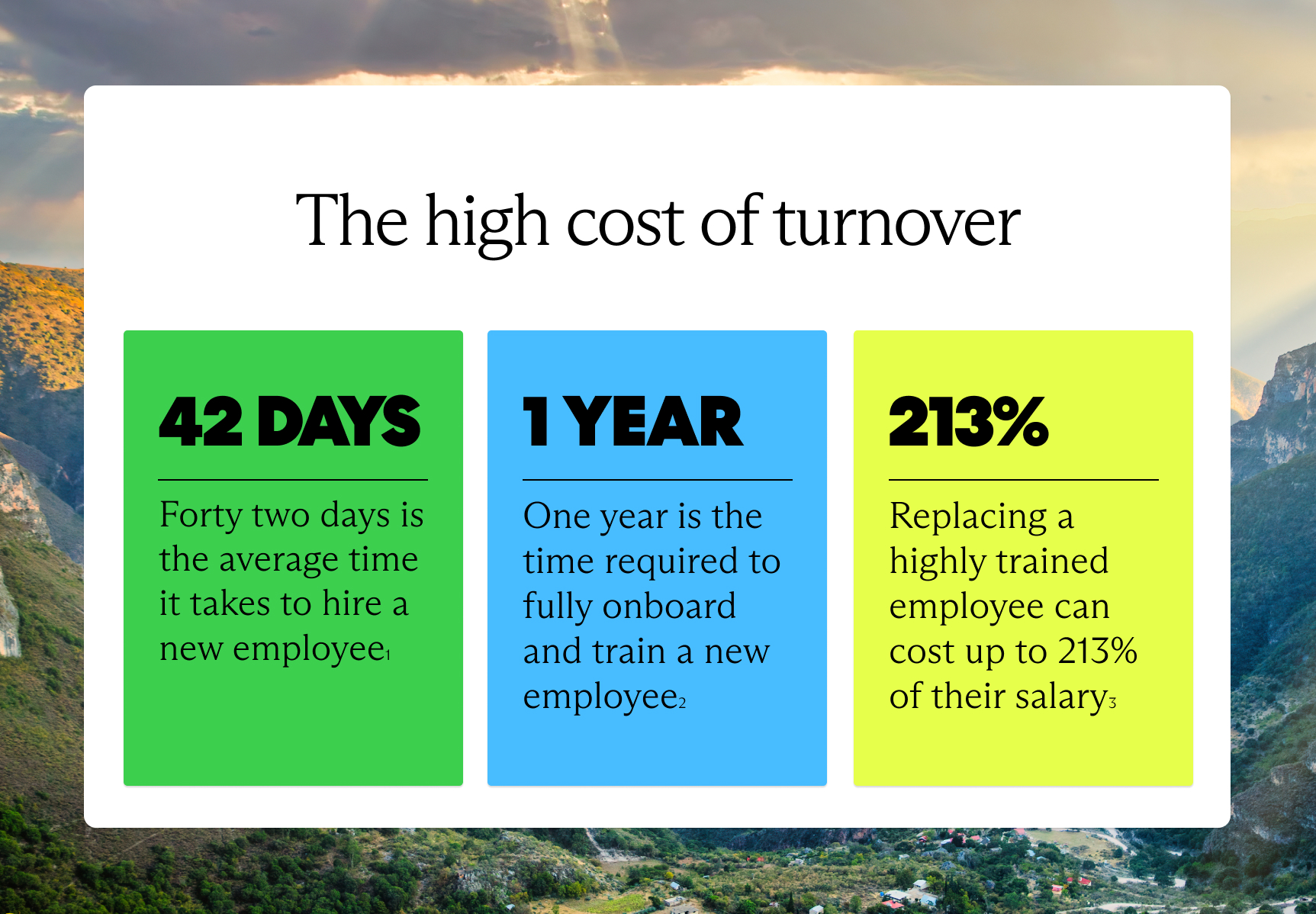 Image sources: ¹SHRM, ²SHRM, ³Center for American Progress
In the face of such high turnover—and the high costs associated with finding, hiring, and training new employees—HR must go above and beyond to keep their current workforce happy.
That's where global employee benefits come in. Offering total rewards packages that talent wants helps you increase employee loyalty.
A 2022 MetLife study reveals that 66% of employees say comprehensive benefits packages are a must-have. According to the study, employees that are satisfied with their benefits packages are:
2x more likely to report being satisfied with their jobs
70% more likely to remain loyal to their current employer
At the same time, benefits that address the holistic needs (physical, financial, mental, and social) of employees also help boost retention. The MetLife study reveals that employees whose holistic health needs are met are:
74% more likely to be satisfied with their current job
51% more likely to stay at their current organization in 12 months
The logic is simple: When employers make their employees' lives better, they give their talent more reasons to stay—and less incentive to pursue other opportunities. Gergo Vari, Founder and CEO of IT company Lensa, sums up the appeal of benefits while making the case that some employees prioritize them even more than pay: "If you want people to keep working for you, they need competitive salaries and benefits, or they will look elsewhere," Vari says. "I have seen people take a pay cut just to have benefits."
Reason 3: Global employee benefits give you a hiring edge
While high turnover causes headaches for HR teams struggling to hold on to top talent, there is good news for employers: Hiring rates outpace resignation rates. In the U.S., for example, employers added 263,000 jobs in September 2022. While not quite reaching the peak of the 714,000 jobs added in February 2022, September's numbers speak to stronger-than-normal hiring.
The increased hiring rates show that the majority of talent isn't leaving the workforce altogether—they're just looking for better opportunities elsewhere. Talent's willingness to seek new jobs creates a prime opportunity for employers like you: By making yourself an ideal landing spot for a growing wave of qualified job seekers, you can use high turnover to add top talent to your workforce.
Offering the right employee benefits helps you gain the hiring edge you need to attract top global candidates flooding the talent marketplace. That's because while many employers talk about the importance of benefits, few actually make benefits packages a core part of their talent acquisition strategies.
Consider the following stats: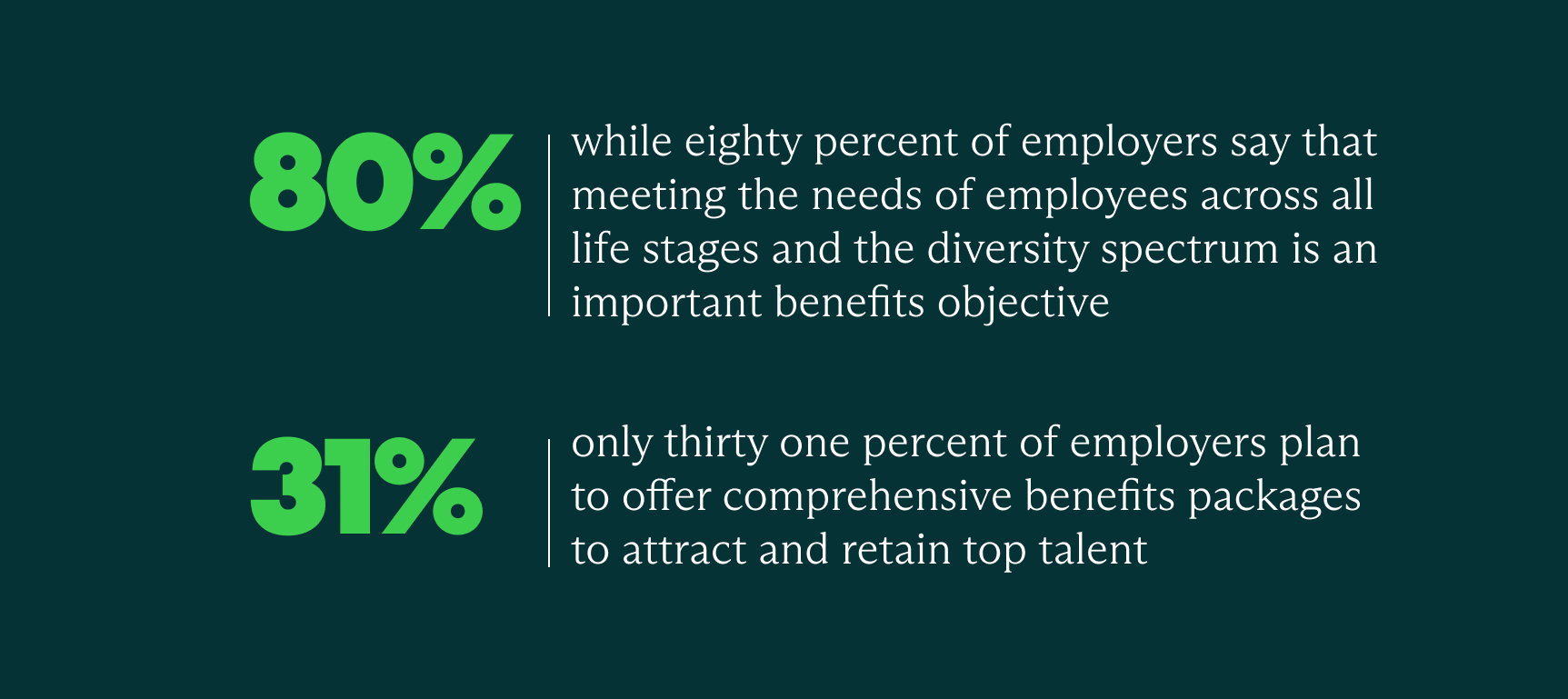 Source for both stats: MetLife
Why the disparity?
The short answer is that administering global employee benefits is a tedious, time-consuming task. Especially since HR teams already have their hands full keeping hiring goals on track, caring for their talent, and handling a world of workforce challenges. These tasks add up to a heavy workload:
42% of HR teams report that they struggle under the weight of too many responsibilities (SHRM)
87% of HR leaders have felt their workloads increase over the pandemic (HRD Canada)
Despite these challenges, delivering the right global employee benefits packages is well worth the time for HR teams. Talent's benefits expectations differ in every single country. When you take the time to understand the benefits employees want in their unique locations, you show them that you prioritize their needs. Because many HR teams do not have the time or resources to administer these country-specific benefits packages, you can separate yourself from a crowded field of competitors by tailoring your benefits plans to each market.
To make global employee benefits a core part of your talent acquisition and retention strategy, you must understand the difference between two primary benefits categories: statutory benefits and supplemental benefits.
What are statutory benefits?
Labor authorities in every country require employers to offer certain basic benefits to their employees. These mandatory benefits are known as statutory benefits. Common examples of statutory benefits include enrollment in government healthcare plans, life insurance, paid time off, pensions, and workers' compensation.
Learn more about statutory benefits.
What are supplemental benefits?
Top talent often wants more protection than statutory benefits provide. That's where supplemental benefits come into play. Supplemental benefits, sometimes known as fringe benefits, go beyond statutory benefits and offer more comprehensive coverage for employees and their families. Like statutory benefits, supplemental benefits often include medical, life, time off, and retirement benefits, but at higher coverage levels.
Read more on supplemental benefits in this guide.
Example scenario: Statutory vs. supplemental parental leave in Canada
To understand the greater coverage provided by supplemental benefits compared to statutory benefits, let's say you need to provide a global employee benefits package for a Canadian employee that plans to have children.
Every employer in Canada is required to purchase state-sponsored health insurance for their employees. These national plans allow employees to take up to 15 weeks of paid leave from their employer during pregnancy or after childbirth. During the time away from work, the government will pay part of the employee's salary:
55% of the salary or up to CA$638 per week for mothers
33% of the salary or up to CA$383 per week for fathers
Many employees want to receive full pay rather than just a percentage of their salary when they take parental leave. That's when they'll want supplemental parental leave as part of their overall benefits package. Velocity Global's comprehensive supplemental health insurance in Canada, for example, covers 100% of an employee's salary during parental leave.
Additional differences between statutory and supplemental benefits in Canada include: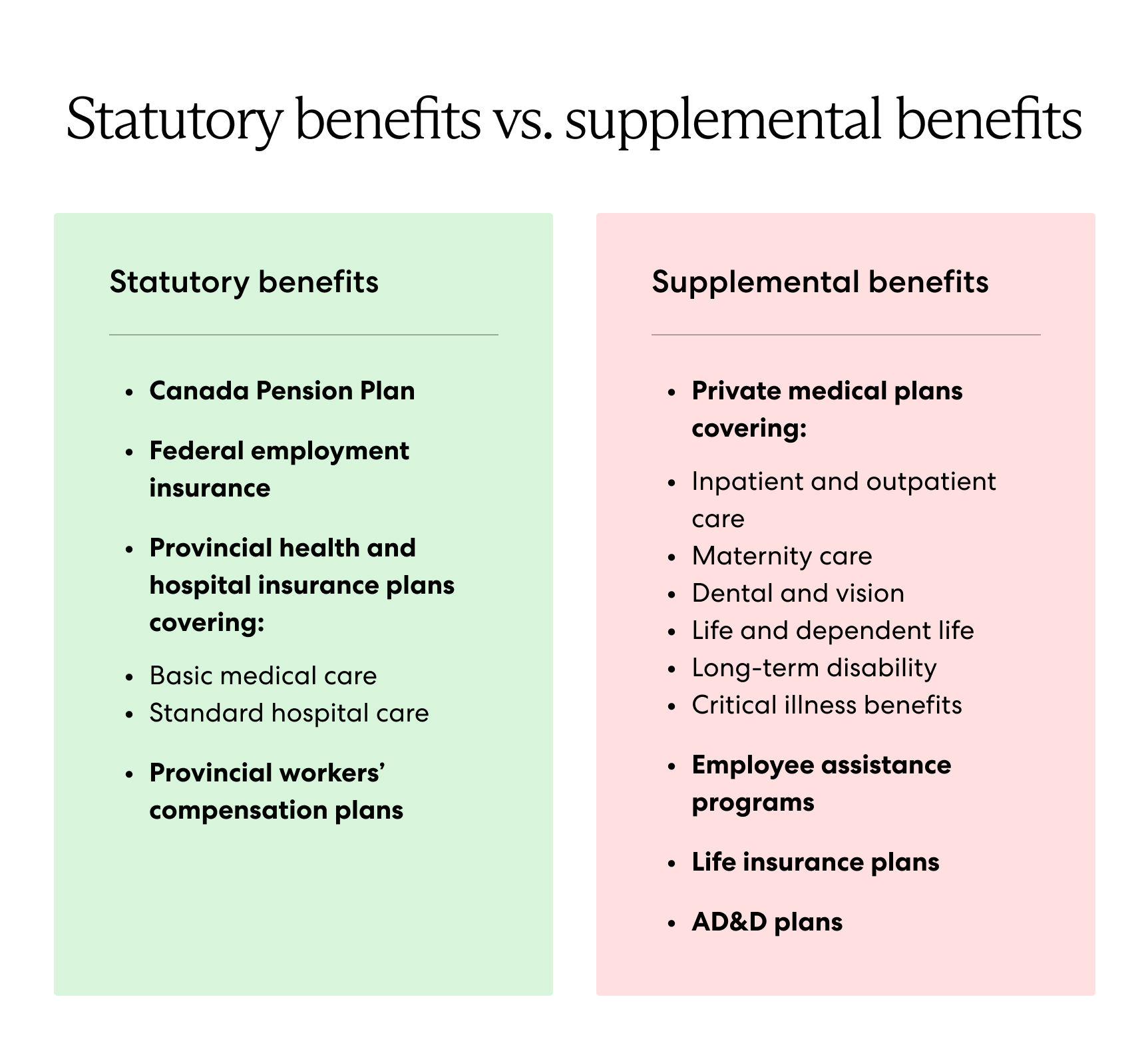 Find more detailed information about Canada's employee benefits in this guide.
Why go beyond statutory benefits?
Technically, you only need to offer statutory benefits to your global employees. But if you want to use benefits as a competitive differentiator when hiring globally, offering supplemental benefits is essential.
Think of it this way: While statutory benefits keep you compliant with local labor laws, supplemental benefits move the needle when it comes to recruitment and retention.
Why? Global employees often expect supplemental benefits even if they aren't legally required. Because local employers are likely familiar with the supplemental benefits employees expect in their markets, you must also take time to understand their supplemental benefits expectations.
Alejandra Martinez-Faiffer, Global Talent Acquisition Manager at Velocity Global, puts it this way: "Supplemental benefits show employees that their employer cares about their well-being. In many cases, we find that candidates see these benefits as more important than compensation."
Ultimately, talent might not know—or care—about the difference between statutory and supplemental benefits. They just want comprehensive coverage that keeps them protected. Chances are, supplemental benefits are part of those packages.
"We tend to use words like supplemental and core," says Tom Kelly, National Voluntary Benefits Leader at Buck Global. "But if I am the average employee, I just want benefits that address my individual needs, support my work-life balance, and give me another reason to want to remain in an organization."
How supplemental benefits drive retention and recruitment
Supplemental benefits are a game-changer when hiring and retaining the world's top talent. Consider the following scenarios to understand how offering the right supplemental benefits can make or break your ability to attract and hold on to global employees.
Scenario 1: Maternity coverage in Mexico
Challenge: After an exhaustive search for a niche C-level job position, you've finally identified the ideal candidate based in Mexico. Your candidate is excited about joining your team but has one major hesitation: His wife is experiencing a high-risk pregnancy not covered by statutory benefits. His acceptance is contingent on you providing a supplemental plan that covers her pregnancy. How can you support his wife's needs to bring him aboard?
Solution: You offer a plan that offers comprehensive coverage for high-risk pregnancies, as well as additional postpartum care and benefits for the newborn child. Relieved that you now offer the coverage his family needs, he accepts your job offer and joins your team.
Scenario 2: Benefits for a digital nomad
Challenge: One of your most valued employees just informed you of her plans to work remotely across multiple countries for the indefinite future. Downgrading her benefits to a statutory level will likely motivate her to find an employer that offers stronger coverage. You want to retain her but don't have the bandwidth to create country-specific benefits packages every time she relocates. How can you support her new lifestyle and keep her aboard?
Solution: Working with an employer of record (EOR) that offers HR and benefits support for global talent, you offer a plan that provides her with comprehensive international coverage across multiple countries. Satisfied with her new plan, she happily remains with your company.
Scenario 3: Coverage for pre-existing conditions
Challenge: One of your company's longest-tenured employees is moving to India to be closer to her family. She wants to continue working for you, but there's a catch: She has a pre-existing condition that is not covered by local statutory benefits. You both want to continue the employment relationship, but you need a way to offer her the coverage she seeks. How can you create and deliver the supplemental benefits she needs to continue coverage?
Solution: You create a new package that includes supplemental medical benefits in India, giving your employee the pre-existing coverage she needs. With renewed peace of mind and an appreciation that you went above and beyond to meet her needs, she continues working for your country while living abroad.
As the world changes, so do employees' needs. It's important that your global employee benefits packages keep up. When you stay up to date on changing global employee benefits trends, you ensure your packages include benefits that make a difference in talent's lives. Read on to discover three global employee benefits trends you need to be aware of—and find out how to adjust your plans accordingly.
Rising healthcare costs
Healthcare costs are on the rise worldwide, adding financial pressure on employers and employees. Consider the following healthcare cost increase projections by region for 2022:
Healthcare cost increases for 2022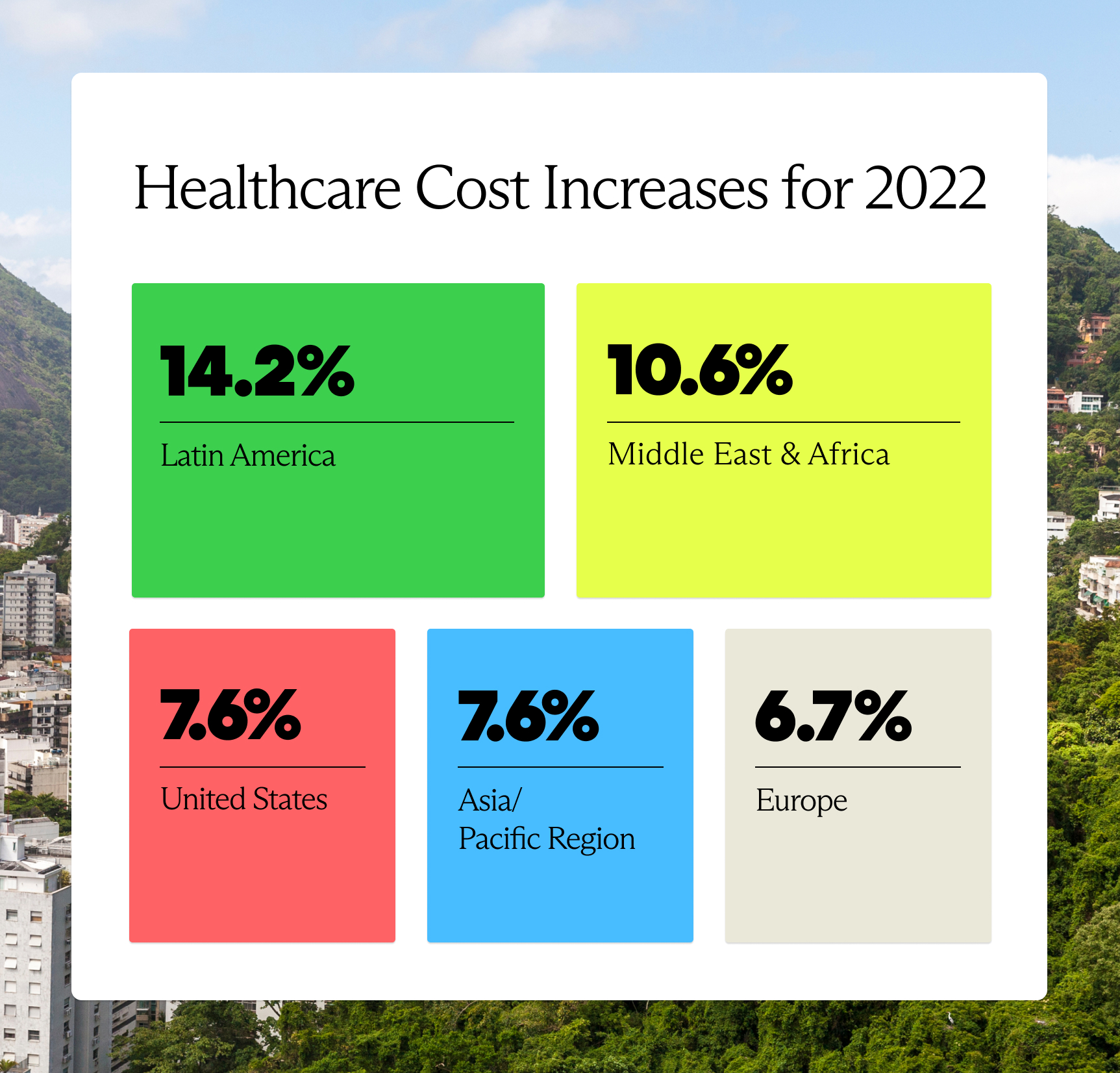 While a variety of factors contribute to the rising costs, COVID-19 is a primary contributor. The pandemic wreaked havoc on healthcare systems worldwide, leading to increased demand for services, high turnover of medical professionals, and the need to rapidly develop new resources and technology to combat a global health crisis.
According to Eric Murray, Global Head of Health and Benefits at Willis Towers Watson, "COVID-19 has produced the biggest impact to global medical trend variation the industry has seen, and we expect the repercussion and volatility from it to extend into 2022 and beyond."
Rising healthcare costs are a source of stress for people across the world. In the United States (U.S.), for example, about half of adults say they have difficulty affording healthcare costs. Concern is high even among insured adults, as 44% worry about affording their deductible before health insurance kicks in.
How you can keep up: Alleviate your employees' fears by offering global employee benefits plans with lower deductibles and supplemental benefits options that cover various medical situations. Though these plans may cost more to administer, they will offer immense value to your talent and help you stand out from other employers offering more basic coverage.
Increased mental health challenges
As COVID-19 caused employees worldwide to re-evaluate the role work plays in their lives, it also increased mental health challenges throughout the global workforce. A recent survey of 1,500 U.S. employees reveals that 68% of millennials and 81% of Gen Z professionals have left their jobs for mental health reasons. At the same time, nearly two-thirds of the same respondents reported talking about their mental health with someone at work over the last year. Meanwhile, 84% of psychologists who treat anxiety disorders say they have seen a rising demand for anxiety treatment since the beginning of the pandemic.
Arthur C. Evans Jr., CEO of the American Psychological Association, says, "These numbers highlight what we have been saying since the early days of the pandemic—we are facing a mental health tsunami. We need to continue to support treatment via telehealth, and we must invest in screening, prevention, and innovative interventions to expand access to various levels of care."
How you can keep up: As Evans says, employers should ensure their global employee benefits plans include access to screening and prevention resources like telehealth services. You can also help your employees address issues affecting mental health by offering employee assistance programs (EAPs). EAPs include care from mental health professionals that help employees work through issues such as:
Depression
Substance abuse or misuse
Workplace conflict or stress
Problems in family life or relationships
Legal and financial challenges
Offering mental health resources such as EAPs helps employees improve their mental health while also showing that you care about their well-being.
More time off for employees
As employees continue to redefine the terms of their employment during the Great Resignation, one key trend has emerged: Talent wants more control over their time—and that often means spending less time at work. In fact, 63% of employees say that life-work balance is a top priority when picking a new job, even higher than compensation and company culture. Because spending time away from the desk is an inherent part of improving life-work balance, it should come as no surprise that 51% of employees say they'd stay longer at a company if they had more vacation time.
Odessa Jenkins, President of HR tech company Emtrain, says that giving talent more time off pays huge dividends for both employees and employers. "Giving your people more time to do what they want to do—to find out things about themselves, to explore—gives you an employee base who is more committed to you, but also more committed to their personal health," said Jenkins. "That's bringing healthier employees and happier employees to [your company]."
Jenkins reaffirms the point that giving employees the benefits they want—in this case, more time off—should be a top-of-mind priority for every HR team. When employees are happier and healthier, they are more committed to your company, more engaged, more productive, and ultimately part of a stronger workforce.
How you can keep up: Offer your employees unlimited vacation time —and encourage them to actually use it. Some employees with unlimited PTO end up taking less time off because they are uncertain about how much vacation they're actually permitted to take. Ensure your employees get time to recharge outside of work by clearly communicating that their unlimited PTO is meant to be just that—unlimited.
Another way some companies are offering employees more time off is by switching to a four-day workweek. During a recent trial program in Britain, 35 of 41 companies reported they were likely or extremely likely to continue the four-day workweek after the trial ended. In the same program, 39 of the 41 companies said productivity stayed the same or improved, while several said productivity improved significantly.
At least one company that switched to the four-day model reports that it helped with recruiting top talent. Samantha Losey, Managing Director of London-based PR firm Unity, says, "We were dying at the beginning of the year trying to find talent, and we were spending money on recruiters left, right and center." Since switching to a four-day workweek, Unity has "never had so many applications."
While the four-day workweek is still an emerging concept, it's easy to see how it helps employees get the time off they need—and also helps employers get (and keep) the talent they need.
Because of differences in statutory benefits requirements and talent's supplemental benefits expectations, you must tailor your global employee benefits packages to each market where you wish to hire. Below are examples of how three common benefits offerings—parental leave, PTO, and holiday bonus payments—differ between countries.
Parental leave
Every country offers different guarantees for paid and unpaid parental leave. Below are some examples.
Bulgaria. Employers in Bulgaria must offer new parents 410 days of paid leave. Employers must also cover 90% of their employee's salary (through social security payments) while the new parents take leave. After using their 410 days of leave, employees can still take paid time off until the child is two years old. During this time, employees are entitled to Bulgaria's minimum monthly salary requirement, paid by social security.
Sweden. If you offer global employee benefits in Sweden, you'll have to allow up to 240 days of paid parental leave per parent, or 480 days total. Each parent can transfer up to 150 of their paid days off to the other parent, but 90 days are reserved for each parent. That means that one parent can take up to 390 days of paid parental leave.
Colombia. Under Colombian labor laws, you must provide new mothers with 18 weeks of paid maternity leave. The week before pregnancy is also mandatory leave. While employers pay the employee directly for this leave, the Colombian social security program reimburses the employer. New fathers receive 15 days of paid leave, and employers are responsible for providing the full salary during that time.
PTO
Austria. The Austrian government mandates that you provide employees with five weeks of paid vacation every year. For employees that have worked for at least 25 years, that number swells to six weeks.
Peru. As one of the South American leaders in guaranteed vacation time, Peru requires employers to offer their employees 30 days of annual leave.
United States. The U.S. is one of the only countries in the world that does not require employers to provide any paid time off for employees. If you're a U.S. employer looking to hire internationally, keep in mind that employees abroad expect significantly more vacation time than employees in the U.S. expect.
Holiday bonus payments
Spain. Employers that hire in Spain must provide employees with two bonus payments annually: one at the end of the year and one in the summer. Each bonus payment equals what an employee makes per month, effectively requiring you to pay your talent for 14 months of the year rather than just 12.
Mexico. If you hire in Mexico, be prepared to pay "aguinaldo," a federally mandated Christmas bonus, by Dec. 20 of every year. While the government requires that this payment be equal to 15 days of an employee's wages, many employers offer two separate payments that equate to 30 days of wages—one in December and the other in the summer, similar to Spain. Employers looking to appeal to top talent in Mexico should consider offering both aguinaldo bonuses.
Germany. Mandatory employee benefits in Germany do not include holiday bonus payments, but talent expects them anyway. According to a survey of 125,000 German employees, roughly one in two companies offer holiday bonuses to their talent. As with Mexico, employers that want to compete for top talent in Germany should include holiday bonuses in their benefits packages.
Parental leave, vacation time, and holiday bonus payments are just three ways employee benefits packages differ between countries. The varying benefits governments require you to offer—not to mention the benefits talent expects that aren't required by law—underscore the need to spend time tailoring your global employee benefits packages to each country where you hire.
Read also: Top 10 Countries for Employee Benefits
Statutory benefits also vary between districts within a single country, requiring further due diligence from employers who want to attract remote talent. The U.S. is a key example of this. Below is a look at how three statutory benefits differ across states in the U.S.
Read also: Guide to Required Employee Benefits in the U.S.
Unemployment insurance
The taxable wage base and calculation rate for state unemployment tax vary widely across the U.S. Below are three examples:
Pennsylvania. Pennsylvania's taxable wage base is $10,000 per employee, with a standard employer tax rate ranging from 1.42% to 10.37%. The tax rate for new employers is 3.82% in the non-construction sector and 10.59% in the construction sector. All employers must withhold an additional 0.07% from employee salaries, which is not limited to the taxable wage base.
Florida. Florida's taxable wage base is $7,000 per employee, which is the federal minimum requirement. The new employer tax rate is 2.7% and remains unchanged for the employer's first 10 reported quarters. The state then recalculates the employer's rate based on the total benefits the employer has charged to their account divided by their taxable payroll. The maximum permitted employer tax rate is 5.4%, and the minimum is 0.10%.
Washington. Washington's taxable wage base is $67,600—the highest of all U.S. states. The tax rate varies between employers, depending on how much their past workers have collected in unemployment benefits, the size of the employer's payroll, and the employer's delinquency history. In 2023, Washington's non-delinquent tax rates range from 0.27% to 6.02%, and delinquent tax rates range from 1.25% to 8.15%.
Maternity leave
Under U.S. employment law, the Family and Medical Leave Act (FMLA) entitles eligible U.S. employees working for a covered employer to a minimum level of maternity leave benefits: 12 weeks of unpaid leave within one year of the birth, adoption, or fostering of a child.
Employers are covered if they hire 50 or more employees for 20 work weeks in the current or preceding calendar year. Employees are eligible if they meet certain conditions, such as:
They work for a covered employer
They have worked 1,250 hours within 12 months of leave commencement
They work on a site where the employer has 50 or more employees within 75 miles
They have worked for the employer for 12 months
However, some states provide maternity leave benefits in addition to the FMLA minimums:
New York. Employees in New York are entitled to 12 weeks' paid maternity leave for the birth, adoption, or fostering of a child at 67% of their standard pay with a weekly benefit cap of $1,131.
Wisconsin. The Wisconsin FMLA (WFMLA) has different eligibility criteria than the FMLA. For example, employees must have worked 1,000 hours in the 12 months before leave commencement instead of the FMLA's 1,250 hours. Under the WFMLA, employees receive two weeks' unpaid leave during pregnancy or childbirth, plus six weeks' leave within 16 weeks following childbirth.
Oregon. Employees in Oregon are entitled to up to 14 weeks of up to 100% paid maternity leave. The tax rate is 1% of the employee's gross monthly wage; companies with 25 or more employees pay 40% of the contribution, and their employees pay 60%. Companies with fewer than 25 employees are not required to make payments but must withhold and submit employee contributions.
Health insurance
California, New Jersey, and Massachusetts reveal how health insurance requirements vary for employees and employers in different states:
California. While California employers are not required to offer health insurance, the state requires individuals to obtain health coverage, which may increase the number of employers that choose to offer health insurance as a supplemental benefit. Employers who offer health insurance must report coverage to the California Franchise Tax Board and provide coverage statements to employees.
New Jersey. Similar to California, New Jersey employers are not required to offer health insurance but may consider adding it as a supplemental benefit since New Jersey residents are required to have health coverage. If so, employers must report coverage to the state's Division of Taxation and provide coverage statements to their employees.
Massachusetts. Employers in Massachusetts with more than five employees must pay Employer Medical Assistance Contribution (EMAC) tax on a $15,000 taxable wage base for all employees. Newly qualified employers are exempt for the first three years. Employers pay 0.12% of their employee's gross wages in their fourth year of qualifying, 0.24% in their fifth year, and 0.34% in their sixth year and beyond.
Learn more about administering health insurance to U.S. employees in different states.
Complying with the various benefits requirements of each state is hard work. Still, employers must take time to understand the benefits requirements in every territory they want to hire in if they seek to build a top-tier distributed workforce.
When it comes to delivering comprehensive employee benefits packages to your global workforce, understanding how packages differ between countries is only part of the battle. You must also come up with a roadmap on how to create and administer packages to your talent. This is your global benefits strategy: a plan to provide your workforce with comprehensive benefits packages that align with their needs, no matter where they are.
Here are three questions to ask yourself when creating your global benefits strategy.
Are my global employee benefits tailored to local markets? Take the time to research statutory benefits requirements and supplemental benefits expectations in your market so you can be sure your packages are right for the employees you're looking to hire and retain.
Are my global employee benefits packages compliant? As previously mentioned, statutory requirements differ in every country—and the consequences of non-compliance are serious. Be careful to make sure your packages adhere to local laws so you stay on the right side of labor authorities wherever you hire.
Are my global employee benefits packages cost-effective? Global employee benefits packages can get pricey, especially if you're not quite sure how to find the right brokers or local providers. Set a budget and do your research ahead of time to make sure the benefits you want to offer are within your means.
How to create your global benefits strategy
Developing your global benefits strategy is not an overnight process. But it's well worth your efforts in terms of how the right benefits help you attract and retain talent, comply with local labor laws, and improve your employees' lives. Follow these six steps to ensure your global benefits strategy delivers long-term success.
Six steps to creating a global benefits strategy

While following the roadmap above can help you create a strong global benefits strategy, delivering global employee benefits on your own is no easy feat. Here are three reasons why:
Time. Determining which statutory and supplemental benefits to offer in any market is tedious and time-consuming. When you hire employees across multiple countries, the challenge becomes exponentially harder.
Expertise. You know how important it is to stay compliant wherever you hire. But you're not a lawyer, and meeting statutory requirements is hard enough. Ensuring that your benefits packages are compliant in each market likely requires expertise beyond your job description.
Cost. Even if you want to administer benefits without one dedicated partner, you'll have to find local providers to offer plans wherever you hire. Unfortunately, most reputable benefits vendors only serve clients with large talent populations. Because covering only a few policyholders isn't as profitable as covering larger groups of employees, vendors raise their prices or avoid working with smaller clients altogether. As a result, administering global employee benefits through a series of local vendors could stretch your budget past the breaking point.
There are additional challenges to entrusting global benefits administration to several local providers. These include:
Finding a reputable vendor. Shopping around to compare prices and vet potential partners requires plenty of patience, careful digging, and focus time.
Securing competitive terms. Because of the high cost associated with covering just a few employees, it's difficult to secure plans with the comprehensive coverage talent wants.
Keeping up with changing laws. From variations in plan costs to ever-changing statutory requirements, you need a vendor you can trust to stay on top of new developments and communicate changes with you.
Juggling multiple vendor relationships. Consider the challenges above and apply them to every country where you seek coverage. In addition to the financial burden, maintaining relationships with vendors across markets requires significant time and energy.
Fortunately, working with vendors is not the only way to administer global employee benefits across countries. Employers that want to easily and efficiently offer the right packages can work with a dedicated global benefits partner like Velocity Global. HR teams that work with us can expect:
Full service. We're here for you every step of the way. Our plans accommodate a wide range of talent needs, and our experts are standing by to help whenever you need it. Rely on us to handle all things benefits so you can get back to what matters most: building and managing your global workforce.
Compliance. Get peace of mind wherever you offer benefits. Velocity Global offers unmatched benefits expertise in over 185 countries. Let our dedicated team do the heavy lifting of complying with local labor laws so you don't have to.
Competitive costs. Offer the right supplemental benefits without breaking your budget. Because we serve over 6,000 supported employees worldwide, Velocity Global has well-negotiated group rates that translate to a lower bottom line for employers like you. Simply put, our group policies offer better terms of coverage at a more competitive price.
Exceptional talent care. We know that benefits are just one way to keep talent happy, so we go above and beyond to care for your workforce. By enabling a stress-free, fully supported benefits experience for your talent, we give them one more reason to see you as an employer of choice.
Global employee benefits play a major role in your ability to attract and retain the world's best talent. While taking a country-by-country approach to your global benefits strategy is not the easiest task, it pays huge dividends for you—and your employees. Even better, you don't have to go it alone.
Learn more about our Global Benefits solution or reach out today to learn how Velocity Global helps you simplify everything related to global employee benefits.
Share via: