What does a person driving to the airport for an Uber assignment and someone working on a 3,000-word freelance feature for a magazine have in common? They're both part of the ever-growing gig economy.
The gig economy is composed of people who work short-term appointments or as sole proprietors or independent contractors. People working in the gig economy can sign up for jobs on customer-facing platforms like ride-share apps or courier services, while others may be employed by a company on a freelance basis for a specific job.
People have developed an interest in gig work for many reasons—the main reasons being the flexibility it provides and the ability to work remotely. Gig workers often choose their own hours and complete their work on their own time.
To learn more about this booming industry, check out the following must-know gig economy statistics.
By definition, the gig economy is a system of temporary, short-term, or contract positions for which companies employ freelancers or contractors. In customer-facing positions, ride-sharing applications are king. But many freelancers are working that way by choice and span many industries and occupations.
On the move. 58% of global gig economy revenue comes from ride-sharing or transportation services like Uber or Lyft in North America and Ola or Go-Jek in the Asia Pacific region.
Padding income. 56% of gig economy workers say they take gig jobs to earn money on top of their main source of income.
Releasing tension. The highest-paying gig economy job in the United States is massage therapy — paying an average $27.34 an hour.
A growing market. 59 million Americans freelance — that's 36% of the total American workforce.
By choice. 70% of independent contractors said they are working as contractors by choice.
City living. 43% of freelancers live in urban areas.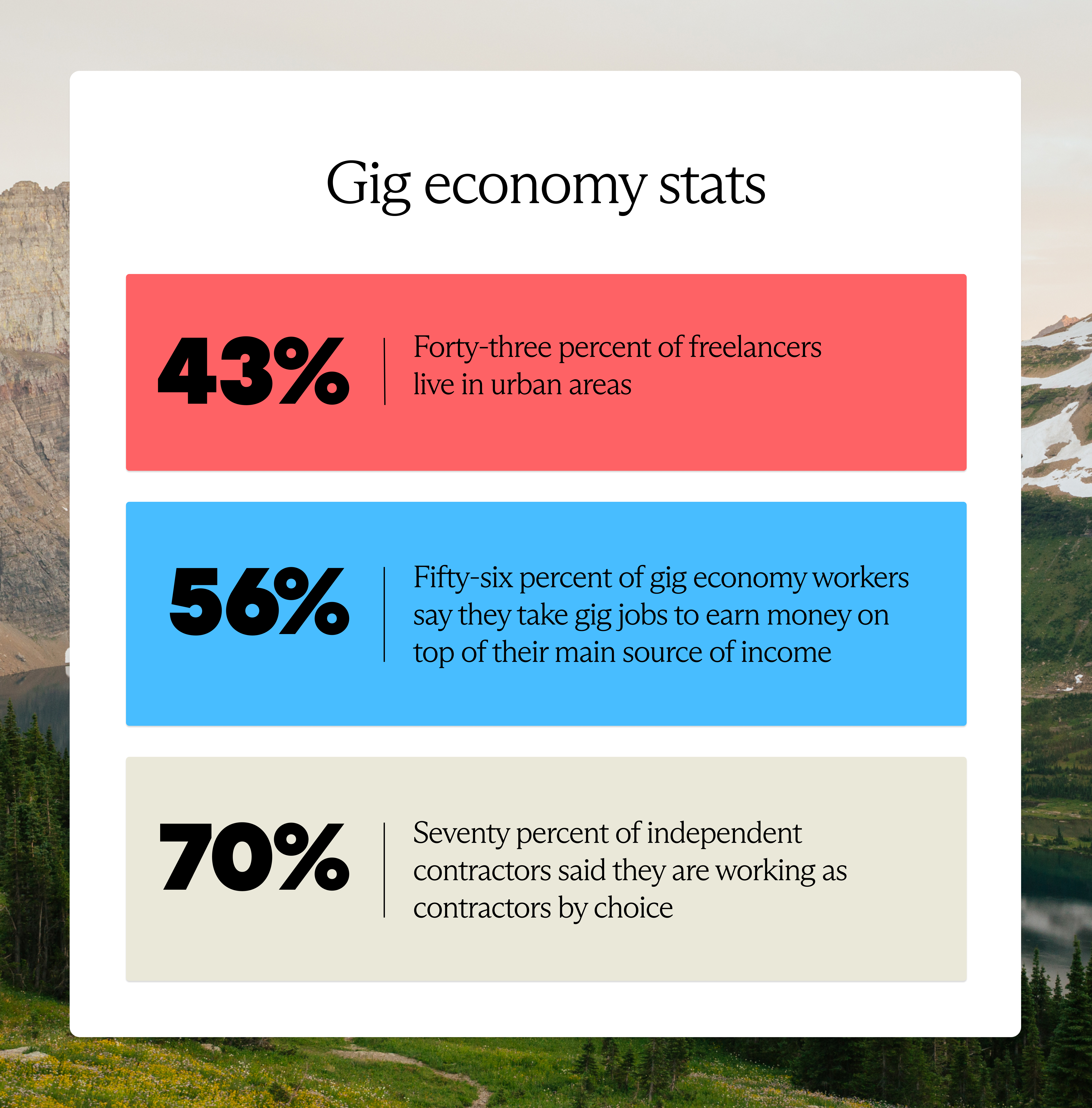 The gig economy is large — and growing every day. The number of global gig workers is expected to rise by more than 30 million people in the next year. More workers are starting to see the benefits and flexibility of contracting and independent work.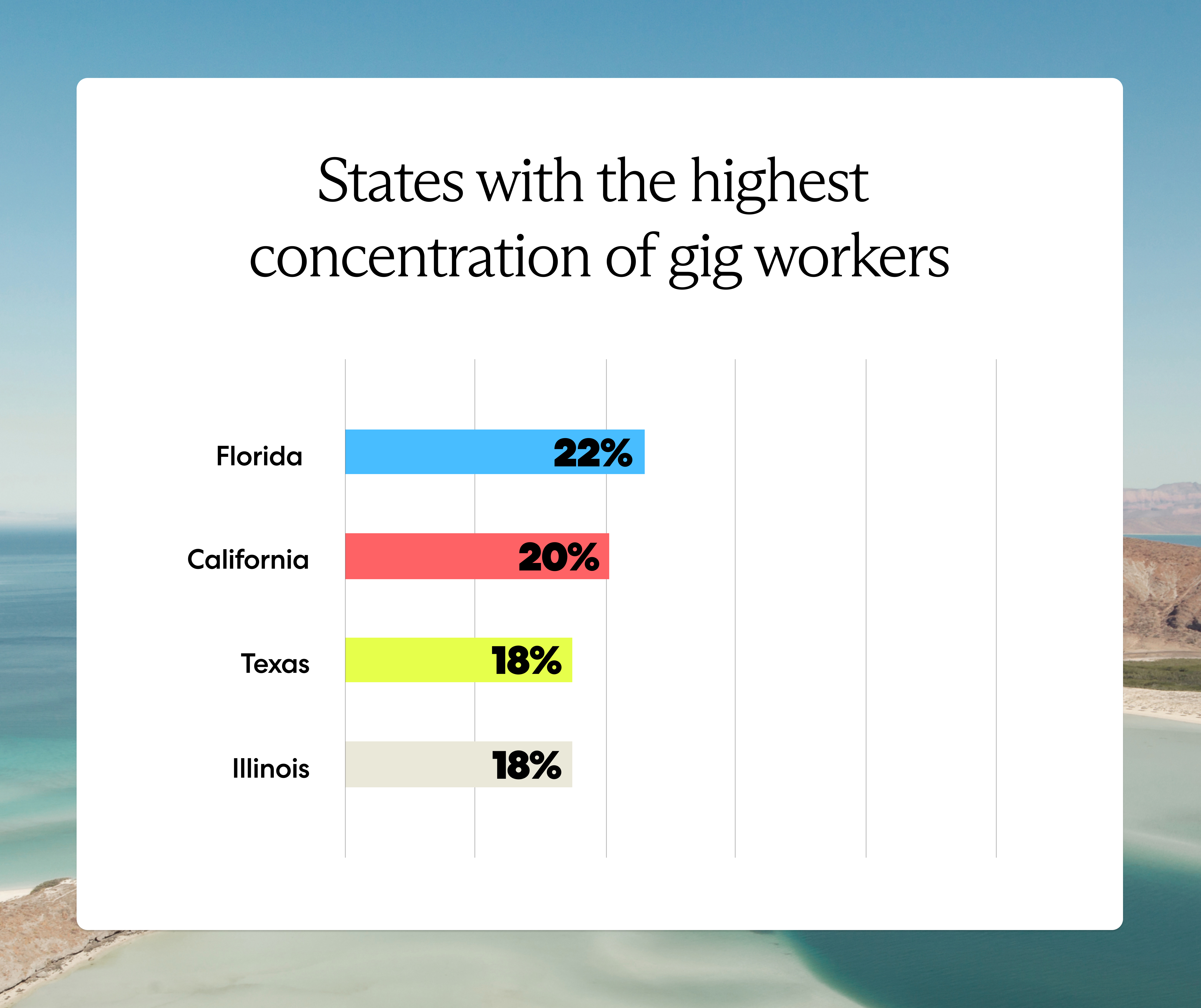 16% of Americans have completed a job via an online gig platform.
The number of global gig workers is expected to rise from 43 million in 2018 to 78 million in 2023.
The number of people who sporadically work a gig job rose 17% from 2017 to 2018.
At 40% of organizations, one in four workers on payroll is a gig worker.
Florida has the highest concentration of gig workers, with 22% of workers in the state doing gig work — this is followed by California (20%), Texas (18%), and Illinois (18%).
Though the United States has one of the biggest markets and customer bases for freelance work, gig work is popular across the globe. The global freelance market is expected to continue its rapid growth — at a compound annual rate of 15%.
44% of gig economy gross volume comes from customers in the United States.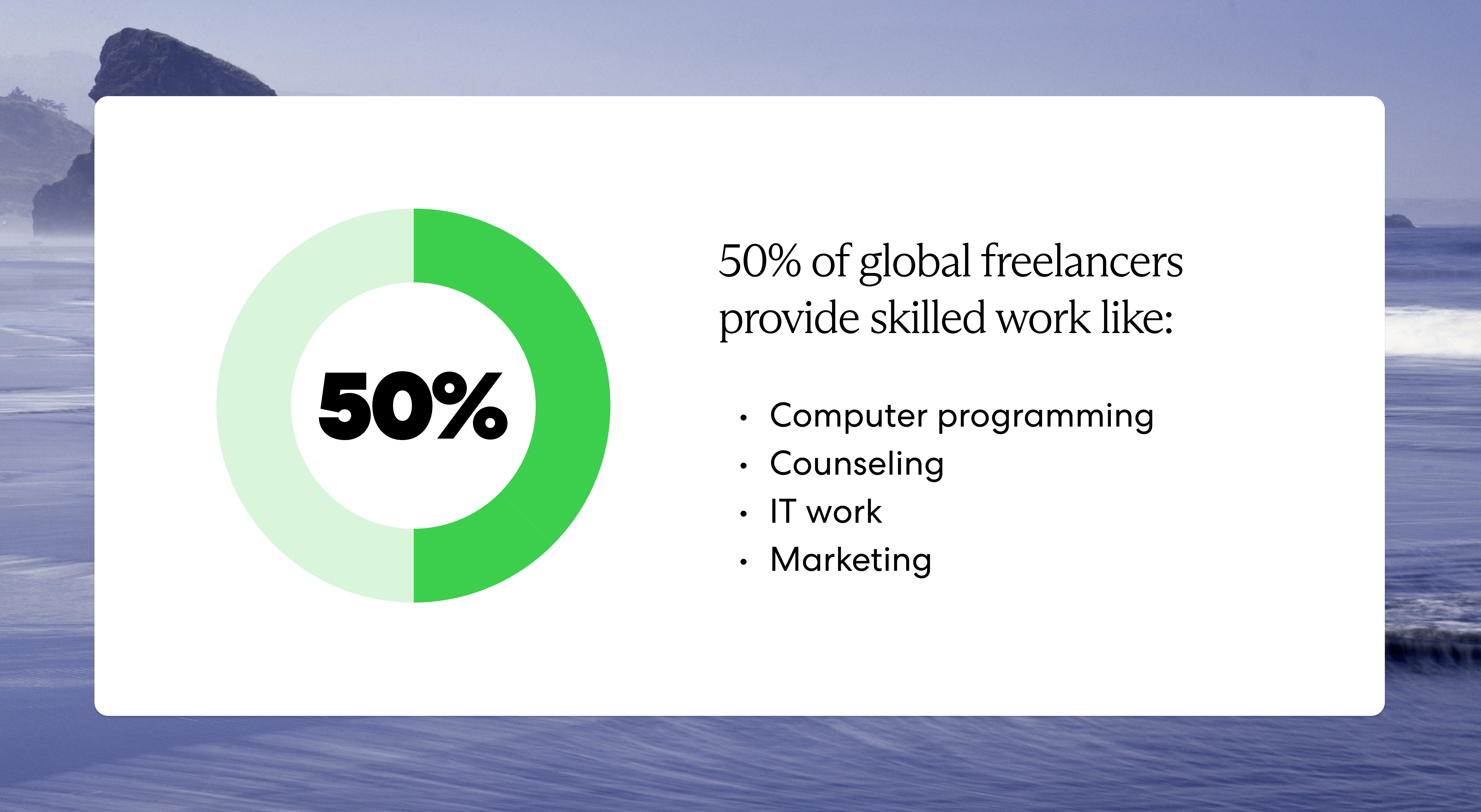 88% of the global gig economy gross volume comes from ride-sharing platforms like Uber and asset-sharing platforms like Airbnb.
The United States has the highest global market for gig workers, but India, Indonesia, Australia, and Brazil are rapidly growing, strong markets.
The data science and analytics sector experienced the highest year-over-year growth in freelancer spend from 2019 to 2020, at 115%.
Almost 15% of workers in England and Wales complete a gig job at least once per week.
The global freelance market is expected to grow at a compound annual growth rate (CAGR) of 15% through 2026.
The following sectors experienced rapid growth from 2016 to 2021 in England and Wales: delivery driving (rose 350%); household services (rose 166%); errand running (rose 200%); and remote digital online tasks (rose 100%).
20% of full-time independent workers based in the U.S. have customers outside of the U.S.
50% of global freelance workers are providing skilled work like computer programming, counseling, IT work, or marketing.
There is no one-size-fits-all for a gig worker. As there are many different industries and sectors that employ gig workers, there are many different types of people who take on the work. These employees report being happy and fulfilled in their gig jobs.
People with lower incomes are the most likely to do jobs on gig economy platforms.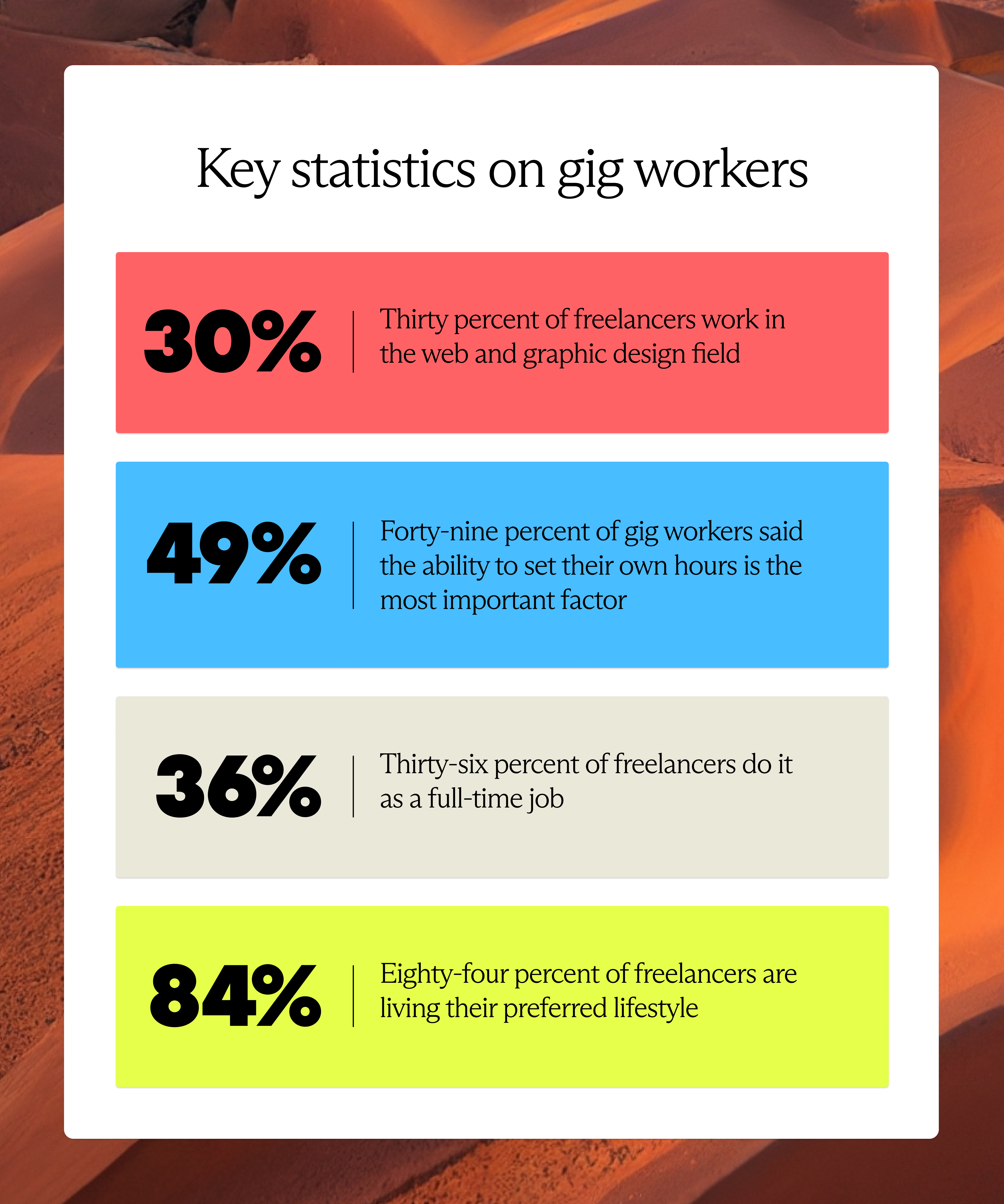 49% of gig workers said the ability to set their own hours is the most important factor when working in the gig economy.
30% of freelancers work in the web and graphic design field.
Only 40% of American gig economy workers have access to medical insurance.
57% of sole proprietors in the U.S. work in five sectors: professional services, repair and personal services, construction, administrative services, and retail.
44% of freelancers report that they are also caregivers, and 33% report having a disability present in their household.
36% of freelancers do it as a full-time job.
20% of gig workers are over the age of 55.
Only 33% of full-time independent workers said they worry about securing future jobs.
32% of freelancers started freelancing while or just after completing their education, and 22% started freelancing after being laid off from a job.
84% of freelancers are living their preferred lifestyle, as opposed to 54% of traditional employees.
While some may assume that gig workers don't earn as much as those employed on a full-time basis, there is money to be made in the gig economy. In fact, 21% of independent contractors rake in more than $100,000 per year.
Gig workers in the recreation industry make an average of $7,000 per month — $2,000 more than traditional employees in the industry.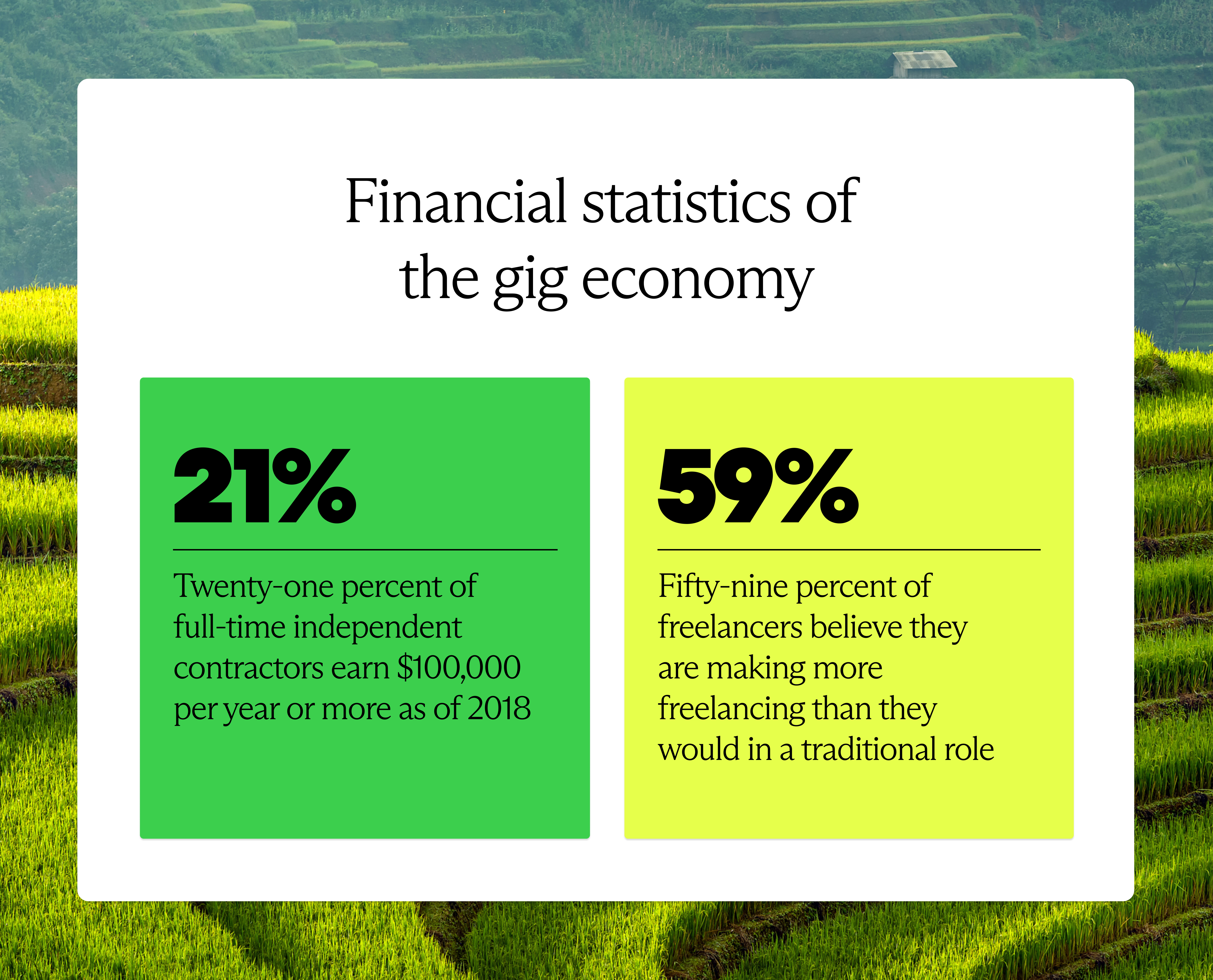 The average gig worker makes $5,120 per month.
63% of gig workers said they prefer a flexible work schedule to a bigger salary.
The average gig worker in the United States makes $69,000 per year — higher than the median U.S. income of $59,000.
75% of new freelancers said they are taking on freelance work to ensure financial stability during a recession.
21% of full-time independent contractors earn $100,000 per year or more as of 2018.
59% of freelancers believe they are making more freelancing than they would in a traditional role.
The future of the gig economy looks bright. Workers think so, too. 86% of freelancers said they think the best days for their industry are yet to come, signaling that many are confident the gig economy will continue to boom.
The gig economy is expected to be valued at $455 billion by 2023.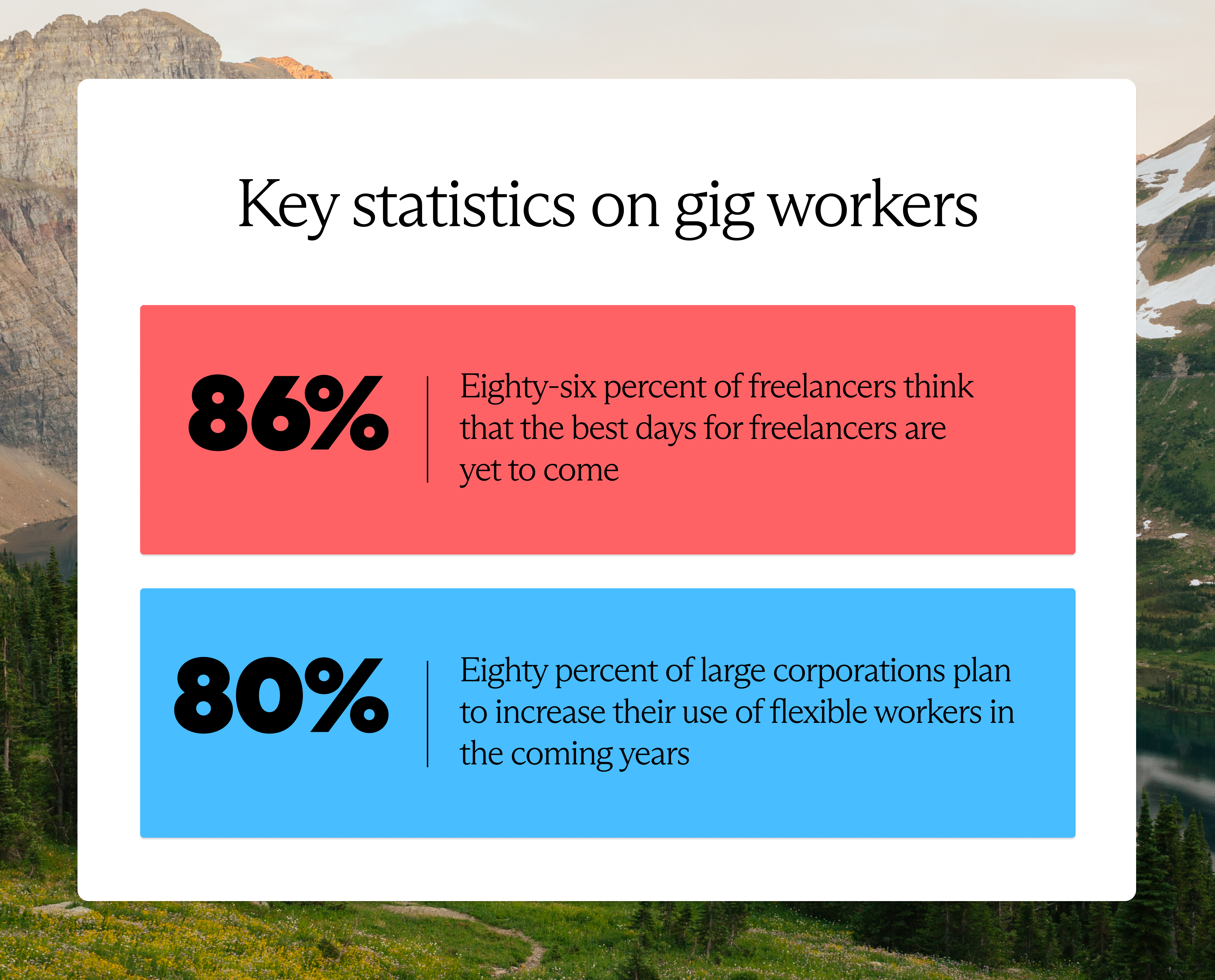 86% of freelancers think that the best days for freelancers are yet to come.
By the end of 2023, it's projected that 52% of workers will have spent some of their careers as independent workers.
55% of full-time independent workers said automation will not impact their job stability.
48% of new freelancers said they view freelancing as a long-term career choice.
80% of large corporations plan to increase their use of flexible workers in the coming years.
The gig economy is large and vast. The answer to the question "What is a gig job?" looks different for everyone. For some, gig work means turning their car into a taxi service. For others, it means taking on freelance software engineering work. No matter the industry, though, one thing is certain: The gig economy is growing.
By the end of next year, the number of global gig workers is expected to grow by almost 30 million people (that's just about the entire population of Venezuela). And currently, one in four employees at 40% of global organizations is employed on a contract basis.
There is also money to be made in gigs. 21% of independent contractors earn more than $100,000 per year. That must be why gig workers range in age from those in college to people reaching retirement age — many of those working in the gig economy are doing so by choice, not because they can't land a traditional job.
As the job market is ever-evolving into a focus on new work models like asynchronous work, remote work, and a four-day work week, we expect to see the gig economy continue to flourish as an option for those who don't want to sign an offer letter.
Why Is it Called the Gig Economy?
It's called the gig economy because employees usually take on short-term, temporary positions, colloquially called "gigs."
So, if you've ever heard the phrase "It's a good gig," you're close to knowing why the term "gig economy" is being used. The name refers to each piece of work being an individual gig, or job. The gig economy has also been called the sharing economy, collaborative economy, or platform economy because of its use of apps like Uber or Airbnb.
Is the Gig Economy Growing?
The gig economy is growing. As more customers and companies hire freelance or contractors, more workers are able to find lucrative gig work. The global gig economy is expected to be valued at $455 billion by the end of next year. And the freelance market alone is expected to grow at a CAGR of 15% year over year through 2026.
What Are the Pros and Cons of the Gig Economy?
Pros:
Workers can set their own hours and work when it's convenient
Companies gain access to the global pool of talented gig workers looking for work
Many jobs are short-term and don't come with a long commitment
Many gig workers are able to work remotely or from anywhere, providing a better work-life balance
Cons:
Workers may not receive a steady stream of business, which could cause financial stress if gig work is their primary source of income
Gig workers may not have access to benefits that traditional jobs provide, like insurance or paid time off
Taxes can be a headache for gig workers
The gig economy provides many benefits, but the unpredictability of the market may make it inaccessible for some workers. Let's look at some prominent gig economy pros and cons.
How Big Is the U.K. Gig Economy?
The gig economy in the U.K. is huge — and it's only getting bigger. As of 2021, almost 15% of workers in England and Wales completed a gig job at least once per week. In addition, 23% of workers in those countries have completed a gig job at some point. From 2016 to 2021, the number of workers who performed remote online digital tasks in the U.K. more than doubled — going from 4.9% to 11.9%.
The gig economy can be lucrative for employees who want short-term work rather than a long-term commitment to a specific company. In turn, hiring gig workers allow companies to diversify their roster and hire innovative talent from anywhere in the world without setting up foreign entities.
But with so many variables and the legal risks of contractor misclassification, the relationship between companies and gig workers can easily become a headache. That's where a compliance partner like Velocity Global can step in to help.
Velocity Global's Employer of Record (EOR) solution allows companies to quickly and compliantly hire talent in more than 185 countries—without having to set up foreign entities. We also help you seamlessly and compliantly convert contractors into full-time employees so you can retain your best talent and avoid the inevitable risks and costs of misclassification.
Contact us today to see how Velocity Global helps you stay compliant when building your distributed team.
Share via: