Employee benefits are a crucial part of the employer-employee relationship. Attracting talent and employee retention aren't always easy. Talent can leave your company in favor of another one based on the availability of company benefits like health insurance, paid leave, and employee assistance programs.
To better understand the big picture and give context to your company's benefits choices, check out these 42 must-know employee benefits statistics.
Employee benefits provide, at minimum, an added sense of safety, security, and satisfaction with a job and employer. It's tough knowing what employees want when it comes to benefits. We took a look at some overarching employee benefits data to give insight into how people feel about the benefits they do or don't receive.
Health insurance and wellness perks are among the most popular employee benefits available. Let's explore the key data around health benefits and how they impact businesses.
Employees are now 26% more likely than before the pandemic to accept a new role because of the health and wellness programs it offers (MetLife)
Health expenditures for businesses are expected to grow by 5.1% through 2030 (Centers for Medical and Medicaid Services (CMS))
Private businesses accounted for 17% of all healthcare spending in 2020 (CMS)
In 2020, 28% of healthcare spending was given to private insurance (CMS)
Private businesses spent 3.1% less on health care in 2020 than in 2019 (CMS)
As many as 86% of employers believe they are responsible for the health and well-being of their workforce (MetLife)
Improving workforce health is a top benefits goal, according to 84% of employers (MetLife)
Contributions to employer-sponsored private health insurance premiums totaled 76% of health care spending for private businesses in 2020 (CMS)
Healthcare spending attributable to the cost of insurance rose 2% in 2020 (CMS)
The number of insured Americans dropped 1.9% in 2020 (CMS)
55% of employees note that health and wellness programs are necessary benefits to accept a new job offer (MetLife)
It's increasingly clear employers believe they share responsibility for their workforce's mental health.
More companies are discussing impacts on mental health than ever before to the benefit of their employees—and many of those employees value mental health resources as a top benefit. Here are some statistics on mental health benefits.
Employees reported feeling more physically, socially, and financially healthy in 2022 compared to 2021, but mental health was stagnant (MetLife)
72% of employers say that stress, burnout, and other mental health factors are benefits challenges for their company (MetLife)
66% of employees believe their employers have responsibility for their mental well-being, up from 62% in 2021 (MetLife)
52% of employees report feeling comfortable discussing mental health to some extent in the workplace without the threat of negative consequences, a decrease from 63% in 2021 (The Conference Board)
63% of C-suite employees are comfortable discussing mental health at work (The Conference Board)
41% of employees don't have access to mental health support resources from their employer (MetLife)
51% of employees view company-enforced limits on after-hours communications as beneficial to their mental health. (The Conference Board)
82% of employees with the flexibility to manage work and life report they feel mentally healthy, compared to just 45% of employees who don't have the same flexibility (MetLife)
Employees with access to assistance programs are 34% more likely to report improved mental health over 12 months (MetLife)
Get our guide to learn how to attract and retain top talent worldwide by offering competitive, compliant benefits packages that go beyond the minimum requirements: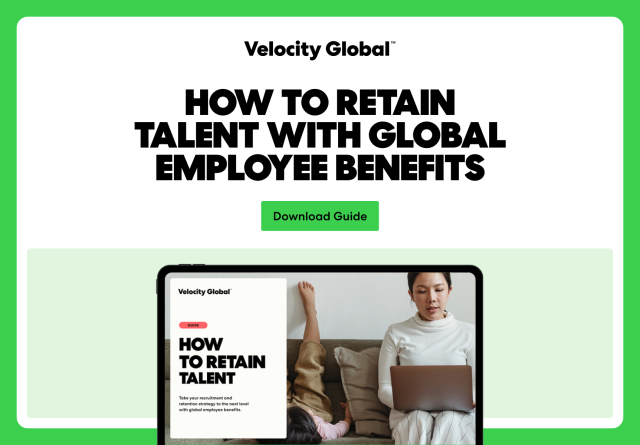 In a world dominated by conversations of remote and hybrid working environments, flexibility is an increasingly coveted benefit. Employers can offer flexible working locations, hours, or scope.
One thing's for sure: Workplace adaptability can increase an employee's loyalty to their current employer.
Employees who are content with their employers' time and location flexibility are more than two times more likely to recommend their employer to job seekers (LinkedIn)
Employees are now 18% more likely than before the pandemic to accept a new role because it offers a flexible work schedule and the ability to work remotely (MetLife)
59% of employees report intentions to leave a job while noting that increased job flexibility could make them retain their role. (MetLife)
If access to paid leave increases, employee satisfaction with their current role becomes two times more likely (SHRM)
It's now 17% more likely than before the pandemic that employees will accept a new role because the employer encourages setting boundaries around working hours (MetLife)
There's a 13% higher likelihood than before the pandemic to accept a new role because the employer recognizes the importance of the employees' lives outside of work (MetLife)
Offering unique employee benefits like learning budgets or four-day workweeks isn't always enough to retain employees. How an employer handles benefits management can affect overall team morale and productivity.
Here are some important benefits management stats to show how strong leadership can translate to employee confidence.
Employees who clearly understand what's covered in their benefits package are 101% more likely to trust company leadership (MetLife)
74% of surveyed HR professionals said their organizations didn't add or modify financial management benefits since the start of the pandemic, as of August 2021 (SHRM)
Only 65% of employees say their benefits are easy to understand based on what their employer provided them (MetLife)
36% of employees believe their employer is only doing the bare minimum to help them adapt to new working environments (MetLife)
A lack of job satisfaction leads employees to look for a new role or avoid recommending their company to other job seekers. This can make employee retention difficult for an employer.
Take a look at these critical employee satisfaction statistics to understand the American workforce's contentment.
Employees are 70% more likely to remain loyal to their employer if they're satisfied with their benefits (MetLife)
34% of employees say they're unsatisfied with their current job benefits, up from 28% in 2021 (MetLife)
86% of employers believe their employees have a strong sense of loyalty to their workplace, while only 36% of employees would recommend their employer to job seekers (MetLife)
Employees who feel valued and cared for in the workplace are more than three times more likely to be happy at work (LinkedIn)
87% of employers believe they prioritize loyalty to their employees, while only 55% of employees believe their employer keeps their best interests in mind (MetLife)
Employees are 7% more likely now than before the pandemic to accept a new role if the employer has a demonstrated history of supporting training, development, and advancement (MetLife)
There's now a 10% greater chance than before the pandemic that employees will accept a new role because of the diversity, equity, and inclusion programs (MetLife)
What percentage of employees want benefits?
Eighty-eight percent of employees prefer jobs with better benefits and lower pay versus jobs with worse benefits and higher pay (SHRM).
What are the three top trends in employee benefits?
The three top trends in employee benefits are offering work flexibility, improving access to mental health resources, and increasing paid leave.
What are the four main types of employee benefits?
The four main types of employee benefits are retirement plans, health insurance, life insurance, and disability insurance. Many companies offer other types of benefits like stipends or access to education.
Offering comprehensive benefits is a great way to build a positive reputation as an employer. Employee benefits provide safety, security, and satisfaction to your workforce.
In turn, those benefits are likely to increase the chances that your workforce sticks around for longer—and the chances they recommend your company to other job seekers.
In a competitive market, it pays to do everything you can to stand out as an employer. Velocity Global can help you build a comprehensive Global Benefits package that benefits everyone in your organization and helps you attract and retain top talent.
Share via: