Despite the benefits of global hiring and expansion, international companies face several challenges when building a distributed workforce. One key pain point is attracting and retaining top global talent in a competitive hiring environment.
To help boost talent retention, employers must have a global compensation strategy that's not only competitive across borders but remains fair, compliant, and within budget. It should provide equitable salaries and tailored benefits packages while complying with international labor laws.
This guide breaks down the key elements of global compensation and walks you through the process of creating a solid global compensation strategy to attract and retain talent worldwide.
Global compensation, or total global rewards, refers to an employer's direct and indirect compensation for its distributed workforce. Direct compensation refers to things like salaries and bonuses. In contrast, indirect compensation refers to all employee benefits beyond base salary, such as health insurance contributions, retirement funds, and employee stock options.
The four primary elements of global compensation are base pay, variable pay, employee benefits, and additional employee perks. We discuss each of these in detail below.

Base Pay
Base pay refers to employees' monthly salary or wage. Employers generally approach base pay in one of two ways:
Role-based pay. Wages are based on role and experience, regardless of the employee's location. While this is the easiest strategy to manage, it is often the most expensive because it usually means setting salaries at a rate tied to an expensive city. Otherwise, a company couldn't hire employees from large metropolitan areas.
Location-based pay. The employer offers location-specific wages based on factors like local market rates and cost of living. This option allows employees in more expensive regions to receive competitive salaries without creating pay equity gaps.
In either approach, employers must always account for local minimum wage laws when paying international employees to avoid fines, litigation, and other noncompliance penalties.
Variable Pay
Variable pay refers to direct compensation beyond an employee's base pay, such as job performance or tenure bonuses.
Employee Benefits
Employee benefits refer to statutory and supplemental benefits:
Statutory benefits. These are the required minimum benefits that local employment laws mandate. Statutory benefits include health insurance, social security contributions, and worker's compensation. Requirements vary per country or state worldwide.
Supplemental benefits. These are additional benefits beyond the statutory minimums, such as supplemental health insurance, retirement contributions, and extended leave. Supplemental benefits improve employees' overall quality of life and make them feel valued, giving employers a competitive edge for attracting and retaining top talent.
Additional Employee Perks
Additional employee perks, or fringe benefits, are non-wage benefits that supplement an employee's regular salary beyond statutory and supplemental benefits. These include employee stock options, gym memberships, access to co-working spaces, and relocation stipends.
Fringe benefits are an essential addition to competitive global employee benefits packages since they provide a well-rounded approach to employee health and work-life balance.
Learn more: What Are Fringe Benefits?
A global compensation strategy is a business's plan to ensure its international workforce receives fair and competitive compensation. The strategy should consider various factors, such as job role, employee location, market competition, and local employment laws.
A sound global compensation strategy offers transparency into how a business compensates its internationally distributed workforce and establishes locally-tailored benefits packages to attract and retain talent across multiple jurisdictions.
International companies use a global compensation strategy to ensure compliance across multiple countries, remain attractive to top talent, and ensure pay equity across a diverse workforce.
Compliance
Global companies must comply with the local employment laws of every jurisdiction in which they conduct business. They navigate factors like minimum wage, income taxes, statutory benefits, and equal pay legislation to avoid fines, litigation, and other noncompliance penalties.
Competition
Today, employees want more than their base bay and minimum benefits—they seek employers who improve their quality of life and make them feel valued. Offering competitive salaries with attractive, locally-tailored benefits packages helps employers stand out and secure top talent.
Read also: Top 10 Countries for Employee Benefits
Pay Equity
A fair global compensation strategy ensures employers pay equal wages to talent in similar roles with comparable education and experience, regardless of differences like race, gender, or ethnicity. Not only is ensuring pay equity the right thing to do, but putting workforce diversity and equity at the core of your global compensation strategy ensures your employees feel valued.
Many countries adopt equal pay laws, and companies without internal controls risk noncompliance. For example, below are the two most notable federal laws governing pay equity in the United States:
Equal Pay Act of 1963. This law states that men and women employed at the same company and working under similar conditions must receive equal pay for equal work.
Title VII of the Civil Rights Act of 1964. This law prohibits pay discrimination based on factors beyond gender, such as race, religion, and nation of origin.
Noncompliance penalties in the U.S. involve fines of up to US$10,000 or six months' imprisonment.
To create a global total rewards strategy, you must first establish your company priorities, determine your budget, research your target markets, and analyze the competition.
Lastly, consider partnering with a third-party expert to handle global payroll, compliance, and benefits administration on your behalf.
1. Establish Your Priorities
Establish what you want to achieve with your global total rewards strategy and how this supports your overall business goals. Reevaluate your current global compensation strategy, consider what changes you need to make going forward, and research potential benefits you might offer that reflect your brand and its values.
2. Determine Your Budget
Compensation is a large percentage of total employee cost. Employers should determine how much of the company budget they can allocate to competitively compensate and support their globally distributed team.
Consider the number of employees you plan to hire and compensation factors like base pay, statutory contributions, supplementary benefits, additional perks, and bonuses.
3. Research Your Target Markets
Research living costs, minimum wage, standard salaries, expected supplemental benefits, and labor laws in your target markets. This will give you an idea of the salary sizes you need to offer and the scope of your benefits packages.
Read more: Minimum Wage by Country: Guide for Global Employers
4. Analyze the Competition
Find out what salaries, benefits, and perks direct competitors offer employees in your target markets. Identify what you can match, gaps you can fill, and additional benefits you can offer to compete for talent in the local market.
5. Partner With an Employer of Record
Consider partnering with an employer of record (EoR) to administer all mandatory and supplementary benefits, run payroll, and ensure compliance on your behalf.
An EoR is a third-party organization that provides support throughout each phase of global expansion, including hiring, onboarding, payroll, benefits administration, and compliance. A vetted EoR has the local knowledge and expertise to advise on region-specific benefits and perks and administer them on your behalf while running global payroll and ensuring compliance.
By partnering with an EoR, you shed the burden of global expansion so you can build, retain, and support international teams with ease.
Learn more: What Is an Employer of Record?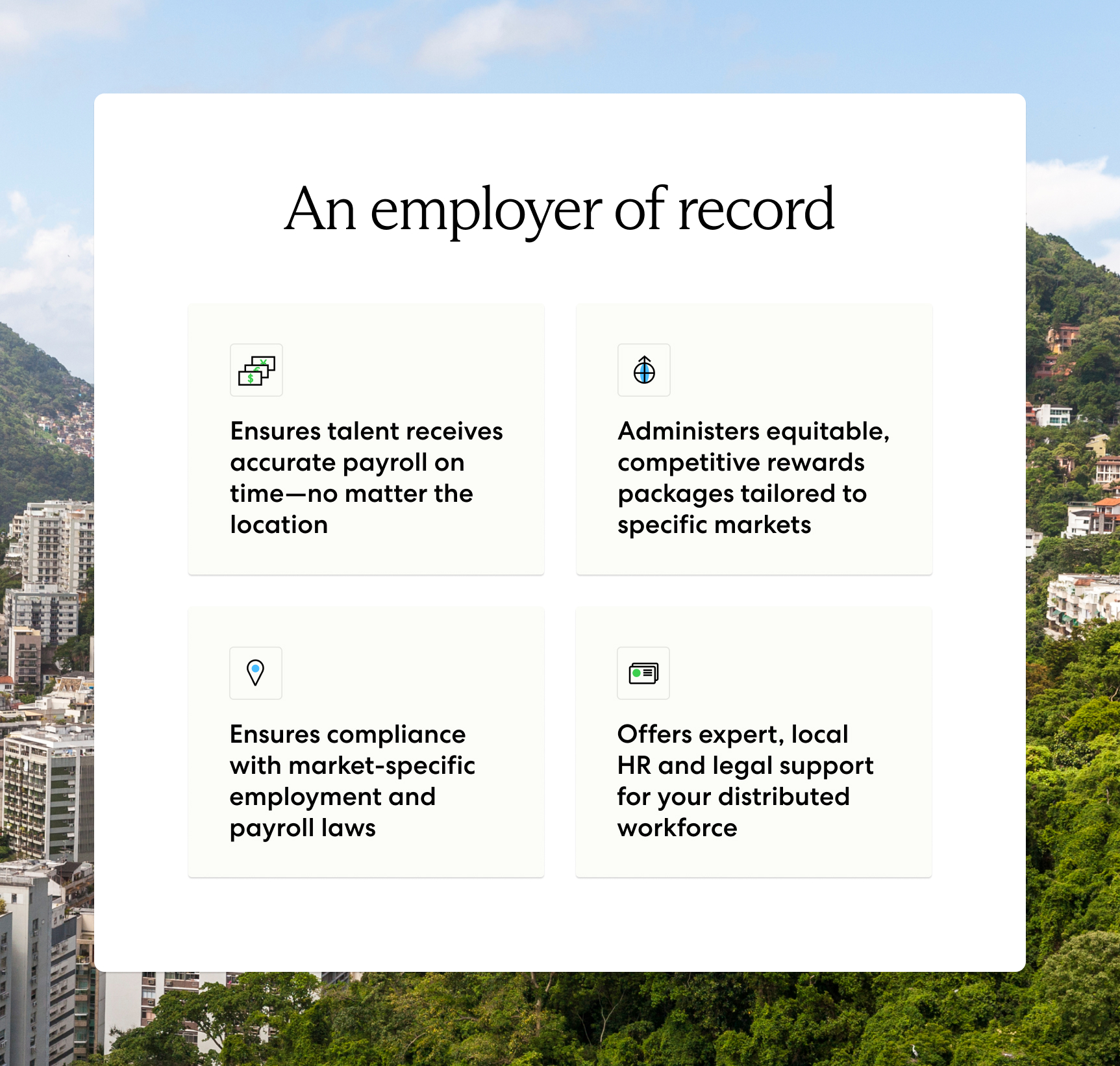 Establishing a sound global compensation strategy requires local expertise in multiple markets and involves significant noncompliance risks. Eliminate the guesswork and risks by partnering with Velocity Global.
Velocity Global's integrated Global Benefits solution makes it easy to create a global total rewards strategy for talent in 185+ countries. Our expert team crafts location-specific benefits packages so you can easily compete for top talent in any market.
As part of our Global Employer of Record (EoR) solution, we also handle benefits administration, payroll, and compliance so you can grow your global workforce without the extra burden.
Contact Velocity Global today to learn how to easily attract and retain top talent worldwide.
Share via: