Need to obtain a Portugal work visa on behalf of yourself or an employee working for your company? Global employees are the norm for many companies, so whether you're a Portuguese business looking to hire foreign employees or an expat wanting to enjoy Portugal's beaches while you work, you must make the move compliantly.
We've put together a guide to Portugal's work visa and residence permit requirements.
Who Does or Doesn't Need a Work Visa or Permit in Portugal?
Citizens living in the EU, EEA, or Switzerland don't need a visa to live and work in Portugal, as people in these countries can legally move freely throughout the EU. The only time these citizens need permission to travel to another country in this region is if they're going on a business trip, in which case they need an A1 certificate, not a visa.
EU nationals entering Portugal for longer than six months still need a residence permit. Non-EU citizens need to get a work permit before they can start work in Portugal. These permits are usually only given to people with a job offer or who are married to a Portuguese citizen.
This only applies to in-person employees who want to live and work in Portugal. Remote employees who want to work for employers based in Portugal don't need a visa or permit.
Types of Work Visas in Portugal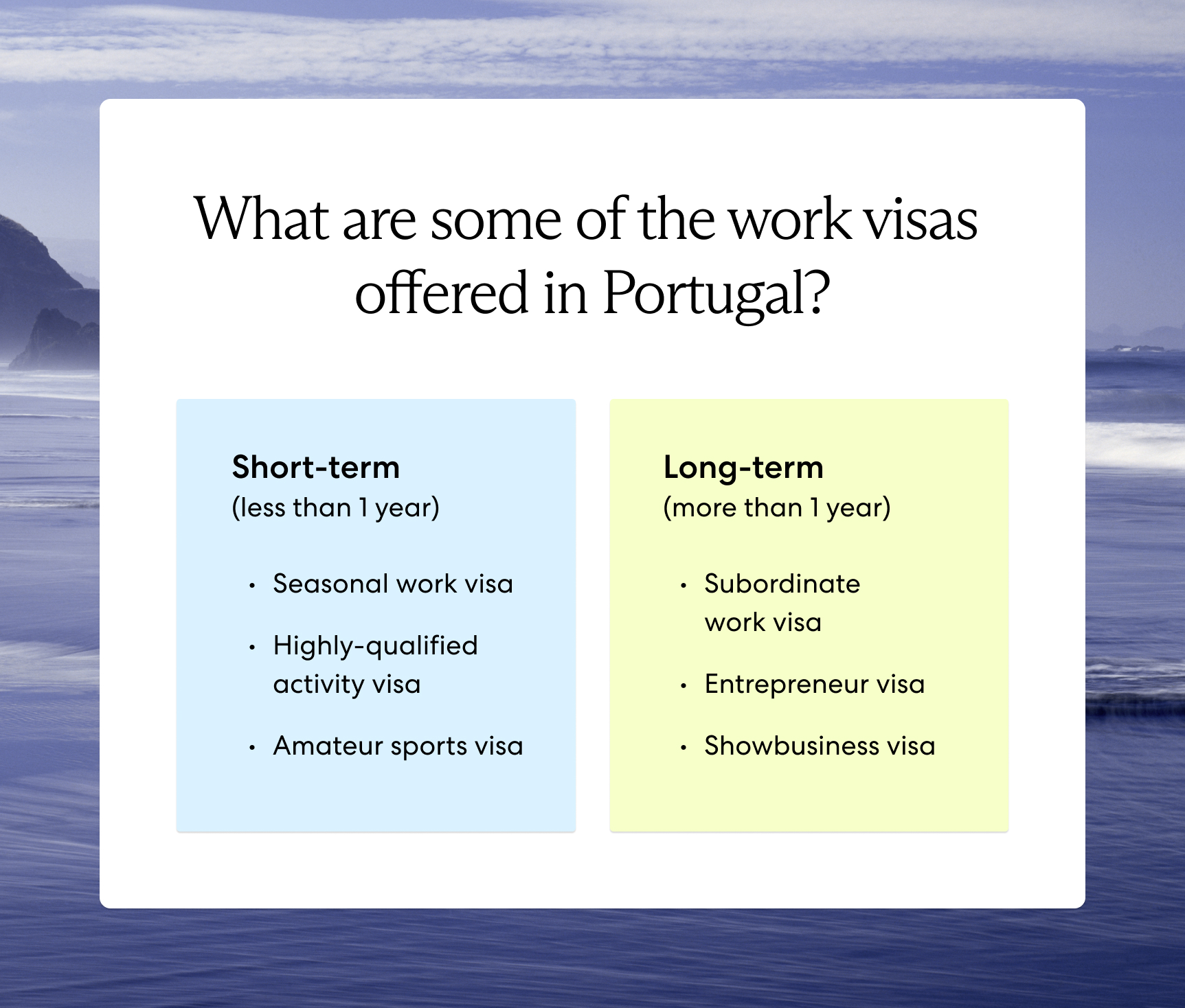 Portugal offers short-term visas for people who plan to stay in the country for less than one year. Long-term visas are for people who intend to reside in Portugal for more than one year.
Short-term work visas in Portugal include:
Seasonal work visas. A temporary visa that lasts longer than 90 days.
Highly-qualified activity visas. A temporary visa allowing someone to do highly qualified work like research or teaching for less than a year.
Amateur sports visas. A temporary stay for amateur sports purposes.
Long-term work visas in Portugal include:
Subordinate work visas. A residency visa for someone performing subordinate work in Portugal.
Entrepreneur visas. A residency visa for entrepreneurs moving to Portugal.
Show business or performing arts. A residency visa allowing someone to enter Portugal for show business purposes.
Types of Residence Permits in Portugal
There are two forms of residency licenses in Portugal: visas and permits. A residency visa is a short-term document that lasts three to four months and allows someone to enter Portugal legally while they get proper documentation. EU nationals and residents of EEA countries and Switzerland don't need a visa to enter Portugal.
If the EU national (or anyone else in Portugal on a visa) wants to stay in Portugal for longer than the visa period, they need to get a residency permit.
A few types of Portuguese residence permits include:
Work Visa for Skilled Workers
Work Visa for Highly Skilled Workers
Work Visa for Self-Employment
Work Visa for Cultural Activities
"Tech" Visa
Work Visa for Teaching
D7 Passive Income Visa
Since Portugal doesn't explicitly have a digital nomad visa, the D7 is the next best thing. It allows you to stay in Portugal legally, so long as you prove you earn income that is not coming from Portugal.
Once you stay in Portugal on a residence permit for five years, you can apply for a permanent residence permit.
How To Obtain a Work Visa or Residence Permit in Portugal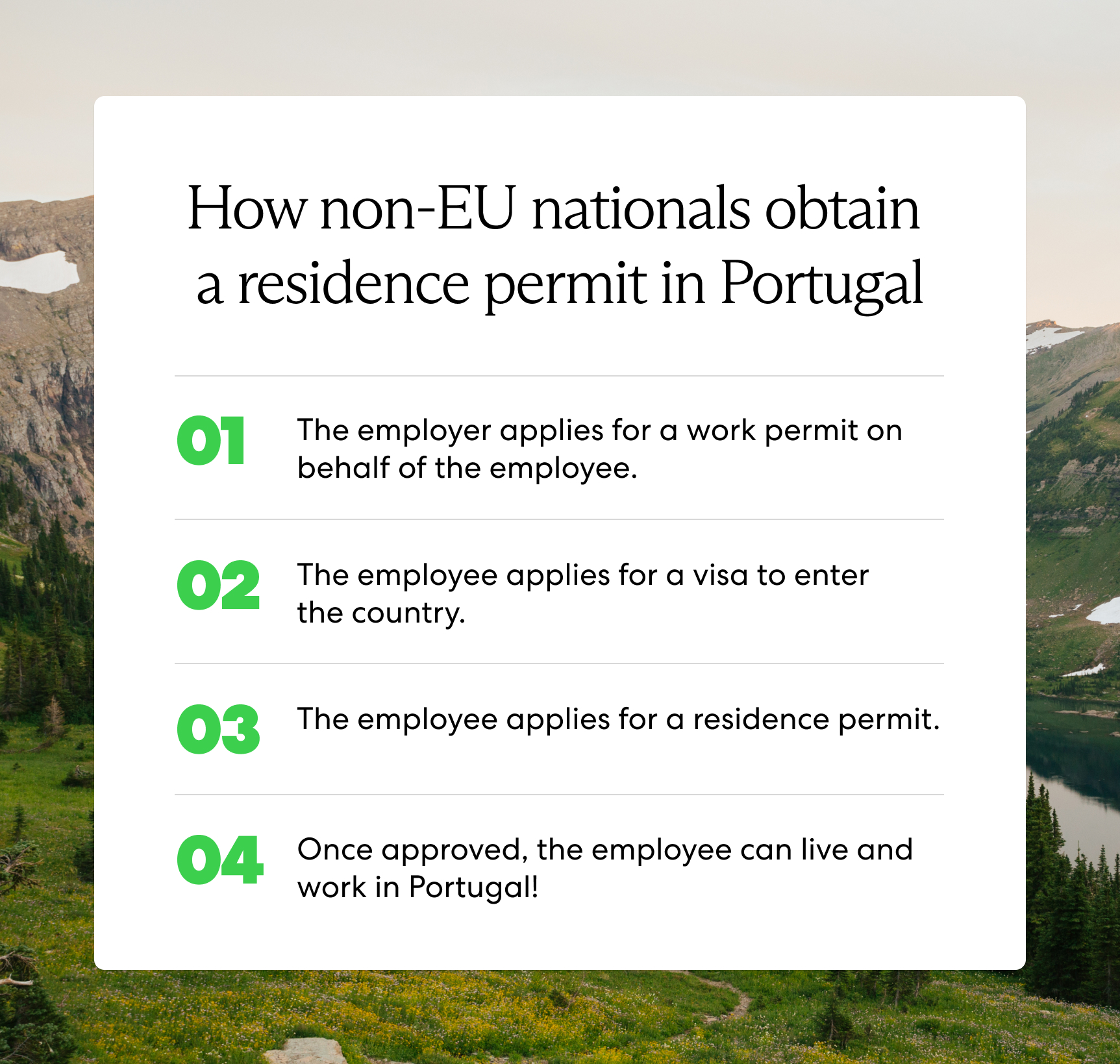 Both the employer and employee have roles in obtaining legal certification for the employee to enter Portugal.
Here are the steps for obtaining a work visa and residence permit:
Once the employee accepts a job offer, the employer files for a work permit with the Portuguese Labor Authorities.
The employee then applies for a visa at their local embassy.
Once the employee arrives in Portugal, they apply for a residence permit with the Immigration and Borders Service.
Required Documents
When applying for a residence permit, the employee needs:
A valid passport
Two recent pictures
Application form
Valid residence visa
Evidence of sufficient financial means
Proof of accommodation
Health insurance
Family certificate
Criminal certificate
Employment contract
The applicant must present all documents in English or Portuguese.
Cost
You need to pay a processing fee when you apply for a visa. The fees vary based on age but break down like this:
Adult (13 or older): €80
Children (ages 6-12): €40
Children (ages 0-5): Free
You won't have to pay a fee to travel to Portugal if you're an EU national, a researcher on a scientific visit, or a student or teacher on an educational trip.
Processing Time
It usually takes about two weeks to receive a Portuguese visa. However, like with any visa application process, unseen circumstances could draw out the process and extend the waiting time. It's always a good idea to plan ahead and apply for your visa about a month before you need it.
Considerations For People Wanting to Work in Portugal
Portugal is a beautiful country with delicious seafood, beautiful beaches, and lots of history. Of course, it's an attractive place for foreign employees to find work (or do their own work remotely).
However, like any global move or hiring decision, it takes planning to successfully hire in Portugal.
A few considerations for people wanting to move to Portugal for work:
Businesses prioritize EU citizens, so non-EU nationals may struggle to find a job in the country.
The length of your long-term visa varies based on your job and need, so you need to make sure you stay on top of renewing it when needed.
If you want to do contract work for Portuguese businesses, you will need a residence permit for self-employed workers.
Ready to Hire or Work in Portugal? We're Here To Help
If you're looking to live in Portugal as a digital nomad, fully relocate to the country, or hire someone to come work for your Portuguese business, the documentation process can be complicated.
Fortunately, our Global Immigration solution helps you tackle Portugal's immigration process with clarity and confidence.
With a full-service immigration partner like Velocity Global, you don't have to stress about obtaining long-term or temporary business-related visas. We'll take care of translation, documentation, and legislation and provide expert guidance every step of the way.
Contact Velocity Global to learn how to remove the stress of global immigration and easily work or relocate talent in Portugal.
Share via: