With advancements in technology, opportunity, and employer attitudes, it's possible to work from anywhere. More companies than ever are adopting remote work policies and hiring top-tier talent around the world.
If you're interested in working remotely from another country, it's possible to get started. Whether that's from a chalet in France or a condo in the Bahamas, we answer your burning questions and highlight what you should know before making the move.
Ready to work remotely from anywhere? Read our guide to get started.
Yes, you can work from many countries throughout the world even if you aren't a resident of that country. However, you'll need to comply with your chosen country's visa and tax requirements to stay there legally. A compliance partner can help you sort through these requirements.
Yes, you can work from many countries temporarily. You must obtain the appropriate visas and work permits that allow you to stay and work from other countries for a specific time period.
While it's common to get a tourist visa when staying in another country for a short time, foreign visitors typically cannot work on a tourist visa. If you want to work remotely in another country, you may need to ask your employer to apply for a visa status change.
Before you pursue working remotely from anywhere, you'll need to get the right visas, familiarize yourself with the country's tax laws, and determine your worker classification.
1. Visas
For starters, you'll need to figure out the legality of staying in the country you're working from. Usually, this means getting the appropriate visa.
If you're planning to work from a specific country for a prolonged period of time, a tourist visa usually won't be enough to keep you in the country (though sometimes it will be). In those cases, you're going to need to apply for a digital nomad visa.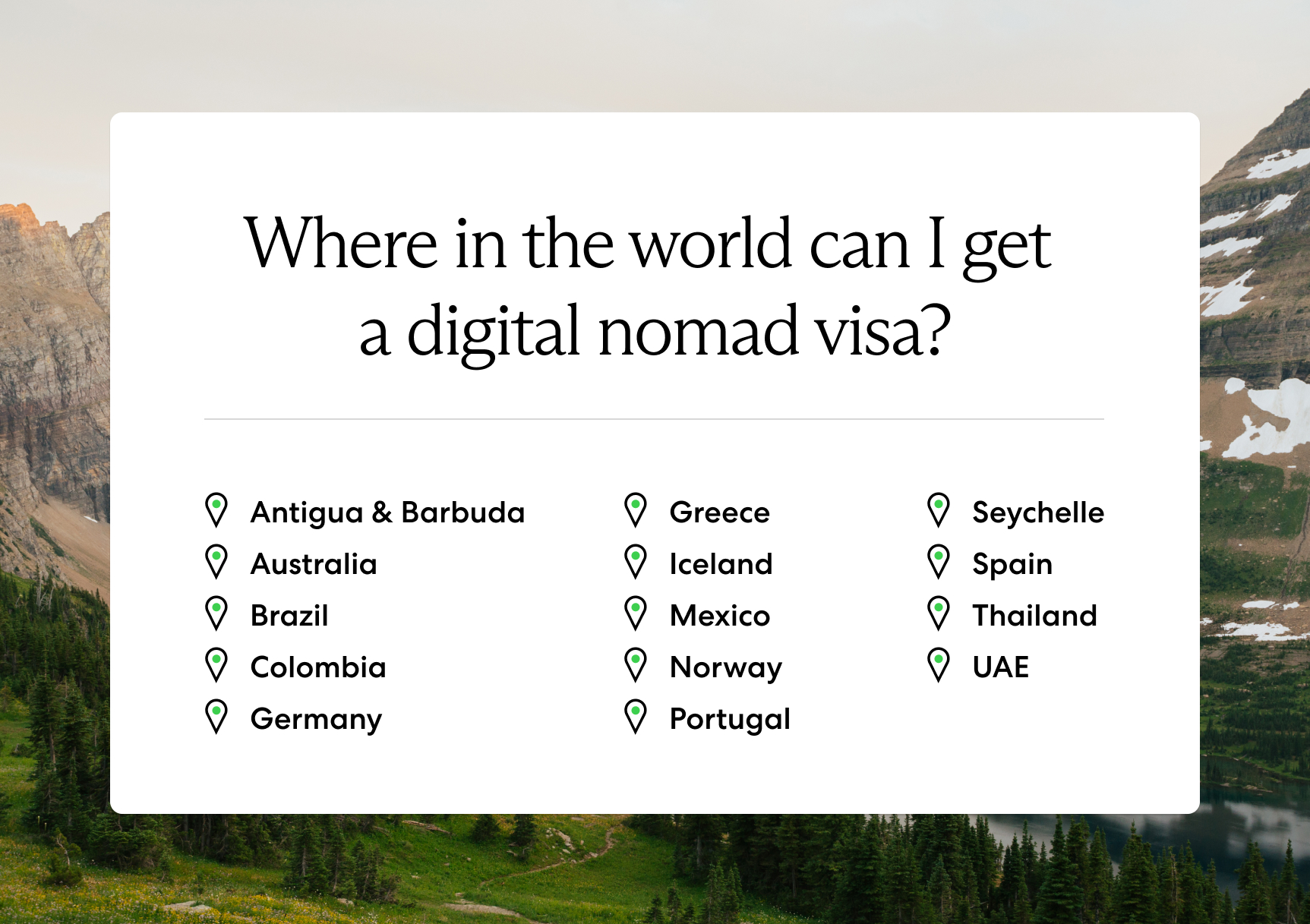 Currently, 54 countries offer digital nomad visas, including the following countries:
Antigua & Barbuda
Australia
Brazil
Colombia
Germany
Greece
Iceland
Norway
Seychelle
Spain
Thailand
A digital nomad visa allows people to stay and work from another country for a prolonged period of time. However, as visa requirements for remote workers vary from country to country, you'll need to do your research to determine exactly which visa you'll need.
2. Taxes
For the most part, you'll pay taxes to your resident country. So, if you're a resident of Mexico, for example, you'll pay taxes to Mexico no matter where in the world you're signing on from.
However, some countries' remote tax laws vary. In some locations, an employee setting up shop (even temporarily) constitutes a permanent establishment, which means the employer will then have to pay taxes to the country you move to.
When deciding where to settle down, do your research about taxes. Make sure a digital nomad or tourist visa will exempt you from local income taxes, even if you work from that country for a prolonged time period.
3. Classification
Digital nomads can often create compliance headaches for their employers, so they might want to convert their work status to an independent contractor rather than an employee. However, while this can help dodge some tax hiccups, it can also cause another set of issues.
For example, if you're working as an employee but are misclassified as a contractor, it could put your employer at risk of noncompliance penalties and make them liable for back pay, back taxes, and other fines.
Before starting to work abroad, talk to your employer about your classification as a contractor vs. employee and what that means for both you and the company.
While most may assume that digital nomads are freelancers or independent contractors, there is a growing number of people with full-time careers that now work from around the globe.
Because many offices are going remote, there are more possibilities for people to log on to their full-time job from an exotic location.
Below are some tips for successful remote work abroad.
1. Practice Asynchronous Communication
Asynchronous work means that you aren't expected to be online and working at the same time as your coworkers.
Because this is inherently more flexible than synchronous work, many remote and global teams have adopted this model to allow employees to log on when it makes sense for their time zone or productivity.
However, asynchronous communication can be tricky. When you aren't guaranteed a timely response, you need to make sure that your messages are clear, concise, and helpful. Practice communicating with your colleagues asynchronously before making it your only option.
Tip: Occasionally check in with your team and ask them how you can be clearer or if they need anything else from your communication.
2. Create a Healthy Work-Life Balance
Most people become digital nomads to see more of the world or experience new things. In that case, you don't want to spend nights and weekends at your computer working overtime. However, you don't want to let your enthusiasm for your new locale lead to neglect of your work.
While adjusting to life in a new country, make sure to focus on leaving your computer at a healthy time to avoid employee burnout (even if that means you aren't online with coworkers in different time zones), while also completing your work in an efficient and satisfactory way.
Tip: Develop a strong routine to maximize your productivity each day while making sure you're still logging off at a reasonable time.
3. Calculate Your Cost of Living
One of the main draws of the nomadic lifestyle is that it allows professionals to work from beautiful locations that may have a lower cost of living, so you can travel while remaining financially secure.
However, becoming a nomad still requires smart budgeting. You'll want to save up enough money to not only take you from point A to point B but also to sustain your lifestyle there. That means you should calculate your cost of living before jumping into a new location.
Calculate things like rent, bills, food, clothes, transportation, and experiences. When picking where to work, research the average cost of essentials — from rent to a cup of coffee — in that area and use it to inform your decision.
Additionally, ensure your employer is paying you fairly and equitably based on the cost of living in the country you're staying in and working from. Calculating employee cost for global talent entails much more than a base salary.
Tip: You should also prepare for the unexpected. In your budget, include money that you put away in the event of an accident or emergency.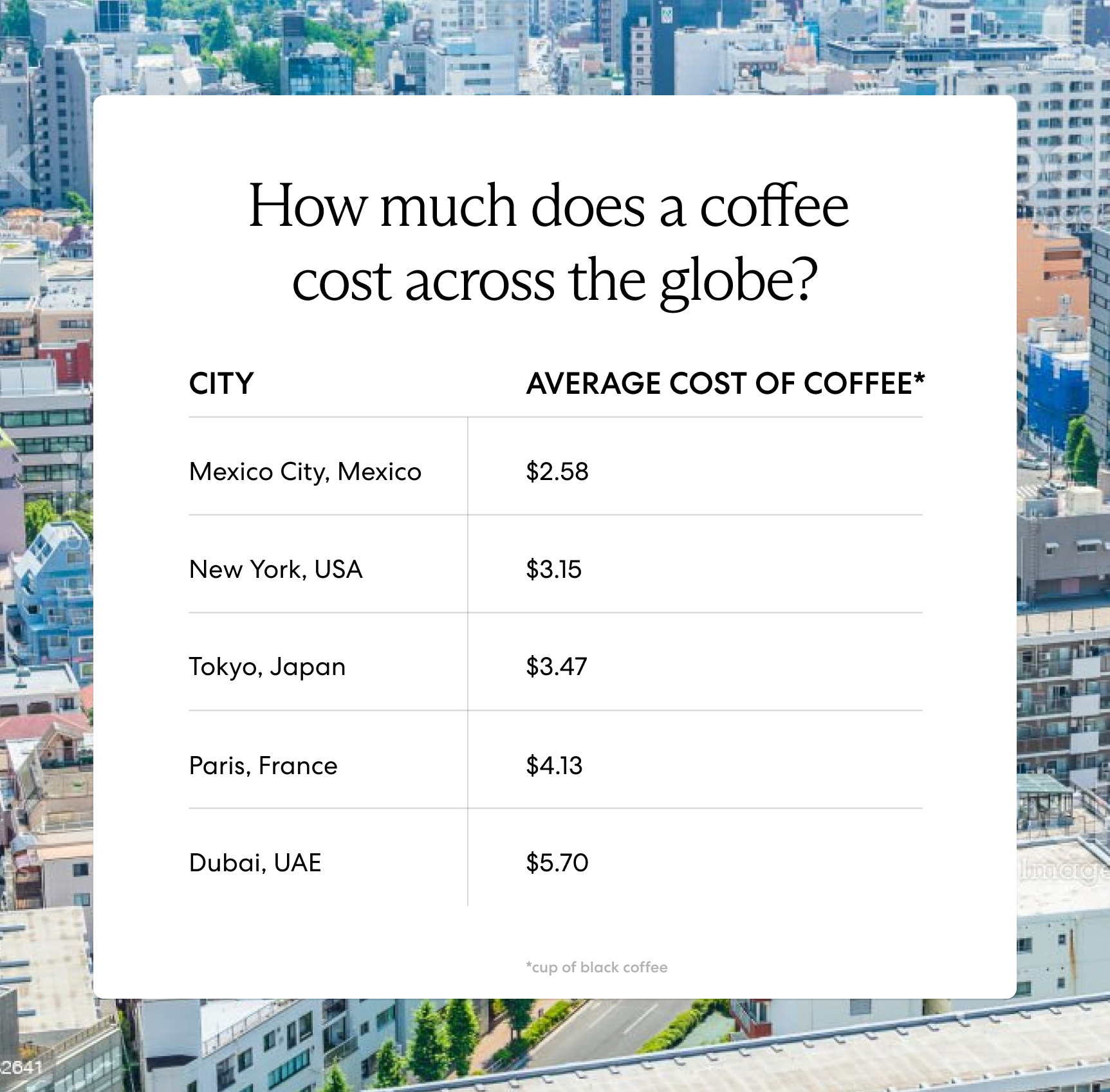 4. Make the Most Of It
The opportunity to become a digital nomad is unique and exciting. If you decide to make the plunge, you should make the most out of your experience. This could mean integrating yourself into the culture of your chosen country, traveling to other areas that are close to where you're living, making friends, or learning more about your locale.
Tip: Joining online communities of digital nomads can help you meet people who are going through the same experience you are.
Have more questions about remote work abroad? We have answers.
Do I Have to Pay Taxes if I Work Remotely in Another Country?
If your stay in another country triggers permanent establishment, you'll be considered a tax resident and must pay income tax in that country. In most cases, anyone staying in a particular country for six or more consecutive months in a year is considered a tax resident.
To avoid paying taxes in both your resident country and the country you're working from, you must secure the appropriate visa or file the appropriate tax forms that exempt you from local income taxes.
Can I Move to Another Country if I Have a Remote Job?
Yes, it's possible to move to another country if you have a remote job—assuming your employer approves the move. Along with employer approval, you'll need to obtain the appropriate visa and work permit from the new country to ensure you can legally stay and work in that country.
For example, if you want to move to and work in the United Arab Emirates, you'll need to acquire a residence visa and work visa, and your employer must sponsor your work visa.
What Countries Can I Work Remotely From?
Currently, 54 countries offer digital nomad visas for people who want to work remotely there, so you can work remotely on almost any continent you choose. Countries like Thailand, Portugal, Mexico, Norway, Spain, Australia, and the Czech Republic welcome digital nomads.
Will My Employer Let Me Work From Another Country?
If your office is already fully or partially remote, your employer has already taken the first step to letting you work from another country. However, going global runs various risks, like misfiled taxes or accidental permanent establishment. It's best to discuss your global plans with your employer before you start making moves.
Working remotely from another country is a rewarding experience. You get to see more of the world, experience new cultures, and learn new things without worrying about income.
But remote work also comes with legal and financial compliance requirements. And in that case, a global compliance partner like Velocity Global can help you work for your company in more than 185 countries. Through our Global Work Platform™, employers can manage and support remote staff around the globe with ease and compliance, allowing talent like you to live and work where you desire. All you have to worry about is getting the job done (and having fun)!
Contact Velocity Global to see how we can help you in your digital nomad journey.
Share via: