The rise of remote work made many companies consider hiring outside of their local markets and employ people across the globe. But, with an interest in hiring global candidates, comes the need to develop a successful remote interviewing process.
Remote interviewing requires the right mix of personality and digital literacy. It also requires work and troubleshooting to get the process right. We've put together some tips for building a seamless remote interview process.
1. Invest in the Right Technology
Technology is key when you conduct remote interviews. Without the right tools and a strong internet connection, you can't conduct the interview at all. Download an instant messaging or video conferencing platform, depending on how you will conduct your interview. From there, make sure you have the right computer software and internet connection to support your tools and let you log onto the interview.
Tip: To make sure you're ready, have a coworker jump on a call with you before the interview to guarantee your computer is working and your internet connection is stable.
2. Allow Candidates To Book Their Own Time Slot 
Sometimes, scheduling interviews becomes a time suck. Since you're already making use of technology to conduct the interview, consider using technology to schedule it as well. By using a calendar scheduling app, you can circumvent the back and forth by letting the candidate choose their own time slot.
Tip: Make sure you keep your availability up to date with appointments, PTO, or any other time you won't be in office so a candidate doesn't select a time that won't work for you.
3. Send Reminders to Everyone Attending the Interview
Without someone physically showing up to an office for an interview, it's easy to lose track of time and forget about a previously scheduled meeting. If you need more than one reminder, you can set a few throughout the week before the interview begins. Include relevant information like the date and time of the interview and instructions for joining the virtual meeting.
Tip: There are tools available that automatically send reminders to you. You can also schedule emails ahead of time on many email platforms.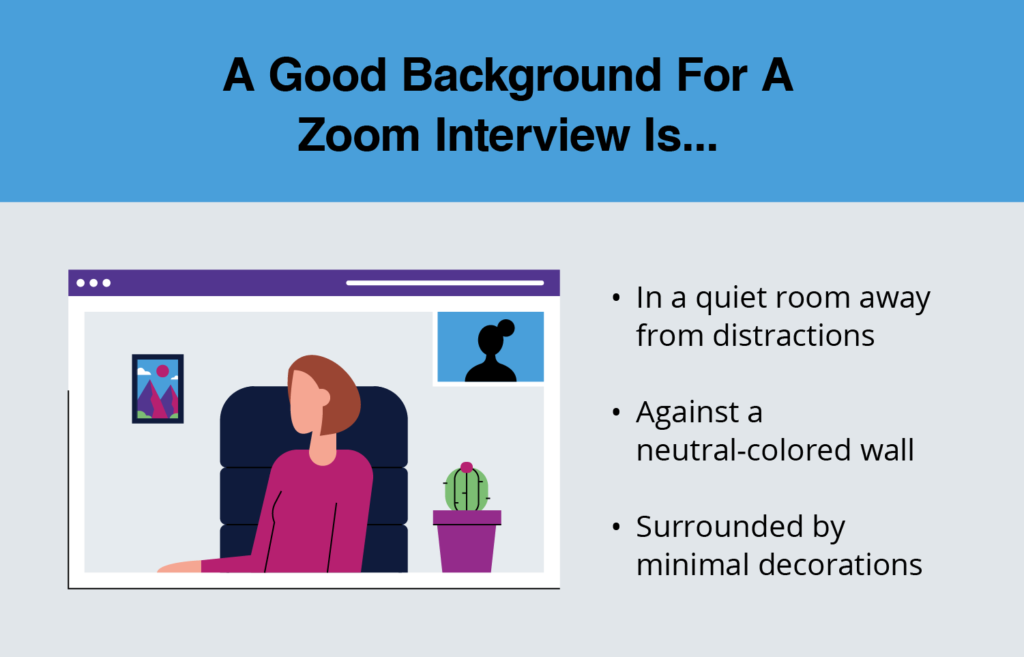 4. Choose a Quiet Place With a Neutral Background
It's easy to lose focus when you're chatting online or via video. Help eliminate distractions by picking a neutral background in a quiet part of your office or home. Eliminating background noise or distractions like flashy art or loud family members helps make sure that both you and the candidate are fully focused on the interview.
Tip: If you can't find a suitable background, upload a virtual background to your video conferencing platform before the interview.
5. Test Your Technology Beforehand 
If you join a virtual interview and experience technical difficulties, your candidate may be understanding but they may also find you unprofessional. Testing your technology before logging onto the interview ensures you're ready to go and don't have to deal with any awkward mishaps at the start of your meeting.
Tip: Test your technology with enough time to troubleshoot if you experience any issues.
6. Have a Backup Plan 
In the event that an unexpected technical issue arises during your interview, you'll want to have a backup plan ready to go. If your program crashes or the internet cuts out, you should rely on a backup plan so your candidate knows what they should do. For example, if your interview was on video, you could pivot to a phone call.
Tip: Send your interviewee an email beforehand with instructions detailing what to do if something goes wrong.
7. Be Considerate of the Candidates 
Some global companies work asynchronously, meaning they don't live in the same time zone. In that case, you may need to make adjustments or compromises so the interview happens at a comfortable time for everyone involved. Make sure you don't schedule the interview too long before or after someone's workday.
Tip: Letting the candidate choose their own time slot ensures that you are considerate of their time.
8. Practice Your Pitch 
It's hard to convey your company culture when the candidate can only see (and meet) you through a screen. To help you properly communicate your company, employees, values, and culture, practice a pitch beforehand or consider writing a script.
Tip: You want to say everything you want to without sounding like a robot. Feel free to ad-lib or improvise parts of the general speech you've written.
9. Email Candidates Useful Information Before the Interview 
You don't want to email a video link or phone number to the candidate at the last minute. Doing so will make you look unprofessional (and unprepared). Send an email to the candidate beforehand letting them know exactly what to expect for the interview, including the time, joining instructions, meeting password, and anything else they'll need.
Tip: Some companies send candidates a list of questions they might ask to help them prepare.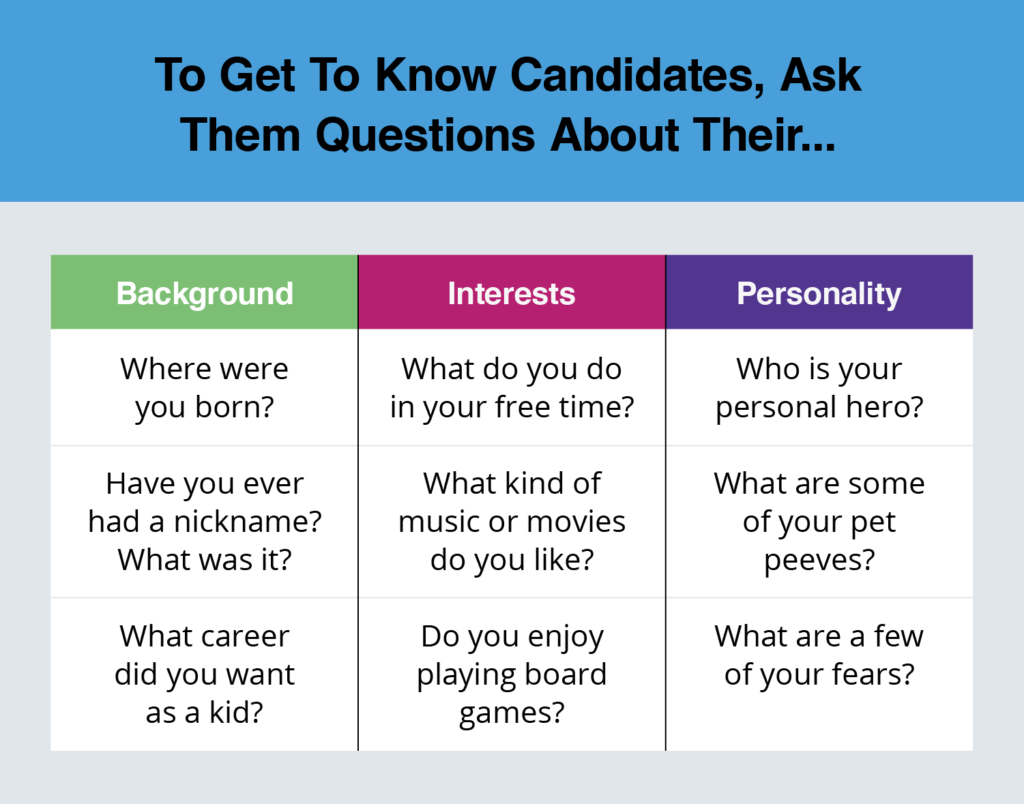 10. Be Personable 
Virtual interviews are inherently awkward. But just because your meeting happens through a computer screen doesn't mean you can't be friendly and personable. Video interviews are still an opportunity to let your company culture and personality shine. Take time in your interview to ask personal questions and get to know more about the candidate outside of work.
Tip: Relatability goes a long way. If you relate to the candidate, let them know. It'll help bring their guard down and make them more comfortable.
FAQ 
Have more questions about the remote interview process? We've got answers.
How Long Do Remote Interviews Last? 
Remote job interviews are typically the same length as in-person interviews. That means remote interviews usually last somewhere between 30 and 60 minutes.
What Are the Challenges of a Remote Interview?
Remote interviews come with unique challenges. When you aren't meeting candidates face to face, it can be difficult to explain your culture and get to know them.
A few common challenges in remote interviews:
Technological difficulties
Difficulty getting to know your interviewee
Inability to fully explain company culture and values
The good news is that technological advancements make it easier to solve these problems and conduct seamless remote interviews.
What Questions Should I Ask In a Remote Interview? 
In addition to typical questions to assess a candidate's ability to do the job, you should ask them questions specifically touching on remote work skills. As many remote employees need to be digitally literate, communicative, and reliable, ask them about their remote work experience and technical know-how.
How Do I Prepare for a Remote Interview? 
Preparing for a remote interview is much like preparing for an in-person interview. You need to come prepared with a list of good questions to ask and look professional. However, remote interviews require the additional preparation of having virtual tools downloaded, tested, and ready to go. Things like video conferencing or instant messaging tools, internet, and an email address are necessary to complete your interview.
Want To Hire Global Talent?
Hiring and onboarding global talent comes with a lot of steps and process that may be new to your company. One of those steps is making sure you're compliant with global laws and regulations for countries where your employees live. An employer of record — like Velocity Global — can step in to help.
Contact us to make us part of your remote hiring process.
Share via: