Singapore's numerous work visas cater to talent from various backgrounds, resulting in a strong expat community of highly-skilled professionals that constitute roughly 29% of the country's population.
Anyone from students and tech professionals to individuals looking to start a venture-backed firm in Singapore has numerous visa options.
Singapore's highly-skilled talent pool and strategic location in the heart of Southeast Asia make it a highly attractive target market for many global companies.
In this article, we break down the variety of Singapore work visas and outline the necessary steps to follow for applying.
We also offer some key considerations for global companies hiring foreign nationals in the country and answer several frequently asked questions.
Singapore offers numerous work visas, or work passes, to various talent, ranging from executive professionals to trainees and students.
Below, we break down each category of Singapore work visas and discuss them in detail.
Singapore Work Passes for Professionals
This category includes three work passes for highly skilled professionals: Employment Pass, EntrePass, and Personalized Employment Pass.
Each is available for individuals in managerial or executive roles in a locally incorporated company or who are heads of their own Singaporean-based firm.
We outline the differences between each work pass below:
Employment Pass (EP). The EP is a two-year work pass for individuals with a job offer in an executive role in a Singaporean-based company. Starting September 2023, candidates must earn a monthly salary of at least S$5,000 (US$3,760), or S$5,500 (US$4,136) if they work in financial services. Tech professionals with skills that are in shortage may obtain an extended five-year EP.
EntrePass. This one-year work pass is available to foreign entrepreneurs who plan to launch a Singapore business that has venture backing or already owns innovative technologies.
Personalized Employment Pass (PEP). Similar to the Employment Pass but with greater flexibility, this three-year pass does not tie holders to an employer. Starting September 2023, candidates must earn a fixed monthly salary of S$22,500 (US$16,920) from abroad or while already working on an Employment Pass in Singapore. 
Overseas Networks & Expertise Pass (ONE Pass). This is an exclusive, five-year pass for top talent across multiple sectors, such as business, arts, sports, and academia, that allows its holders to work for multiple companies at one time. Candidates must earn S$30,000 (US$22,560) per month or the equivalent in a foreign currency or have a job offer from an established Singaporean-based employer paying them S$30,000 per month.
Singapore Work Passes for Skilled and Semi-Skilled Talent
This category of Singapore work passes is available to skilled and semi-skilled professionals from various fields, including construction workers, nannies, and hotel performers. 
Individuals from certain countries who work in select fields may qualify for one of the following Singapore work passes:
S Pass. This two-year work pass is available to mid-level skilled talent who earn at least S$3,000 (US$2,256) per month and hold a degree from an accredited institution or have relevant work experience.
Work Permit for migrant workers. This is a two-year work pass available to semi-skilled workers from select countries, such as India, the Phillippines, and Taiwan, who work in construction, marine shipyard, manufacturing, processes, and services.
Work Permit for migrant domestic workers (MDW). This two-year work pass is available to workers between the ages of 23 and 50 from select countries, such as Bangladesh, Indonesia, and the Philippines, who come to work in Singapore as family helpers.
Work Permit for confinement nanny. This 16-week work pass is available to Malaysians between the ages of 23 and 70 who come to Singapore to care for a newborn during the first 16 weeks of the child's life.
Work Permit for performing artiste. This is a six-month, non-renewable work pass for performing artists aged 18 or older who work for eligible public entertainment outlets in Singapore, such as hotels or bars.
Singapore Work Passes for Trainees and Students
Work passes for trainees and students allow young professionals and students from select countries to visit Singapore for various training and professional internships in local companies or educational institutions. 
This visa category includes three different work passes, outlined below:
Training Employment Pass. Foreign nationals who come to Singapore to study at a select institution or train for a professional, executive, or specialist role in a local company and earn at least S$3,000 (US$2,256) per month may apply for this three-month pass.
Work Holiday Pass. This is a non-renewable, six-month work pass available to international students aged 18 to 25 from countries participating in the Working Holiday Programme. A similar program exclusively for Australians called the Holiday Visa Programme, offers a one-year pass to individuals aged 18 to 30. 
Training Work Permit (TWP). This six-month work pass is for unskilled and semi-skilled employees from related overseas companies to undergo training at a local firm in Singapore. 
Singapore Short-Term Work Passes
Singapore legislation outlines certain work activities that visitors can undertake without a work pass. 
However, if the intended work activity isn't on the list, foreign nationals may apply for a short-term work permit, or miscellaneous work pass, which allows visitors to take on temporary work in the country for less than 60 days. These passes are ideal for individuals like journalists and speakers at local events. 
Full-time students may also work jobs that contribute to their graduation requirements without obtaining a work pass or notifying the Ministry of Manpower.
Regardless of the pass you choose, the first step in obtaining a Singapore work visa is for the applicant to secure a job offer from a locally-incorporated company. From then on, the application process is primarily the employer's responsibility. 
Keep in mind that overseas employers without a presence in Singapore must ask a third-party local entity, such as an employer of record (EOR) in Singapore, to act as a local sponsor and submit the application on their behalf.
Below we outline the general steps required to apply for most Singapore work visas.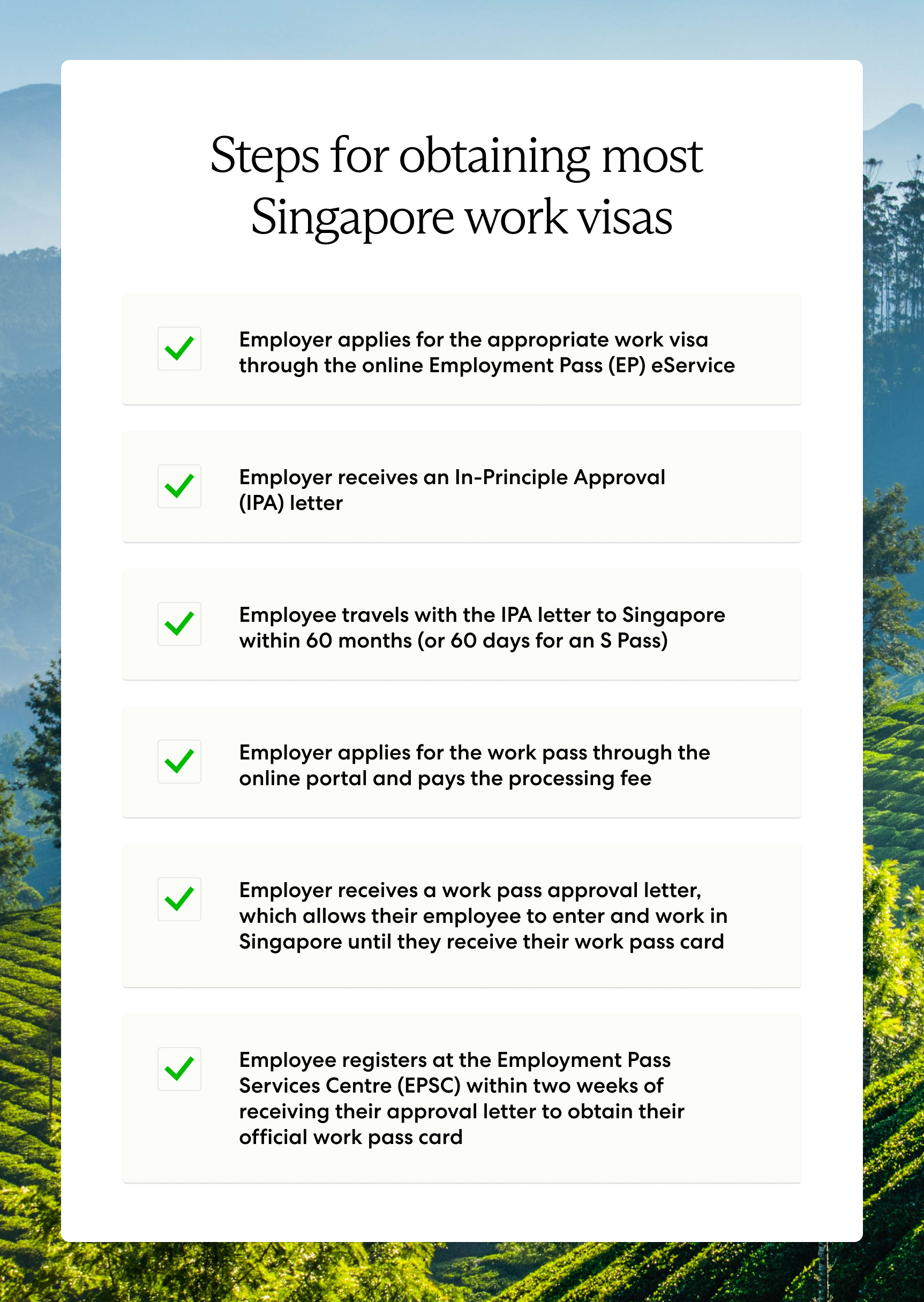 1. Employer Applies for Work Visa Online
Before the foreign employee may travel to Singapore, the employer or relevant third-party entity must lodge a work visa application and pay the processing fee through the online Employment Pass (EP) eService. 
Fees range from S$35 to S$175 (US$26 to US$131), depending on the work pass, and the company must provide its up-to-date business profile as registered with the Accounting and Corporate Regulatory Authority (ACRA).
2. Employer Receives In-Principal Approval (IPA) Letter
If approved, the employer should receive an In-Principle Approval (IPA) letter within three weeks.
3. Employee Travels to Singapore With IPA Letter
Upon receiving the IPA letter from their employer, the employee may travel to Singapore within six months (or 60 days for an S Pass).
4. Employer Applies Online for Work Visa Issuance
The employee must be in Singapore before their employer can apply for the work pass. Once the employee arrives, the employer may apply via the online portal and pay the processing fee for the pass itself, which ranges from S$35 to S$225 (US$26 to US$169).
Processing times are about seven days.
5. Employee Receives Issuance Notification Letter
If successful, the employer should receive a work pass approval letter, which includes critical information about whether or not the employee must get their photo and fingerprints taken at the Ministry of Manpower (MOM) Services Center.
This document is simply an approval letter. However, it permits the employee to start working and enter and exit the country as needed until they receive their employment pass card.
6. Employee Registers at the Employment Pass Services Centre (EPSC)
The employment pass card serves as the official work pass. To receive it, all employees must register at the Employment Pass Services Centre (EPSC) within two weeks of receiving their approval letter. 
It takes about four workdays to receive the card, at which point the work pass application process is complete.
A critical consideration to remember is that every candidate seeking employment in Singapore must have sponsorship from a legally incorporated Singaporean entity. This law creates a serious challenge for global companies hiring foreign nationals in the country. 
A simple solution is to partner with an employer of record (EOR). An EOR is a third-party organization that serves as the legal employer of your global workforce, facilitating global mobility so you can easily hire or relocate talent worldwide without establishing local entities in each country where you operate. 
An EOR handles everything from hiring and onboarding to immigration and compliance, allowing you to test the Singaporean market and quickly hire foreign nationals without violating local employment and immigration laws.
Learn more: What Is an Employer of Record (EOR)?
Below, find answers to commonly asked questions about Singapore work visas.
How Much Does a Singapore Work Visa in Singapore Cost?
The fees for Singapore work visas vary depending on the work pass you apply for. 
For example, an application for a standard Singapore work visa, called an Employment Pass, incurs a S$105 (US$79) processing fee and a S$225 (US$169) issuance fee. Meanwhile, the processing and issuance fees for the Training Work Permit are only S$35 (US$26) each.
How Long Is a Singapore Work Visa Valid?
Singapore work visa validities differ between work passes. For example, a standard Employment Pass is valid for two years for most holders. However, this increases to five years for tech professionals with skills that are in shortage. 
Conversely, the short-term work pass is available for a maximum of 60 days.
Can Work Visa Holders Bring Dependents to Singapore?
Employment Pass, S Pass, and ONE Pass holders may apply for a Dependant's Pass, which allows their spouses and children to join them in Singapore for up to two years. 
A Dependant's Pass is available to the visa holder's legally married spouse and unmarried children under 21.
Despite Singapore's relatively simple visa application process, sourcing top foreign talent and relocating employees across the globe comes with unique challenges. Eliminate the hassle by partnering with Velocity Global.
Velocity Global's integrated Global Immigration solution simplifies visa acquisition for distributed workforces in Singapore and beyond. 
As part of our Employer of Record (EOR) solution, our expert team handles the complex steps related to immigration paperwork, such as document collection, translation, administration, and compliance so you can relocate talent or hire foreign nationals in Singapore with peace of mind.
Discover how we helped ConsenSys, a global blockchain technology company, quickly transfer top talent from the U.K. to Switzerland in under three weeks by streamlining the entire immigration and visa process.
Or contact Velocity Global to learn how to remove the stress of global immigration and hire top talent in Singapore with ease.
Share via: