Today, businesses offer remote work options to employees and build distributed workforces as unique opportunities for global growth and improved company productivity.
By building a remote workforce, organizations can source from a larger talent pool, improve employee well-being, and reduce churn. Additionally, talent today desires a greater work-life balance, making the opportunity to work remotely one of the most in-demand job benefits.
However, operational challenges and compliance risks arise when businesses switch from physical to virtual offices.
Read this guide to learn how remote work benefits global companies and their employees and discover best practices in managing work-from-home global employees. Plus, find out how to mitigate risk as you build an international workforce.
Once a perk for a few employees in select industries, working from home is now a standard benefit for employees in many sectors.
Statistics on remote work are consistently trending up:
The percentage of people working from home in the U.S. has permanently risen since COVID-19 at a rate of 40 years of pre-pandemic growth, and researchers expect this trend to continue rising.
Remote work now accounts for one-quarter of paid full-time workdays in the U.S.
UpWork predicts that 73% of teams across all industries will have remote workers by 2028.
Remote trends are gaining popularity at all levels of the employee hierarchy, including C-levels and executives. According to a report by Cowen Partners, 80% of executive jobs are currently available remotely.
In a report by Buffer, a social media management platform, 97% of the 2,118 remote workers interviewed stated they would like to work remotely "at least some of the time for the rest of their careers," and 97% of respondents reported that they encourage others to work remotely as well.
Today, 16% of global companies have implemented fully remote work options for employees. For example, Deutsche Bank, Dropbox, and Google now offer employees a 100% remote option, and researchers expect more companies to follow suit.
Ready to jumpstart your distributed hiring efforts while eliminating the risks? Download our guide to learn how to easily and cost-effectively hire, pay, and manage the right candidates across borders while ensuring compliance for global talent: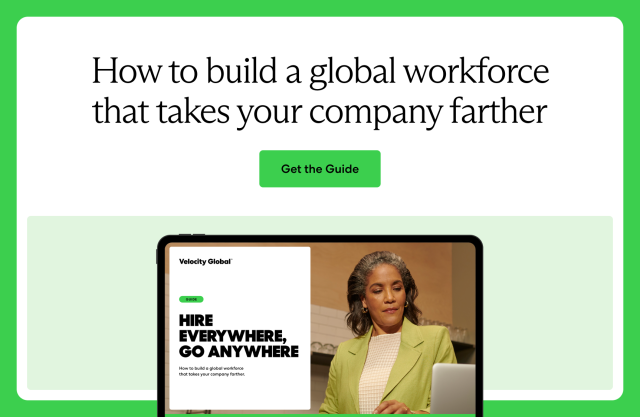 The numerous benefits of remote work have been the main drivers behind the trend's rapid acceleration in recent years. These benefits include improved job satisfaction, increased employee productivity, greater talent retention, and significant cost savings.
Below, we outline the benefits of remote work in detail.
1. Increase job satisfaction
Remote work reduces stress levels and improves employee job satisfaction, positively impacting employee well-being and increasing productivity.
Research conducted by Owl Labs in 2023 revealed that 79% of workers report feeling more satisfied with their jobs when they can work remotely.
In another study of 1,001 remote workers in the U.S., nearly 80% of respondents described their average stress level during the workweek as either "not stressed" or only "moderately stressed."
2. Increase productivity and performance
A common misconception of remote work is that the workforce loses productivity with less direct supervision. However, the opposite is true.
In the age of message boards, communication, and time-tracking tools, management can easily oversee remote workers and monitor productivity. Businesses that use a remote work model with the right tools find distributed teams more productive than office staff.
For example, Intuition reports that 83% of employees get more done when they work from home, which translates to a 27% improvement in overall company productivity.
3. Attract and retain top talent
By removing geographic limitations to hiring through employee mobility, employers gain access to a larger talent pool, which allows them to find talent with a more diverse range of experience and skill sets to meet their specific needs.
Additionally, by offering a work-from-home option, companies can reduce employee churn.
Today, 74% of workers say having a remote work option makes them more likely to stay with their company. If they lost the opportunity to work from home, two-thirds would immediately begin looking for a job that offered the desired flexibility, and 39% would quit.
As remote work becomes an in-demand benefit, businesses that want to attract and retain top talent must offer some form of telecommuting to stay competitive.
4. Save money on overhead expenses
Most companies want to reduce expenses, and allowing employees to work remotely cuts costs in multiple areas, including office space rent, utilities, janitorial services, security, and maintenance.
According to Global Workplace Analytics, by allowing employees to work from home half the time, U.S. businesses can save roughly $11,000 annually per employee.
While offering a remote work option improves employee satisfaction and company productivity, employers must devise a strategy to eliminate confusion, mitigate risk, and ensure long-term success.
Management must clarify their expectations with all virtual employees, create a communication plan, help establish individual routines, set up mobile workspaces, and ensure safety and data security for all team members.
Below, we discuss each aspect of a remote work strategy in detail.
1. Develop a strong digital communication plan
Communication remains one of the biggest challenges for remote teams. With a sound communication plan, employers can avoid unnecessary confusion and employee isolation.
Set up your entire team with appropriate communication platforms that have proper channels designated for specific purposes to avoid confusion and mistakes.
Technology like Asana and Airtable allows remote teams to communicate and track projects effectively. Messaging platforms like Slack offer real-time communication boards and channels that can integrate multiple departments to provide a sense of unity in a single virtual workplace.
Take your time selecting the right technology for your needs, and ensure your team understands how to navigate each platform.
2. Determine team communication expectations
Uncertainty fosters confusion and leads to mistakes that reduce productivity. To avoid setbacks, ensure each employee understands when and how communication takes place daily.
Establish clear guidelines regarding which team members are responsible for which departments, how to contact them when questions arise, and through which channels.
Consider time zone differences between team members when scheduling work hours and meetings. Decide if you need employees in different time zones to join meetings outside of their regular work hours or if you can make reasonable adjustments.
Also, remember to accommodate varying communication styles between cultures and ensure everyone on the team feels supported and welcomed during meetings.
If employees need flexibility, make sure they make arrangements in advance. Remember, working from home at this scale is uncharted territory for many employees, and setting clear communication expectations helps ease their adjustment.
3. Establish daily personal routines
Daily routines foster effective communication, ensure consistency and productivity, and create a sense of stability among team members. Help employees establish their daily routine by scheduling regular team meetings, daily standups, one-on-ones, and deadlines well in advance.
Many companies start the week with a short standup that gives everyone a clearer picture of the workweek ahead.
Such meetings foster consistent communication between team members and management and help maintain relationships while working remotely. They also introduce a healthy element of accountability, which keeps people engaged and productive.
4. Set clear performance expectations
Leaders must set realistic performance expectations for their team as they establish a remote work policy. Communicate to employees that quality and output must remain on par with in-office work.
To keep projects moving, managers should spell out priorities, milestones, performance goals, and individual responsibilities to their direct reports on each project.
Everyone should be aware of expected response times in daily communication, depending on the channel, purpose of communication, and project deadline.
Additionally, make yourself available to answer any questions and be prepared to review your expectations and revise accordingly.
5. Help establish mobile workspaces
While you can reduce per-employee costs by allowing remote work, supporting your employees in creating a stable, functioning, at-home workspace is still in your best interest.
Create a remote work allowance for things like laptops, monitors, desks, compensation for WiFi costs, mental health support, and other essential tools and services your employees need to work from home comfortably.
This budget can also cover on-the-go workspace costs, like laptop stands, noise-canceling headphones, portable batteries, and even coworking space fees, ensuring your workers can access stable WiFi in a good work environment.
Providing your team with workspace equipment gives you control over the quality and safety of their setup and improves employee productivity.
6. Consider workspace safety
Team members can set up mobile workspaces in many places, but their setup should still be safe and promote healthy working habits. One primary concern is that with a makeshift, non-regulated setup, your team may experience ergonomic issues that affect their health and productivity over time.
To mitigate health risks, ensure your mobile workspace budget covers things like adjustable chairs with ample back support, laptop stands to reduce neck strain, and other tools that reduce the risk of pain or injury.
Ensuring your team's home office is ergonomic protects them from chronic illnesses such as back pain and vision impairment.
7. Ensure data security
Protecting sensitive company data is essential for remote teams. This means coordinating with IT experts to ensure specific measures are in place, such as:
Updated antivirus software
Active firewalls
Multi-factor authentication (MFA)
Necessary VPNs to secure site-to-site connections
Consider creating a comprehensive data security policy outlining how employees should handle sensitive data and keep it safe.
A typical data security policy dictates that company devices must be password protected, use MFA, and be equipped with relevant security software while working in shared spaces.
To help team members understand the importance of data safety, consider setting up training sessions that cover each aspect of your data security policy, such as document storage, file sharing, and strong password creation.
Keeping employees engaged is critical when virtually onboarding and managing remote teams. Isolation can lead to increased stress, poor decision-making, and reduced creativity, so employers must take extra steps to ensure remote employees feel connected to their company and team.
Below, we outline best practices for managing work-from-home international employees. 
1. Give your employees the resources they need to succeed
In addition to providing the necessary communication platforms and project management tools, management should ensure employees have access to all documents and files needed to conduct their work.
If your company does not have a well-maintained file-sharing or document-storage repository (like Google Drive), now is the time to establish that process.
Access to critical information ensures a smooth experience for your employees and reduces time spent locating documents, tools, and training materials.
2. Provide regular updates
Internal communication between leadership and their teams is crucial for maintaining engagement with a remote workforce.
It's easy for remote workers to feel disconnected, so be sure to update every team member on critical business initiatives regularly. Make company-wide announcements promptly and on channels everyone in the company has access to.
It's best to have one-on-one virtual meetings with direct reports when delivering feedback or performance reviews. Video calls create a safe space to establish trust and confidence, exchange feedback, ask essential questions, and problem-solve effectively.
3. Get creative with team bonding
According to Gallup Research, virtual team-building activity reduces absenteeism by 42% and increases profitability by 21%.
Even if your team is spread across different cities or countries, this doesn't mean you can't have fun as a group.
Digital services and tools close the gaps that separate global teams. Use video chat platforms like Zoom or Google Hangouts to host virtual lunches, holiday events, company milestone celebrations, or remote game nights.
4. Help employees find work-life balance
Unplugging after work can be difficult when your home is also your office. It's also easy to lose track of time and put in more hours during the day than you typically would in an office setting.
When possible, management should avoid making calls and requests to employees outside their set working hours, regardless of the time zone.
Managers should also encourage employees to respect their work-life balance by setting and honoring an at-home work schedule.
Adaptability in the workplace is more important today than ever. Allowing your team to work asynchronously and on a schedule that fits their lives outside of work not only encourages work-life balance but can result in improved engagement and productivity at work.
5. Prioritize empathy and trust
An employee's job satisfaction, productivity, and engagement largely depend on whether or not they feel safe and supported at work.
Managers must foster empathy and trust in the virtual work environment to ensure long-term, healthy collaboration. Leadership should maintain regular communication with employees, asking them questions and ensuring they always have what they need to do their job.
The same goes for employees—encourage employees to remain empathetic and understanding of the challenges management faces. Together, teams are more effective when tackling issues from a place of empathy and support.
Despite its multiple benefits, building a team that spans borders involves significant compliance risks, intellectual property concerns, and contractual obligations across multiple jurisdictions.
Below we outline the primary risks associated with building a global team and how to mitigate them along the way.
Misclassification
Worker classification laws vary drastically between countries. To avoid penalties, employers must familiarize themselves with local employment laws in each jurisdiction where they engage talent. However, this can be difficult for in-house HR and legal teams to navigate on their own.
For example, suppose your management supervises contractors' day-to-day work or influences their schedule. In that case, local authorities may deem these contractors as employees under local law and subject your business to social contribution backpay, fines, reputational damage, and other penalties.
To mitigate this risk, many global companies partner with a third-party expert, such as an employer of record (EOR), to provide fully compliant work contracts in multiple jurisdictions.
Learn more: How to Avoid the Risks of Independent Contractor Misclassification
Intellectual property
When working with remote teams, the threat of losing valuable intellectual property (IP) to hackers and competitors is all too real.
Security breaches can easily occur if a remote worker uses an unsecured, public WiFi network for work purposes or forgets to save important login information in a password vault.
Non-disclosure clauses are a part of most employment contracts and are another necessary means for protecting a company's intellectual property. However, such clauses may be difficult to enforce when the worker lives abroad.
Have your HR team clarify non-disclosure policies, terms, and enforceability before work begins, and implement ongoing checks to monitor or limit worker access to sensitive proprietary information.
Incorrect payroll contributions
Like worker classification laws, payroll tax obligations vary drastically between jurisdictions. Your HR team must familiarize itself with the social contribution and withholding requirements in each country in which you hire employees.
Inadvertently overlooking your payroll obligations in an employee's country of residence can result in fines, reputational damage, and other penalties.
Learn more: Global Payroll Compliance: How to Avoid the Risks
Contractual obligations
When working with remote teams, the validity and enforceability of work contracts vary, depending on the laws and regulations in the employer's home country and the employee's country of residence.
Employment laws in the country where the employee performs the work often override those of the employer's home country. In such cases, non-disclosure agreements (NDA), non-compete clauses, termination notices, and severance notices in your work contract may not be enforceable.
Consider partnering with a third-party expert, such as an EOR, to source work agreements with critical clauses or their legal alternatives that are enforceable in specific jurisdictions.
Build your dream remote team without the headaches
Building a remote team is an excellent opportunity for global growth, but it is time-consuming and involves significant compliance risks. Avoid the headaches by partnering with Velocity Global.
Get in touch to learn how we help organizations quickly and compliantly hire, pay, and support talent in more than 185 countries.
Share via: