If I told you there was a simple way to make your business more profitable, reduce overhead, and improve talent satisfaction and retention all at the same time, be honest—you'd probably say it was too good to be true. And in most cases, you'd be right.
Economic uncertainty has put pressure on everyone, forcing businesses to slash budgets, rework their team, and, in some cases, freeze hiring. These instincts to pull back through times of uncertainty may solve budget problems in the short term, but talent shortages cause business interruptions that make matters worse in the long term.
In the past, businesses were limited to hiring in their local talent markets, meaning there were fewer options for compliantly building a team on a budget. Now that remote work is rapidly becoming more commonplace, that's changing—fast. Besides giving you a broader pool from which to hire talent on budget, hiring globally sets your business up for success in multiple ways.
Businesses that invest in their talent today won't have to win them back tomorrow. Especially during hard times, it's critical that you hire the right people so you have the talent you need to weather the storm—and so you don't have to suffer the cost of replacing team members in the middle of one.
Since 2020, the world of work has dramatically changed. The work-from-home mandates that arose out of necessity due to the COVID-19 pandemic have given rise to full-blown remote work policies—and those who have adopted a distributed workforce strategy have noticed the difference.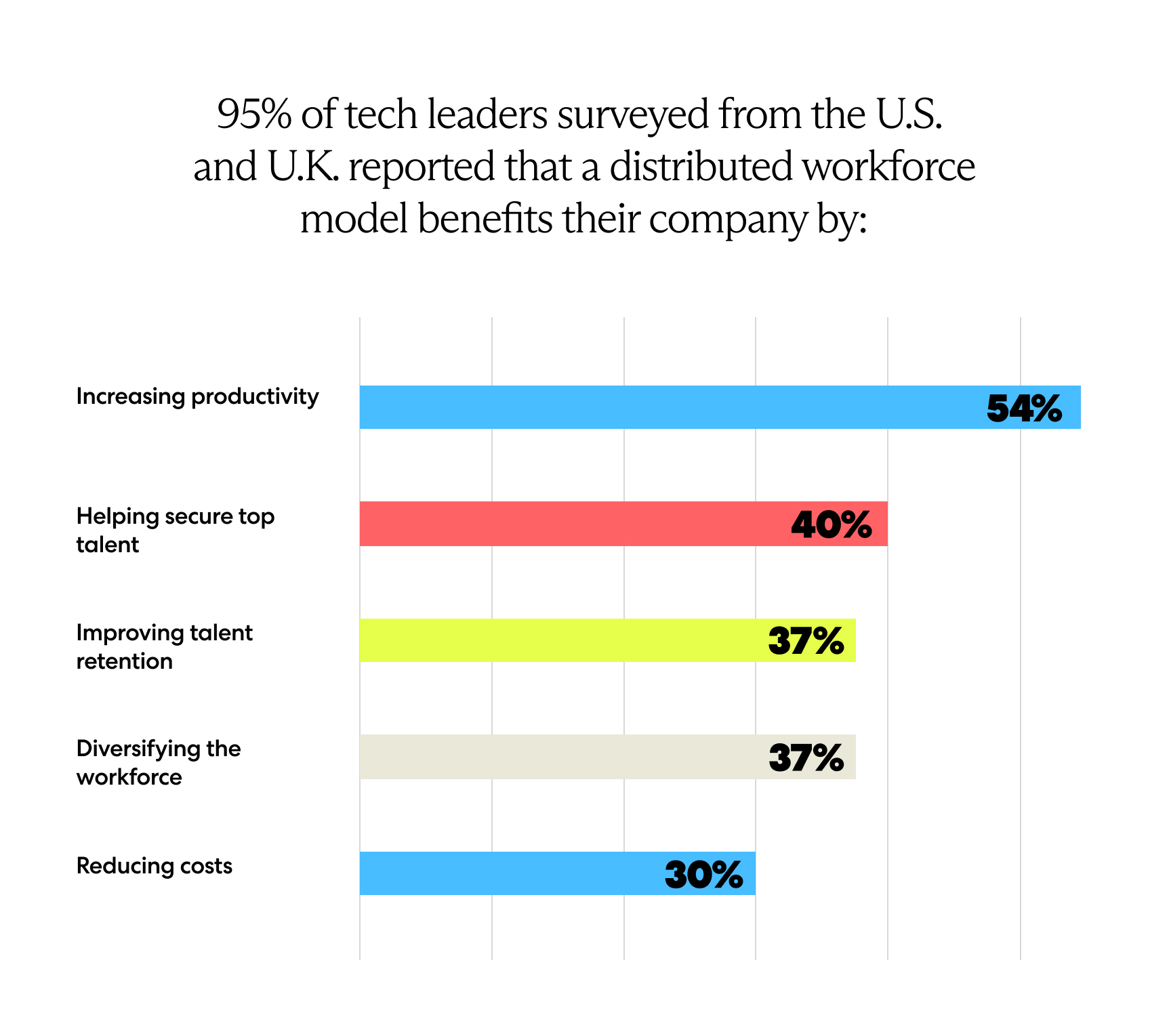 In another report by LinkedIn, 87% of employees said that they want to remain remote most of the time
While some companies have found the hiring process more difficult—especially for those working from other states or countries—the benefits make it more than worth it.
Cost
Letting your employees work from home saves big on expenses like office rent, utilities, and maintenance for essential equipment like copy machines and printers. Employers can save an average of $11,000 per employee who works from home at least two to three days per week.
Talent Attraction and Retention
Working with distributed teams decreases churn—remote work can lower your company's attrition rate by 35%.
Additionally, remote workers are more likely to stick with their employers long-term. When a team is engaged and committed, they feel their employers are also committed to them. Thirty-seven percent of employers say hiring remote workers globally helps them retain top talent.
Increased Productivity
For remote employees, less time spent fighting traffic or taking public transit to and from work means more time to themselves, leading to better physical and mental health and greater productivity. In fact, remote employees are 47% more productive than those in a traditional office.
Greater Engagement
When your talent doesn't have to deal with the stressors of the traditional office, they're happier and healthier, giving them more energy to be enthusiastic about their work. Employees who are more engaged do higher-quality work and are less likely to call in sick. Companies with more engaged employees are also more profitable.
Heightened Diversity, Equity, and Inclusion (DEI)
Hiring remote international employees is an excellent way to access a wider talent pool, enabling you to add talent with diverse perspectives, experiences, and skill sets to your organization.
Research shows that companies that lack diversity are 29% more likely to underperform on profitability than their competitors.
Distributed work is also more accessible for different groups—for example, those who are unable to physically commute, or those who need to work in a calm, structured environment. Remote work is also ideal for parents who need time to drop off and pick up their kids from school or daycare.
No matter what the situation may be, remote work opens up opportunities for a considerably larger pool of talent than traditional in-office work.
Business Agility
When you open yourself up to working with distributed teams, you position your business to become more agile. Not only does hiring become more efficient because you have access to a wider talent pool, but it also makes the work more efficient.
For instance, hiring remote workers across time zones means you have teammates available to respond to urgent tasks or client needs throughout the entire 24-hour cycle.
For a more in-depth look at the benefits of hiring remote workers, download our guide: Rise Above Economic Uncertainty: How Global Hiring Strengthens Companies Through Uncertainty and Beyond

Now that remote work is becoming the new normal, working with distributed teams gives you a cost-effective way to access the talent you need, regardless of where they call home.
Before you can get started, there are a few things you need to consider.
Communication
It's crucial to ensure that you and your talent are on the same page when it comes to communication before, during, and after the hiring process.
A key part of your distributed workforce strategy should include establishing expectations for how and when to communicate. Make sure to provide training and resources explaining how to use the messaging apps, task management software, and video conferencing platforms that your company favors.
It's essential to be consistent and proactive when communicating with remote teams so everyone stays aligned. For example, schedule regular meetings with your teams so they have the chance to speak face-to-face regularly.
Inclusivity and Accessibility
It's also essential to account for your talent's individual needs, whether they require considerations beyond your company's standard offerings due to their time zone, physical or psychological needs, or otherwise. More inclusive teams outperform others by 80%—it's worth the extra effort to ensure their work experience is an inclusive one.
Give Your Talent the Benefits They Deserve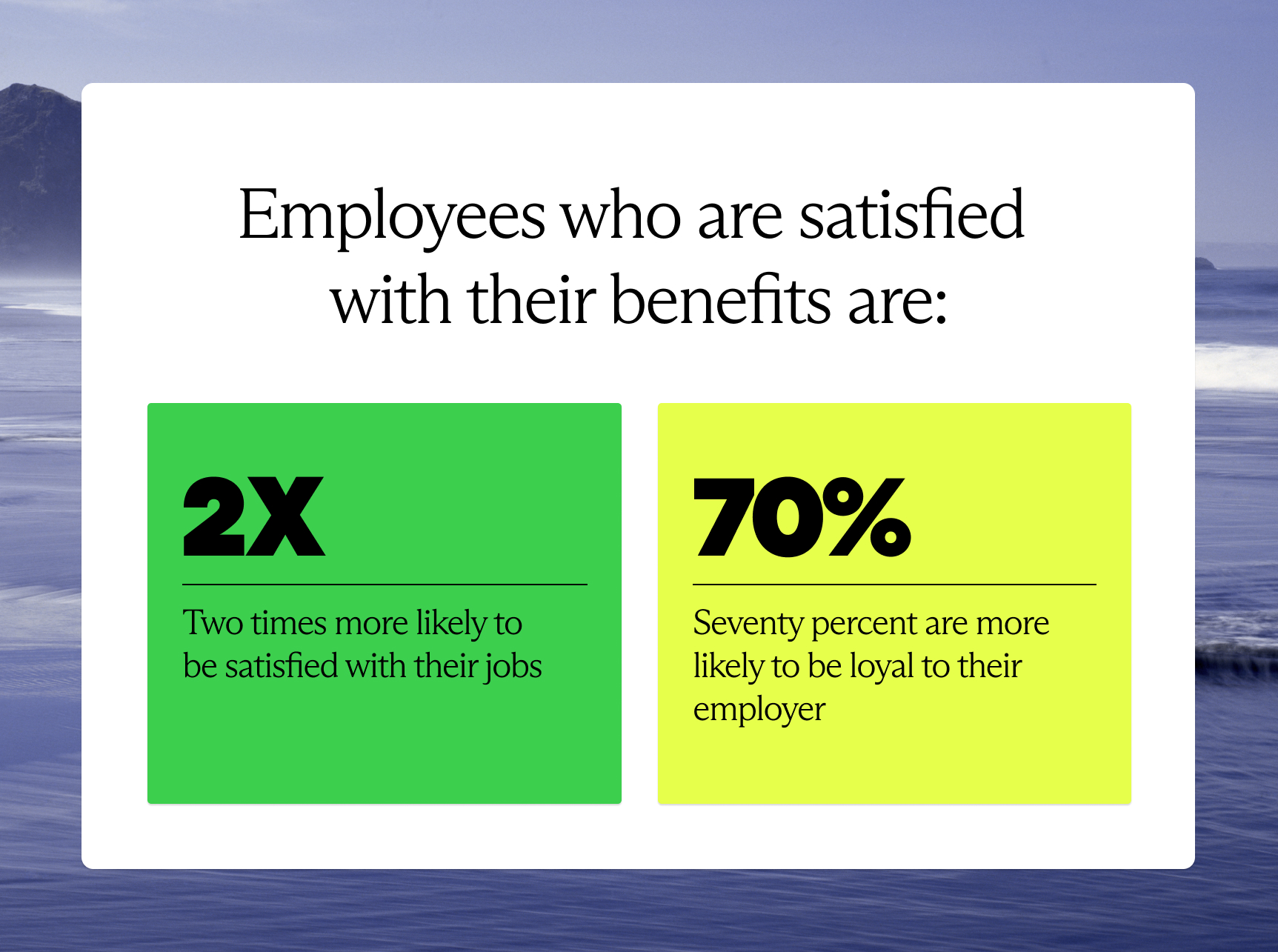 Remote work is a highly desirable benefit on its own, with nine out of 10 remote employees saying they prefer to work remotely long term.
That said, every country has statutory benefits that you must administer. The nature of those benefits may vary depending on the talent's place of residence and may not include the benefits they consider high-value.
Supplementary benefits can include additional health coverage and equity awards and are an excellent way to offer competitive compensation packages that will keep your employees satisfied and help you attract top global talent.
Compliance
Offering competitive global benefits, hiring across borders, and executing payroll compliantly are no easy tasks. Global employers must comply with international labor laws that are subject to change, and accessing HR talent with the expertise to observe local laws in regions around the world can be challenging. Wherever you hire, make sure you can conduct onboarding, payroll, and benefits administration compliantly.
Save Yourself the Headaches—Partner With a Global Employer of Record (EoR)
Hiring across borders and creating a distributed workforce strategy may seem like a lot of work, but don't worry—building your dream team is easier than you might think.
A global EoR is a company that takes on the responsibility of compliantly hiring, paying, and offering benefits to your talent—without needing to set up new entities in other countries. Partnering with a global EoR makes remote hiring easy, fast, and affordable.
To read our comprehensive guide to building remote teams, check out The Complete Guide: How to Successfully Build and Manage a Remote International Workforce
When you partner with a global employer of record (EoR) like Velocity Global, you don't need to know everything about hiring a remote team to build your dream distributed workforce. Whether you're hiring talent across state lines or international borders, partnering with an EoR gives you what it takes to realize the vision you have for your business without limits.
Velocity Global helps you compliantly hire, pay, and manage anyone, anywhere. We simplify the employer and talent experience with our cloud-based technology and unmatched human support in over 185 countries.
Contact us today to start building your distributed dream team.
Click here to download our guide to thriving in the face of economic uncertainty.
*Onboarding times for employees may vary depending on their country of residence.
Share via: