At first glance, it's not the easiest time to grow your team.
Economic uncertainty has businesses tightening their belts, forcing you to make the most of a reduced hiring budget. At the same time, the Great Resignation persists. As turnover surges and job seekers have their choice of roles to choose from, you need to meet candidates' increasingly specific expectations—and keep your existing workforce happy and intact.
In light of these factors, many companies are asking themselves one burning question: Is it a good idea to hire right now?
Of course, the answer remains: yes.
Even in the face of persistent hiring challenges, companies that continue to bring in qualified job seekers—and retain their existing top talent—are best positioned to navigate these uncertain times and come out ahead on the other side.
Labor Market Trends: How Hiring Challenges Define 2023
Layoffs are top of mind for employers and talent right now, thanks to tech giants like Amazon, Meta, and others making huge workforce cuts in recent months. But layoffs are a surprisingly small part of today's employment picture.
To understand why, let's go back just a few months to November 2022. While workforce cuts in Big Tech made front-page news again and again, the numbers tell a different story.
November's 1.4 million layoffs in the United States were actually a near-historic low. At the same time, talent continued to walk away from their jobs at a staggering pace. In fact, 4.2 million U.S. workers quit their jobs in November—making it 18 straight months in which more than 4 million voluntarily left their jobs.
That trend is showing no sign of slowing down soon. Consider the following numbers:
As of Q1, 61% of U.S. employees were considering quitting their jobs in 2023
95% of U.S. employees remained confident about their career prospects even in the face of layoffs
U.S. employees have good reason to feel like they can easily get a new job if they leave their current role. According to the U.S. Chamber of Commerce, there are over 10 million unfilled roles in the U.S. but only 5.7 million unemployed workers. That means there are nearly two job openings for every person seeking work—tipping the balance of power largely in favor of talent.
What About Across the Globe?
The U.S. isn't the only country where employers face huge hiring hurdles. Consider the following numbers from other countries in North America and Europe.
The numbers add up to one clear takeaway about hiring challenges in 2023: High turnover and talent shortages are not limited to the U.S.
With talent continuing to walk away from jobs at staggering rates and certain markets across the world facing talent shortages, HR managers have their work cut out for them when it comes to hiring and retaining workers.
Why Hiring Right Now Is Still a Good Idea
As companies struggle to hold on to top talent and fill open roles, hiring right now is not only a good idea—it's a necessity.
Hiring right now is more than just a short-term fix, though. It also sets you up for continued success when uncertainty passes. Here are three reasons why bringing in top talent today will boost your outlook for tomorrow, even as skills shortages and reduced hiring budgets make it a challenge.
People are the engine of your company. There's a reason your company has spent countless hours, dollars, and resources building your workforce. Your people are your most valuable asset. They drive the innovation that makes your company soar. Beyond their skill sets and job titles, they bring the unique qualities that define your culture and keep workplace morale high. By continuing to invest in people, you'll give your company the momentum it needs to power through uncertain times.
Further Reading: Rise Above Economic Uncertainty: Overcome Labor Shortages and Tight Budgets by Hiring the World's Top Talent
Hiring helps you distance yourself from competitors. When other companies pause hiring due to reduced workforce budgets or talent shortages, they give you a huge opportunity to race ahead. Continuing to hire while they stand still helps your company boost its ability to innovate and drive revenue—creating distance between you and your competitors that are stuck in neutral.
Adding top talent today positions you to thrive tomorrow. While uncertainty creates near-term financial pressure for your company, don't lose sight of how today's decisions affect tomorrow's outlook. Hiring top talent now means your company will be set to hit the ground running when more normal economic conditions resume. While other employers scramble to fill open roles, you'll already have the people you need to continue driving your business forward.
How to Hire and Retain Talent During Uncertain Times
While hiring is clearly a good idea even in these challenging times, you still need to find a way to bring in top talent under limited budgets—and give your existing workforce the care it needs to stay loyal, happy, and productive. Let's break down three strategies you can use to bring in top talent and retain your current top performers.
Strategy 1: Go global—and turn your hiring pool into an ocean. Facing a talent shortage at home? Overcome it by crossing borders and opening yourself up to a world of qualified job seekers. The International Labor Organization (ILO) reports that the equivalent of 92 million full-time jobs was lost globally in the second and third quarters of 2022 alone—meaning the global labor market is flush with talent even as local labor shortages persist.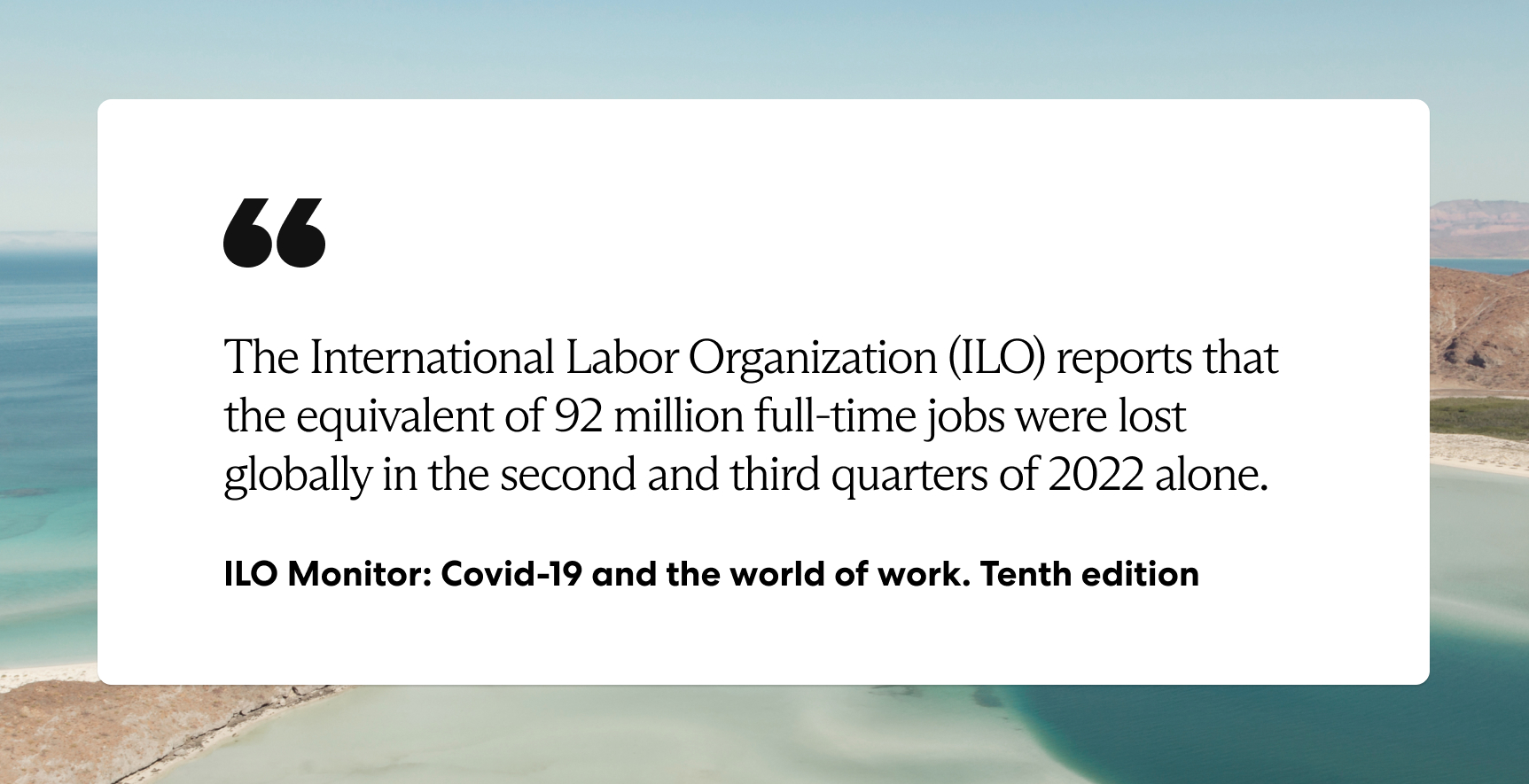 Hiring globally not only broadens your talent pool. It also helps you avoid market-based markup (think, for example, about the high costs of hiring a software developer in Silicon Valley). As a result, you can find candidates with the right skills—within your budget. Even better, you spread opportunity across the world, help lift local economies, and prevent brain drain by providing people access to well-paying jobs without leaving their homes.
Strategy 2: Boost your total rewards strategy. Keep your talent—and keep them happy—by revamping your approach to total rewards. As people increasingly prioritize their well-being, you can attract and retain top talent—and set them up to do their best work—by offering better supplemental medical benefits. That's because holistically healthy employees are:
59% more likely to feel engaged
53% more likely to be productive
51% more likely to continue working for you in one year
Better benefits aren't the only way to use total rewards to stand out to talent. Offering equity awards essentially gives talent an ownership stake in your business—increasing their incentive to invest in their jobs and contribute to your company's overall success.
Additionally, perks like flexible workspaces give your team control over when and where they get their work done—helping them improve their work-life balance so they stay healthy, engaged, and productive.
Strategy 3: Let talent work from anywhere. The age of the distributed workforce here—and talent is not looking back. By 2025, more than 75% of workers will expect hybrid or remote work. Future-proof your hiring strategy by giving them the freedom to work wherever they want—whether in the office, across the world, or anywhere in between.
Letting people work from anywhere doesn't just help you stand out to top talent in a competitive hiring market. It also helps you retain your existing talent. When your people need to move, you'll already be set up to let them continue working for you—regardless of whether your company has offices where they're going.
There's one more bonus to setting up your company for distributed work: lowering real estate costs. When you let your people work from anywhere, you don't need to invest in physical office spaces—giving you the ability to redirect that capital toward hiring and nurturing your talent. Consider the fact that Cisco has saved nearly $500 million by reducing 50% of its real estate footprint since 2017—and then think of all the ways you could reinvest nearly half a billion dollars into your own workforce.
Hire Anyone, Anywhere, With a World-Class Partner
Hiring across borders, boosting your total rewards offerings, and setting up a distributed workforce may seem like no small feat—especially during these uncertain times. Having the right partner makes all the difference.
Velocity Global has helped over 1,000 brands hire, pay, support, and offer benefits to talent in over 185 countries since 2014. With the right mix of easy-to-use global HR management technology and unmatched human support, we have the expertise and solutions to help you hire anyone, anywhere—during uncertainty and beyond.
Reach out today to find out how we can help you hire the world's top talent and keep them happy—without adding to your workload.
Share via: