Engaging contractors is an excellent strategy when you're dipping your toes into the waters of international hiring. Whether you're looking to test new markets, capitalize on immediate growth opportunities, or get teams up and running while establishing entities, contractors offer you a fast and flexible expansion solution.
When you're ready to make more permanent plans across borders, however, it might be time to re-think your workforce model. Converting contractors to full-time employees is a sound strategy that provides your company with numerous long-term benefits. That's why forward-looking companies always enter new markets with a follow-up plan for converting talent once they decide to establish a long-term presence. 
But how do you know if—and when—contractor conversion is the right move for your company?
Discover eight criteria to consider when deciding whether to convert your contractors to full-time employees—and one way you can quickly make the transition.
Labor laws differ across the world, but one truth is constant: Misclassifying talent as contractors rather than employees puts you at risk of costly fines, legal fees, reputational damage, business interruptions, and more. 
"A company's first instinct is often to bring in talent as contractors because they think it brings no employment liability," Velocity Global Vice President of Compliance Geoffrey Mohun said. "But the regulations around contractor engagements are actually pretty extensive. Companies run the risk of unknowingly acting as an employer to those contractors, making them liable for overtime they didn't pay, back taxes, fines, and more."
Misclassification costs can quickly and significantly add up. Just ask Nike, Uber, and Microsoft.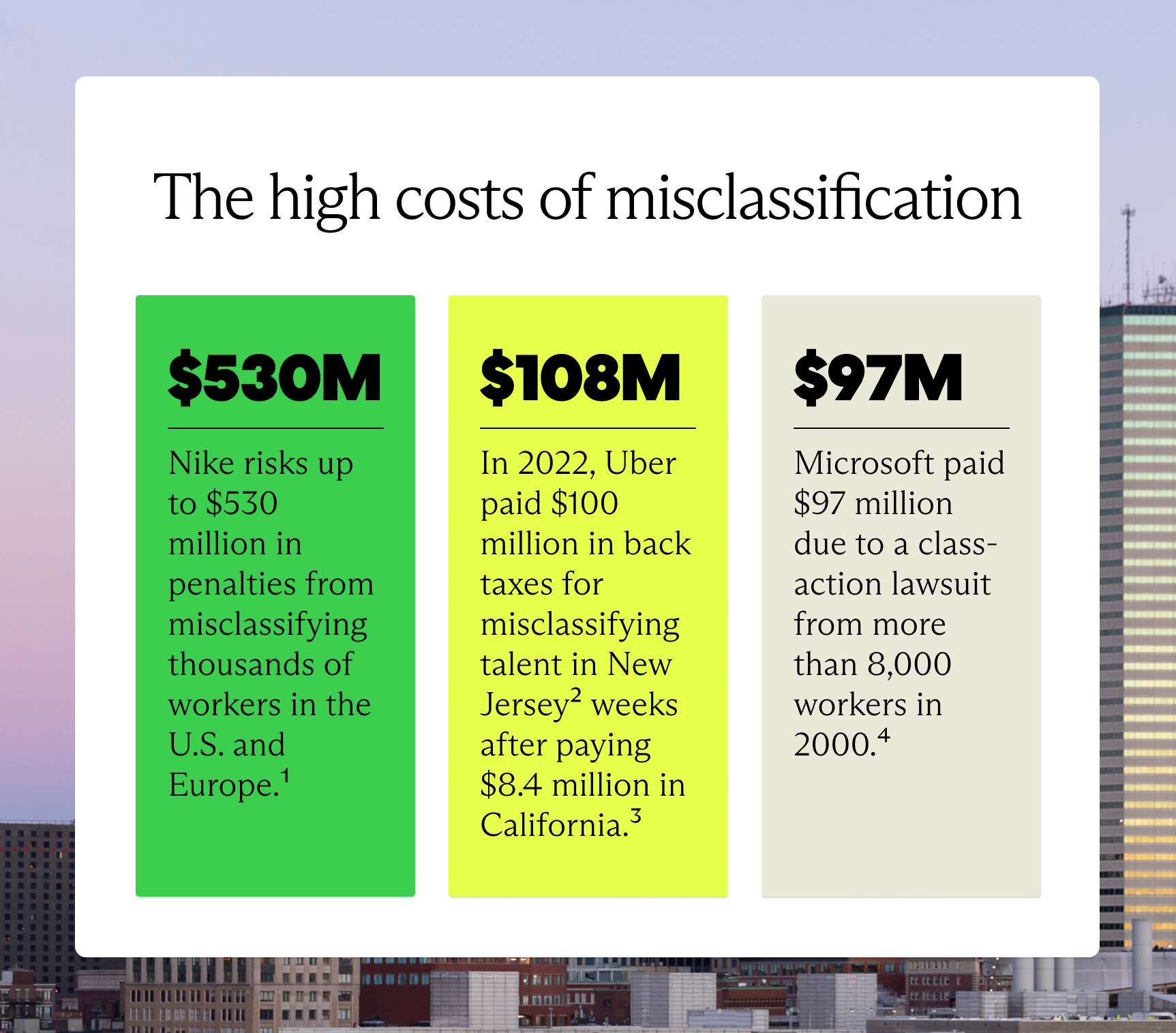 1The Guardian, 2New York Times, 3SHRM, 4Computer World
As several of the world's largest companies, Nike, Uber, and Microsoft were able to withstand the sizable fines, settlements, and back taxes they owed from worker misclassification. Not every company has the resources to weather such setbacks. Take time to assess your risk level and determine whether your company is prepared for the potential consequences of misclassification. If you want to mitigate long-term exposure, converting contractors to full-time employees is a smart move.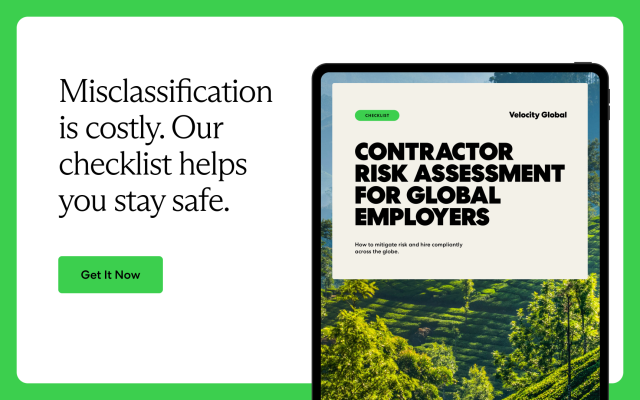 Your intellectual property (IP) should be just that—yours. Hiring full-time employees offers you much stronger IP protection than you get from engaging contractors. That's because most employment contracts dictate that anything produced by the employee—from copyrights and patents to trademarks—is owned by the employer, not the employee. 
Employers typically have significantly less control over the IP created by contractors. This is due to the fact that contractors are legally in business for themselves rather than your company. 
If your company trusts contractors with sensitive information, it's a good idea to rethink their classification status—and gain the extra IP protection that comes from hiring full-time employees.
One of the main differences between a contractor and an employee is that contractors work when they want to and how they best see fit, while employees are more closely under the control of their employers. 
Your team leaders likely won't have a problem letting a contractor work on their own terms for a short period. But when your managers and supervisors build long-term teams, they want their talent to adhere to company best practices, established workflows, and team-specific expectations. 
Once you're ready to build long-term teams in new markets, consider classifying talent as employees so your team leaders can give their people the close training, oversight, and support they deserve. 
One of the perks of being a contractor is having the ability to work for multiple clients at once. Contractors also set their own schedules and work when they want to. While that flexibility is advantageous for contractors, it adds challenges for project managers trying to meet deadlines and ensure work is completed on time. 
Hiring full-time employees gives you peace of mind that your talent will always be available and ready to work, removing the uncertainty and sporadic scheduling of managing a contractor workforce. As a result, you'll be better able to keep your team and company goals on track. 
Assess your growth goals—and your deadlines for reaching them—to determine if your company could benefit from the workflow consistency that comes with a full-time workforce. 
Bringing in contractors for short-term projects is a great way to help full-time employees during particularly heavy workloads. But when you place contractors alongside employees indefinitely, you create a two-tiered system in which both types of talent put in significant effort, but only one enjoys the benefits of full employment—such as access to benefits, company events, perks like professional development opportunities, and more. 
The divide can form schisms within teams—employees on one side, contractors on the other—and make it harder for you to build a unified company culture. Converting your contractors to full-time employees puts everyone on an even playing field, helping you create a strong company culture where every team member feels appreciated and included. 
Does your company plan to rely on contractors far into the future? If so, it's worth considering how converting them to full-time employees might positively impact your company culture. 
While working with contractors gives you the ability to quickly scale your workforce up or down depending on your needs, it also means your workforce is constantly in flux. Converting contractors to full-time employees helps you gain much-needed stability as your company grows.
Unlike contractors, who may leave your company for another gig just as they're beginning to get in the swing of things, employees continuously gain institutional knowledge and experience that increases their value to your company over the long term. 
What's more, you can offer employees benefits packages that you cannot legally offer contractors. Offering the right benefits makes it even easier to keep your people happy and loyal far into the future, helping you boost retention in a competitive talent marketplace.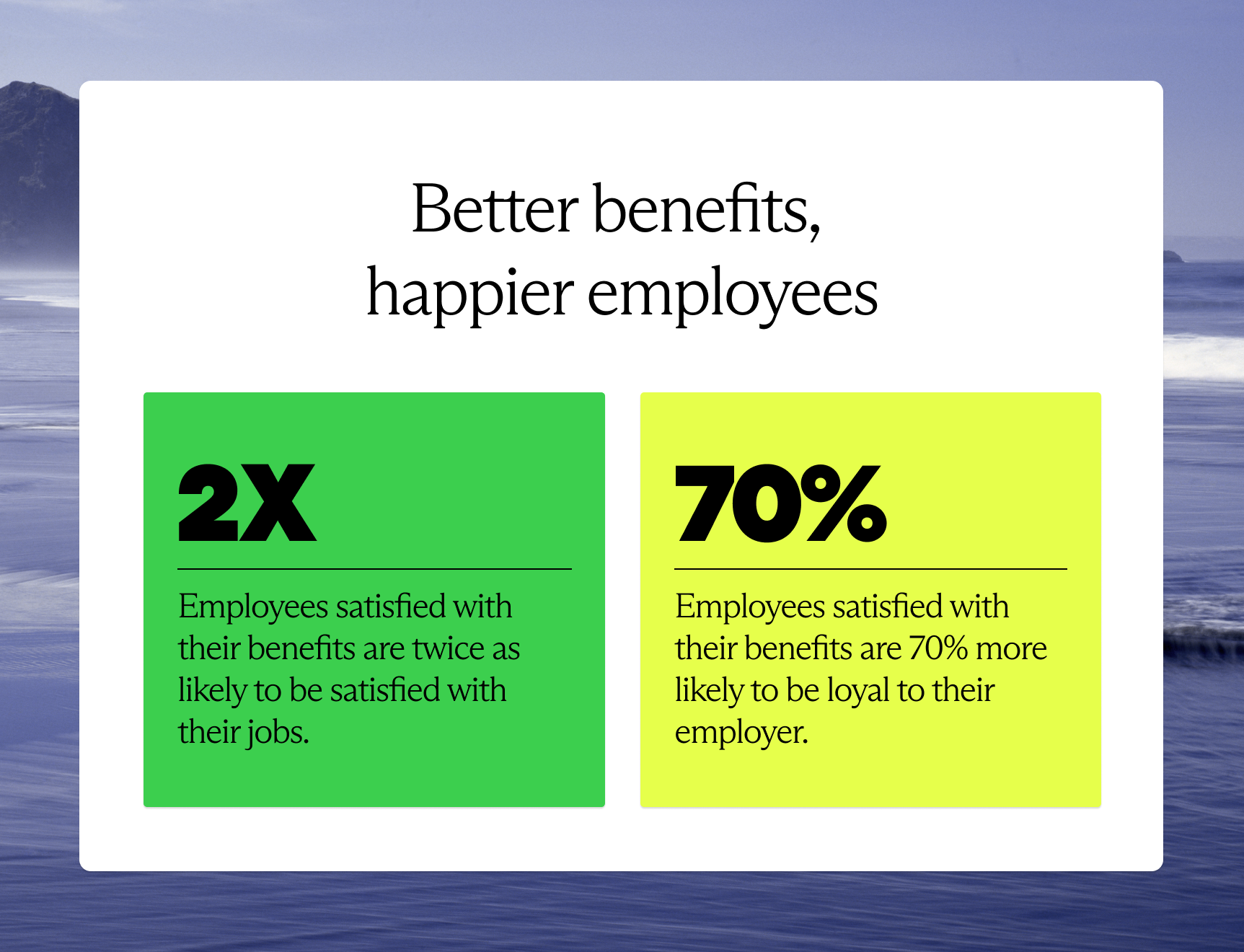 Source: MetLife
If your company values workforce loyalty and longevity, converting your contractors to employees increases the likelihood they'll stick with your company for the long haul. 
Find out how to offer the top benefits talent wants, wherever they are, with our How to Retain Talent With Global Employee Benefits guide. 
Not all of your company's growth has to be driven internally. Many high-growth companies rely on outside investments from private equity firms to reach the next level. Other business leaders ultimately want their organization to be acquired by a larger company, while some set their sights on going public with an IPO.

Source: CB Insights
Whether you're trying to appeal to venture capitalists, decision-makers at another company, or the general public, you'll need to ensure your company is a safe bet for investors. That means doing everything by the book—including correctly classifying talent. When you go above and beyond to stay compliant and minimize legal risks, you show investors that your company is a high-yield, low-risk target for their investment. 
Could your company's future feature an IPO, acquisition, or push for funding? If so, it pays to get a head start on converting your contractors to employees now. 
Many early-stage companies engage contractors because they present a light HR burden. As employers do not need to offer contractors benefits, enroll them in social programs, navigate complicated offboarding processes, and more, engaging contractors is an attractive choice for companies with limited HR resources. 
Now that your company has grown, your internal teams have grown, too, and are better equipped to manage full-time talent. If you want to empower your HR team to maximize its potential, it might be time to let them source, onboard, and manage the full-time employees your company needs to reach the next level.  
No matter how capable your HR department is, it helps to have a dedicated, expert global workforce partner by your side. That's where we come in. 
Velocity Global has helped over 1,000 companies hire, pay, and support full-time employees in more than 185 countries since 2014. Through our Employer of Record (EOR) solution, we quickly and compliantly reclassify your talent as full-time employees—then handle payroll, benefits administration, and ongoing HR support on your behalf. Here's how the process works: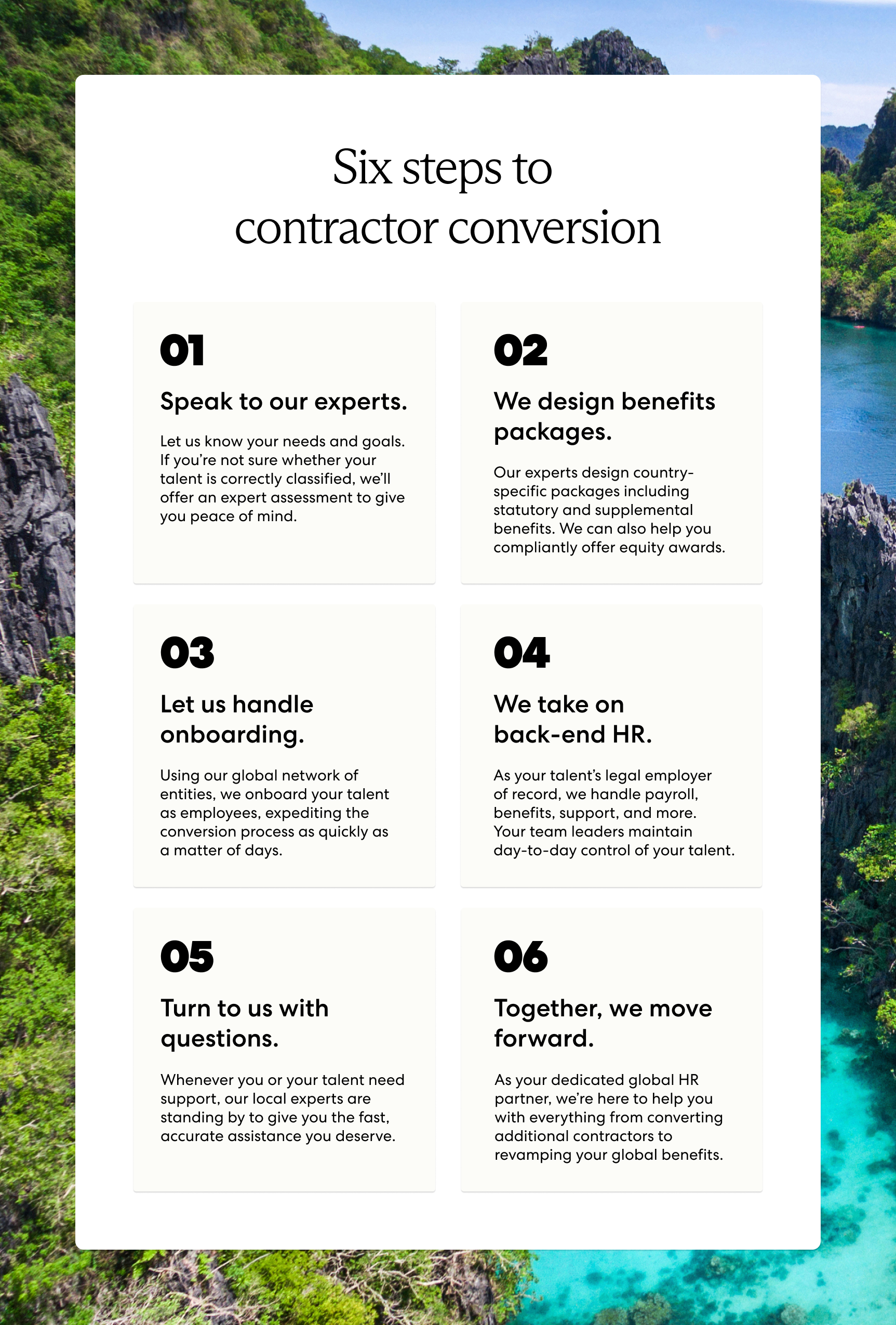 Speak to our experts. Let us know your needs and goals. If you're not sure whether your talent is correctly classified, we'll offer an expert assessment to give you peace of mind.
We design benefits packages. Our experts design country-specific packages including statutory and supplemental benefits. We can also help you compliantly offer equity awards. 
Let us handle onboarding. Using our global network of entities, we onboard your talent as employees, expediting the conversion process as quickly as a matter of days. 
We take on back-end HR. As your talent's legal employer of record, we handle payroll, benefits, support, and more. Your team leaders maintain day-to-day control of your talent. 
Turn to us with questions. Whenever you or your talent need support, our local experts are standing by to give you the fast, accurate assistance you deserve. 
Together, we move forward. As your dedicated global HR partner, we're here to help you with everything from converting additional contractors to revamping your global benefits.
Your company is on its way to taking advantage of all that going global has to offer. We're here to help you take the next step.
Read this contractor conversion customer story to learn how we helped a company go from misclassified to compliant by quickly converting their global contractors to employees.
Or get in touch with our experts to learn how to convert your contractors today and set up your company for success tomorrow.
Share via: