Converting contractors to employees might feel like a daunting task. But if you're wondering how to integrate temporary talent into your full-time workforce, you're already ahead of the curve. 
Working with foreign contractors means you've taken an all-important first step in going global. Whether you've engaged contractors to expand your talent pool, break into new markets, or overcome skill shortages, you've set the stage for bigger things ahead. 
However, engaging contractors is best used as a temporary workforce strategy. With your sights set on sustained long-term growth, your company needs a stable, scalable, and compliant hiring solution. 
That's where we come in.
Velocity Global has helped over 1,000 companies employ full-time talent in more than 185 countries since 2014. Our industry-leading Employer of Record (EOR) solution makes contractor conversion as easy as possible. By handling everything from drafting country-specific employment contracts to onboarding, payroll, benefits administration, and ongoing support, we help you level up your global workforce without adding to your workload. 
Read on to discover five scenarios in which we can help you convert contractors to employees—and how we make the process as compliant and streamlined as possible. 
While engaging contractors has jump-started your global growth, you're wary of compliance hurdles slowing you down—and for good reason. Working with contractors poses significant misclassification risks, especially when employers utilize it as a long-term strategy.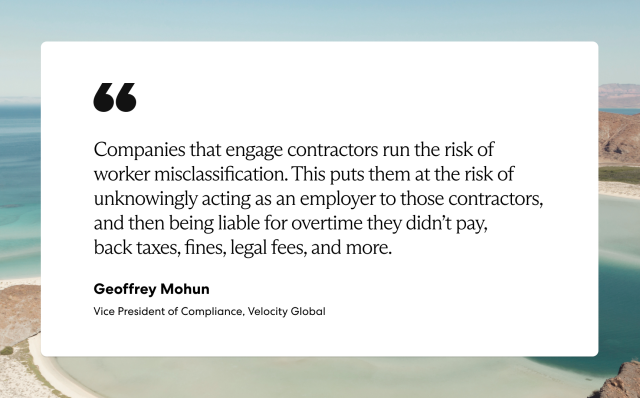 Some of the world's most recognizable companies have dealt with the fallout of contractor misclassification:
In one of the earliest high-profile misclassification cases, Microsoft paid $97 million to more than 8,000 workers in 2000. 
In 2022, Uber paid more than $108 million in back taxes and fines for misclassifying talent in New Jersey and California. 
Today, Nike is at risk of having to pay $530 million in penalties for misclassifying thousands of workers in the U.S. and Europe.
Beyond posing immediate financial costs, contractor misclassification cases can lead to lengthy legal entanglements that cause you to miss business opportunities. Converting your contractors to employees helps you mitigate misclassification risks so you can keep your business growing without interruption. 
Stay compliant while you go global
When you choose our EOR solution, we quickly convert your talent to full-time employees so you avoid the serious consequences of contractor misclassification. As your employer of record partner, we use our global infrastructure to hire, pay, and offer benefits to talent on your behalf—no need for you to set up entities or take on additional HR burdens. 
After converting your contractors, we also give you continued peace of mind throughout the employment relationship. Our in-country experts work with leading global advisory firms to ensure you offer:
Compliant employment contracts
Required statutory benefits
Correct payroll withholdings 
By staying on top of ever-changing local labor regulations, we give you the freedom to focus on what you do best—growing and supporting your global workforce. 
You've crossed borders to fill critical skills gaps, overcome labor shortages in your market, and add headcount without breaking your budget. But you've repeatedly encountered one challenge: The world's top talent demands top benefits, perks, and more.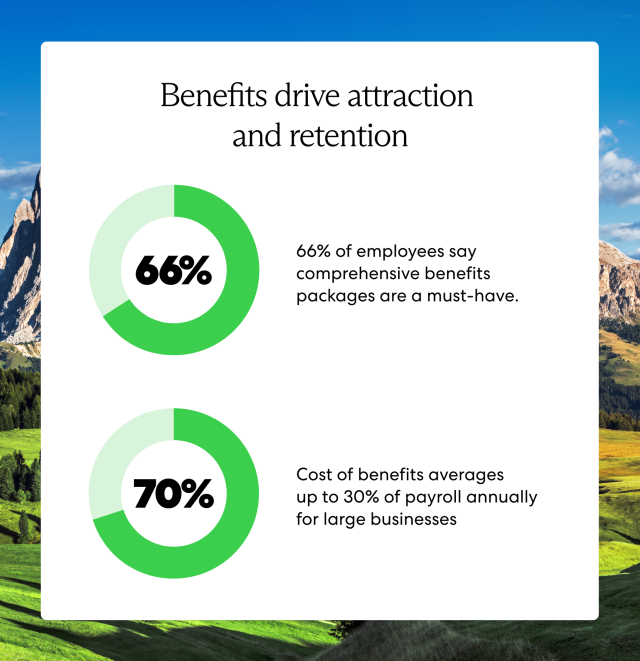 Since only employees are eligible for benefits, you need a way to re-classify contractors so you can offer them the benefits they expect—or risk losing them to another employer. You also need to design and offer competitive packages that make you stand out to in-demand candidates so you can continue to add the top talent your business needs to grow.
Offer total rewards that talent loves
As your EOR partner, Velocity Global quickly converts your contractors to employees and helps you administer compliant and competitive benefits packages. Because talent's benefits expectations differ depending on location, our experts create plans that meet their market-specific needs. Offering locally tailored packages helps you separate yourself from a crowded field of employers vying for highly coveted talent. 
We also make it easy for you to offer talent-friendly benefits without breaking the bank—a key initiative as you try to do more with less during uncertain times. We serve over 6,000 supported employees worldwide, giving us access to group rates only available to large-scale employers. Our group terms translate to a lower bottom line for employers, helping you offer better coverage at a better price. 
Beyond administering talent-friendly benefits packages, we also help you compliantly offer:
Global equity awards
Flexible office spaces
International pension plans
Incorporating these elements into your total rewards strategy increases your appeal to the world's best talent, making it easier to attract the people you need—and keep them happy.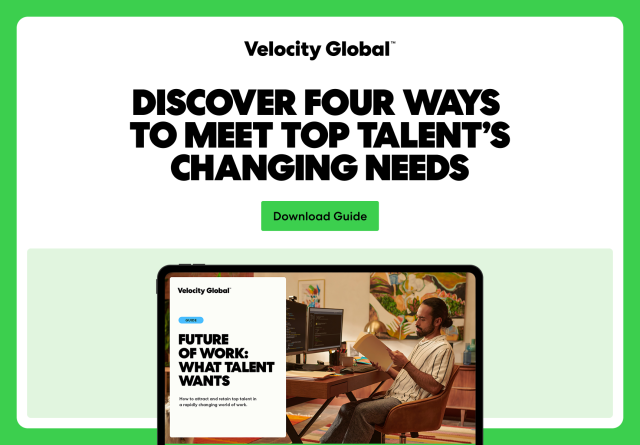 Engaging contractors often requires you to put sensitive information in the hands of temporary workers. As you cycle through contractors for one-off projects, you increase the number of people that have access to your and your clients' data. Making matters more complicated, you aren't able to include strong data protections in contractor agreements, putting your invaluable intellectual property (IP) at risk. 
To safeguard your critical information and meet your customers' data protection requirements, you need a way to hire trusted full-time employees and draw up airtight employment contracts.
Keep your sensitive data safe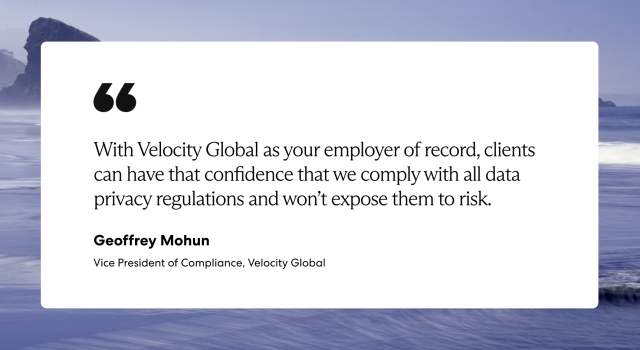 By helping you convert contractors to employees, our EOR solution allows you to quickly and compliantly transition talent into your full-time workforce. As a result, you can ensure sensitive information is handled by tenured employees you know and trust. 
We also work with leading global law firms to ensure employment contracts adhere to local regulations and include the highest level of IP protection. That means that you own your patents, copyrights, proprietary data, and trade secrets even when employees move to another company. 
Velocity Global is also proud to uphold the world standard for data protection: the ISO 27001 certification. We undergo regular audits from leading third-party reviewers to ensure we meet the highest international security standards, giving you confidence that we take data protection just as seriously as you do.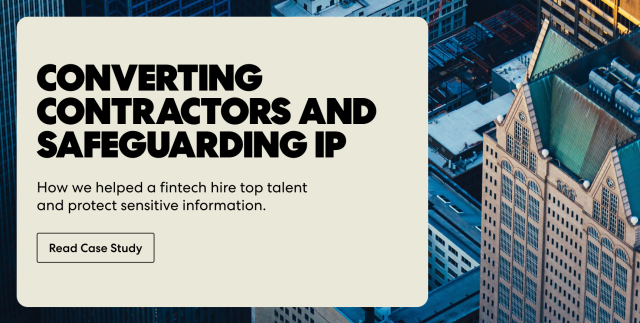 As your company grows, you need to develop new services, products, and business lines to keep up with rising demand. You may also need to expand your team simply to service a higher number of customers. Whatever your goals are, you need the right people in place to keep your business moving forward.
Constantly cycling through contractors strains your HR department and team leaders in charge of sourcing talent. You need talent that will stick around so you can build a workforce that grows with your company. You also need the flexibility to quickly hire in new countries without going through the lengthy and costly entity establishment process. 

Build a stable, scalable global workforce
Our EOR solution helps you grow your permanent workforce by:
Quickly transitioning temporary talent to full-time roles
Hiring new employees in a matter of days
When you use EOR to build a stable workforce, you give your people the chance to develop institutional knowledge that increases their value to your company—and your customers—far into the future.
You also gain the agility to quickly hire in new markets without waiting to set up entities or exposing yourself to the risks of engaging contractors over the long term. Simply find qualified candidates across borders and let us handle everything you need to get them up and running—from creating employment contracts to expediting onboarding, creating market-specific benefit packages, administering payroll, and more. 
As a leading global employment partner, we know that hiring top talent is only half the battle, though. You also need to retain your people while keeping them engaged and productive. 
That's why we go above and beyond to give your talent an optimal employee experience. By providing fast, locally based HR support along with competitive benefits, compliant equity awards, and in-demand perks, we give your people more reason to stay with you for the long haul.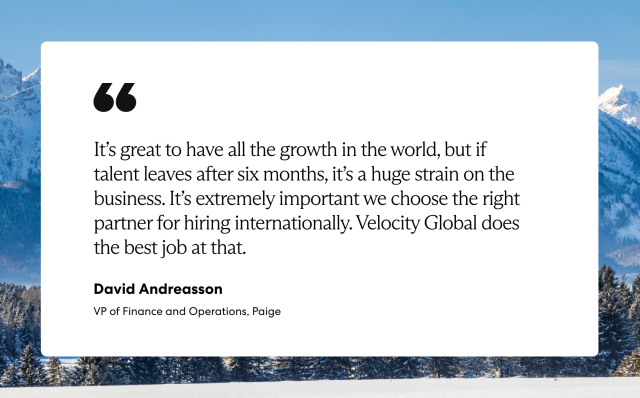 You've built your company from the ground up. Now you're ready to grow from the outside. Whether you want to seek venture capital funding, go public, or get acquired by another company, you need to ensure your workforce is compliant before potential investors will consider working with you. 
Converting contractors to employees goes a long way in shoring up your operations—and boosting your appeal. Because engaging contractors brings long-term compliance risks, investors are less likely to pursue companies that are heavily dependent on contractors. Instead, they're drawn to employers that set themselves up for long-term growth by utilizing stable and scalable hiring strategies. 

Maximize your valuation
By converting your contractors to employees, our EOR solution helps you show investors that your workforce is built for long-term success. In addition to minimizing your risk, we help you maximize your valuation by serving as a respected partner that investors know and trust. 
While some M&A transactions can be tricky, we have the expertise and experience to make your process as smooth as possible. As a full-service EOR, we help you: 
Avoid costly transition service agreements
Compliantly discontinue payroll and benefits
Meet local regulations while offboarding talent
As a result, working with Velocity Global is more than just a way to boost your appeal to investors. We offer you the ongoing strategic partnership you need to pursue growth opportunities with confidence and ease. 
Seamlessly Convert Contractors With Velocity Global
There are countless reasons to convert contractors to employees. No matter your goals, we have the expertise, experience, and capabilities to help you transition your talent with ease. Get in touch today to find out how we can help you create the workforce you need to take your company to the next level.  
Share via: