As hard as businesses try to avoid it, accidents happen in the workplace. Given the nature of unavoidable occurrences, workers' compensation in Canada is a must when hiring talent in the country.
Workers' compensation in Canada is an employer-paid benefit that protects local employees from the financial hardships associated with work-related injuries and illnesses.
Still, understanding workers' compensation requirements in Canada is often challenging for international employers since regulations differ from other countries and vary by province.
To help your team prepare the requirements associated with global hiring and expansion to Canada, we've put together a comprehensive guide to Canadian workers' compensation.
Yes, workers' compensation is provided through Canada's national and provincial social programs. Each province offers its own plans and benefits, which are dependent on the industry in which your talent works.
Most Canadian employees are eligible to apply for workers' compensation insurance if they experience a work-related illness or injury, according to Canada's Workers' Compensation Act.
The Association of Workers' Compensation Boards of Canada (AWCBC) gathers and publishes information on Canada's workers' compensation system and serves as a good resource for employers interested in expanding into Canada or hiring talent in the country.
Workers' compensation in Canada is a provincial insurance scheme that provides employees with income if they experience injury or illness at work while performing valid employment tasks. 
Canada's national and provincial social programs provide insurance, but each province has its own plans and benefits. Some, but not all, industries require workers' compensation insurance.
Employers Pay for Workers' Compensation
Businesses with employees in Canada are responsible for offering workers' compensation insurance to their talent. Employers must first register their companies with the Workers' Compensation Insurance Board (WCB) and then pay their employees' insurance premiums.
Employers must also establish adequate safety measures to protect their workforce and report accidents or injuries to the WCB to assist injured employees in their recovery.
Workers' Compensation Benefits Vary By Province
Workers' compensation schemes vary by province and are overseen by each province's respective WCB.
Each WCB determines when employers must provide workers' compensation insurance. The board also decides how and when employers must report work-related incidents and who is eligible for coverage.
For example, the WCBs in New Brunswick and Nova Scotia require employers who manage a team of three or more staff to register for coverage. However, companies engaging talent in the Northwest Territories must register with the WCB before they even hire their first employee.
The premium rates for workers' compensation benefits also vary. Below are the average workers' compensation rates, per $100 insurance earnings, in 2023:
| | |
| --- | --- |
| Alberta | $1.26 |
| British Colombia | $1.55 |
| Manitoba | $0.95 |
| New Brunswick | $1.31 |
| Novia Scotia | $2.65 |
| Ontario | $1.30 |
| Prince Edward Island | $1.37 |
| Quebec | $1.50 |
| Saskatchewan | $1.28 |
| Northwest Territories and Nunavut | $2.40 |
| Yukon | $2.09 (in 2022) |
Workers' Compensation Eligibility Depends on Industry
While most Canadian employees are eligible for workers' compensation, there are some exceptions. For example, industries like dentistry, banking, and insurance are exempt from workers' compensation.
Many employers must contribute to workers' compensation, which by extension covers their employees. However, independent contractors or self-employed talent don't pay into the national scheme. Self-employed talent may purchase personal coverage, but it's not required.
Any employer with a business in Canada must provide workers' compensation insurance to their employees—save for those in exempt industries.
If a business hires a Canadian employee, they must first register with the WCB in the corresponding province. Still, keep in mind that registration regulations vary by province.
Other Mandatory Employee Benefits in Canada
Canadian employment law requires employers to provide several other statutory employee benefits to their talent apart from workers' compensation. These include the following:
Provincial healthcare coverage. Canadian Medicare provides health benefits to all employees, which include basic medical care and standard hospital care. Healthcare coverage varies depending on the province or territory.
Pension contributions. There are two pensions in Canada: Canada Pension Plan (CPP) and Quebec Pension Plan (QPP). The CPP is for all Canadians residing outside of Quebec and is a taxable benefit that replaces part of an employee's income when they retire. The QPP is only for the Quebecois and gives employees and their families financial protection for retirement, death, or disability.
Employment Insurance (EI). EI is temporary income support for unemployed talent while they look for employment or take time off for a specific life event such as illness, pregnancy, or caring for a newborn, newly adopted child, or critically ill or injured person.
Survivor insurance. Similar to life insurance, survivor insurance provides monthly payments for spouses or common-law partners of deceased employees. 
Learn more: Guide to Mandatory and Common Employee Benefits in Canada
There are a few notable differences between U.S. and Canadian workers' compensation that U.S. employers should consider before hiring employees in Canada:
Workers' Compensation Boards (WCBs)
Like the U.S., Canada's WCBs operate independently from the government and are funded by employers. However, Canadian employers must purchase workers' compensation through a WCB, while U.S. employers have the option to purchase it through private insurers.
Cost Factors
In Canada, the primary cost factors driving workers' compensation rates are loss of earnings and wage-loss benefits. However, in the U.S., the primary cost factors driving workers' compensation rates are medical benefits since the U.S. has no publicly funded healthcare system.
Return-to-Work Programs
In the U.S., medical providers often set clear timeframes that determine how long an employee should be away from work while they heal from injury or illness. However, in Canada, medical providers are not involved in the decision process regarding an employee's return to work.
While Canadian employers typically do not consult doctors regarding their employee's return-to-work process, they can request an independent medical examination by a WCB-recommended doctor or by a doctor of their own choosing.
Canadian employers must typically report work-related accidents or illnesses to the WCB within 72 hours after learning that an employee needs medical treatment and/or: 
Is absent from work 
Earns less than regular pay for regular work
Requires modified work at less than regular pay
The reporting time frame varies depending on the province or territory.
Navigating benefits and workers' compensation is challenging—especially when expanding your business beyond local borders. By partnering with an employer of record (EOR) like Velocity Global, you can avoid the headaches of benefits compliance and grow your team with ease.
An EOR serves as the legal employer of your global workforce, allowing you to compliantly engage talent across borders without having to set up entities or risk violating country or state employment laws. An EOR assumes employer responsibilities like onboarding, payroll, benefits administration, and HR support while you maintain day-to-day control of your team.
As your EOR partner, Velocity Global ensures your Canadian team not only receives statutory workers' compensation based on industry and provincial regulations, but we also go above and beyond to support your talent with the highest standards of employee benefits available.
Our Global Benefits solution offers competitive and compliant packages tailored to your employees' needs and their local markets. Let us remove the HR complexities so you can hire, pay, and manage top talent in Canada and more than 185 countries.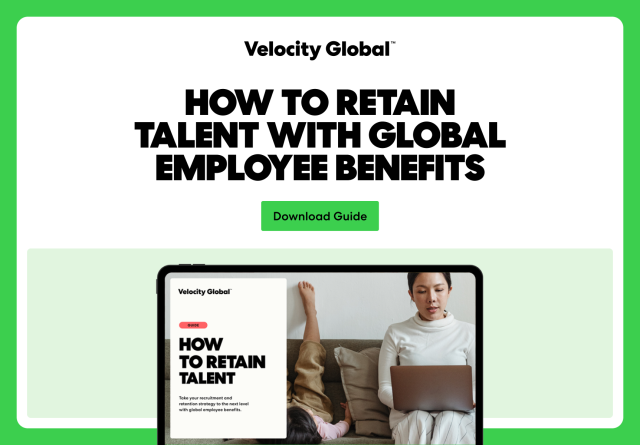 Care for your Canadian team with help from Velocity Global. Contact us to learn more.
Disclaimer: This information does not, and is not intended to, constitute legal or tax advice and is for general informational purposes only. You should contact your attorney or tax advisor to obtain legal and/or tax advice with respect to your particular situation. Only your individual attorney or tax advisor can provide assurances that this information – and your interpretation of it – is applicable or appropriate to your specific situation. All liability with respect to actions taken or not taken based on this information is hereby expressly disclaimed. All content is provided "as is," and Velocity Global makes no representations or warranties concerning this information.  
Share via: