Mexico is the most popular destination in the world for expats from the United States. In fact, an estimated 1.6 million U.S. citizens live in Mexico, according to the U.S. Department of State.
U.S. and international companies that send foreign employees on assignment to Mexico or allow them to relocate and work in Mexico must prioritize their employees' safety and health insurance coverage.
While Mexico's healthcare quality and accessibility rank above many countries, its public healthcare system still presents challenges that lead working professionals in Mexico to expect supplemental health insurance to accommodate for what Mexico's public system lacks.
Read below to learn how to ensure proper and compliant health insurance in Mexico for your expatriate employees living and working in the country.
Yes, expat employees can get healthcare in Mexico. However, they must hold a valid temporary or permanent residence visa to be eligible. Any foreign national in Mexico on a standard tourist visa is not eligible to work in Mexico or enroll in the country's national healthcare scheme.
If an expatriate is employed by a Mexican company, their employer automatically enrolls them in Mexico's national healthcare scheme. However, if the expatriate is retired or self-employed, they are not automatically enrolled. They must enroll voluntarily and pay a recurring fee to receive public healthcare.
Healthcare for a Short-Term Stay in Mexico
While visitors in Mexico on a standard tourist visa cannot work in the country, foreign nationals visiting on a working tourist visa are eligible to live and work in the country for up to 180 days.
Companies with foreign employees working in Mexico for up to 180 days can choose to provide healthcare to their talent through corporate travel insurance. However, the employer must carefully review the policy to ensure it provides comprehensive coverage.
Employers should ensure their employee's travel insurance covers the following:
Preexisting medical conditions
Any high-risk activities required to do the job
The duration of the trip and destination
Medical evacuation to the nearest medical facility
Transportation to the country of residence
Travel insurance typically only covers emergency treatment and does not cover elective or regular check-ups. Also, leisure travel policies don't usually cover employees traveling for business purposes, so you should disclose the purpose of the trip at the time of purchase.
Healthcare for Long-Term or Permanent Stays in Mexico
Expats residing in Mexico long-term (between 180 days and four years) or permanently qualify for national healthcare coverage under Mexico's social security scheme. Mexican labor law requires qualified employers and employees— local or expat—to make contributions.
Contributions, which are made through payroll taxes, cover accidents and emergencies, surgeries, medications, and salary reimbursement for loss of work due to illness or accident.
Still, many long-term or permanent expatriates in Mexico expect to receive supplemental insurance as part of an expat benefits package from their employer for needs like speed of care and support for special treatments.
There are two primary options for health insurance for expats in Mexico on temporary or permanent residence visas: public health insurance through Mexicano del Seguro Social (IMSS), which is the country's national healthcare system, or private health insurance.
Instituto Mexicano del Seguro Social (IMSS)
The IMSS covers all basic medical needs for Mexican employees and foreign residents in Mexico, including the following:
Hospitalization
Medical care
Surgery
Medication
Compensation for loss of work due to illness or accident (up to 52 weeks)
IMSS insurance also covers the employee's spouse or partner, their children up to 16 years old (or 25 years old if the children are students), and their parents if the parents live with the insured employee.
Mexico's healthcare system doesn't cover dental care, eye care, elective surgeries, infertility treatments, or treatments for self-inflicted injuries. It also doesn't provide medical evacuation from Mexico.
The IMSS assigns a primary care physician to each insured person. Unfortunately, this assignment is difficult to change should the affiliated physician not meet the needs of the insured and their family members.
How to Enroll in IMSS
All local or foreign residents who are formally employed in Mexico are automatically enrolled in IMSS and contribute through payroll taxes. Enrollment and contribution are compulsory regardless of whether you provide supplemental insurance to your talent in Mexico.
Retired or self-employed foreign residents with legal residency in Mexico can enroll in IMSS voluntarily and pay a recurring fee if they wish to have public health insurance.
To enroll, qualified residents can apply in person at their local IMSS office or online. They must also have the required documentation:
Passport
Residency visa
IMSS application form and health questionnaire
Proof of address
Birth certificate
Marriage certificate
Two photographs
Bank payment receipt of the first year's premium
Private Health Insurance
Many employers in Mexico choose to offer supplemental private health insurance to their expat employees in addition to IMSS as part of a comprehensive compensation strategy. Private healthcare in Mexico gives the insured direct access to private doctors, clinics, and hospitals.
Private health insurance typically covers the following for expats and employees in Mexico:
Dental and vision
Mental healthcare
In-patient and out-patient care
Physiotherapy
Rehabilitation
Treatment for preexisting health conditions
Private hospital coverage
Evacuation or repatriation
Despite Mexico's relatively inexpensive and accessible public healthcare scheme, those who use IMSS experience challenges that make it difficult to receive quality care and support.
Like many public healthcare systems, the IMSS is overburdened, faces a shortage of doctors and medicines, and requires extensive wait times for treatment. It also does not cover all preexisting conditions, such as cancerous tumors, chronic diseases, mental illness, and HIV.
Quality of care also varies depending on where your expatriate employees reside in Mexico. Plus, Mexico's highest-quality healthcare facilities are typically not part of the IMSS.
Providing private health insurance to your relocated talent in Mexico ensures that your employees continue to receive at least the same —if not better—quality of healthcare they would receive in their home country.
Plus, by going beyond statutory requirements and providing supplemental healthcare for your expatriate employees, you show them that you value their health and wellness, which leads to better talent retention. It also gives you an edge in a competitive hiring market.
Get the guide: How to Retain Talent With Global Employee Benefits
Health insurance in Mexico should be a priority for any employer looking to expand its business into the country and look after its employees' welfare. But administering supplemental healthcare to talent in Mexico requires time, money, and an understanding of local labor laws.
Don't let the difficulties of benefits administration stand in the way of you and your business goals in Mexico. Partner with a dedicated global benefits expert like Velocity Global instead.
As an employer of record (EOR), we ensure your workforce in Mexico and beyond receives the highest standard of benefits. Our Global Benefits solution offers competitive, compliant, and comprehensive benefits packages tailored to your talent's local market.
Download our guide to learn more about how to offer comprehensive, competitive, and compliant benefits packages to your distributed workforce: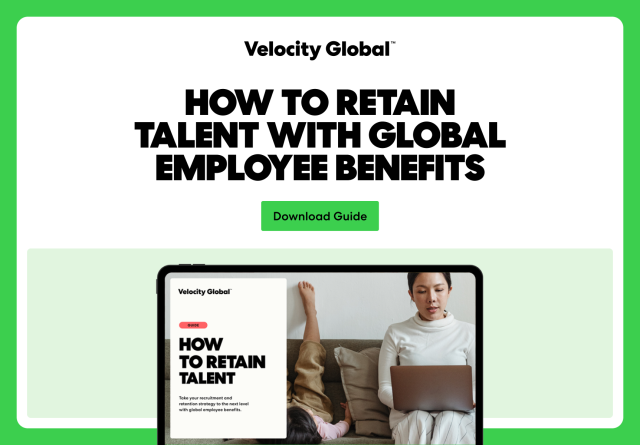 We remove the HR complexities so you can hire, relocate, and support top talent in Mexico and over 185 countries. Contact us to learn how we can help provide your distributed talent with employee benefits that matter most.
Share via: