When you manage a distributed workforce, it's important to understand the healthcare coverage available in each country where you do business.
Providing high-quality private healthcare is often a smart move for global employers because it helps attract candidates and sets businesses apart in a competitive hiring market.
However, the laws around healthcare vary around the world, so it's important to understand these differences when crafting employee benefits offerings for your global workforce.
Below, learn about the differences between public and private healthcare, how healthcare availability differs around the world, and tips for providing compliant, competitive health benefits to your distributed team.
What is public health insurance?
Public health insurance is typically a statutory entitlement and provided by a country's government. Sometimes called universal insurance, public healthcare is managed by government agencies or highly regulated private providers.
There are three common frameworks that countries use to deliver universal healthcare to citizens: 
National Health Insurance. In this system, private facilities provide care, but the government pays the bill. Some countries that use this system, like Canada and South Korea, also often require a small co-pay from the patient.
Bismarck Model. In this framework, citizens access healthcare through private facilities but must buy health insurance. The government regulates health insurance and mandates coverage for certain benefits. Citizens typically pay for insurance through payroll deductions or taxes. Germany, Japan, and France all use the Bismarck Model.
Beveridge Model. In the Beveridge Model, the government runs and owns most medical facilities, and healthcare costs are covered through taxes. New Zealand, Spain, and the U.K. all follow the Beveridge Model.
Countries with the best and worst public healthcare
Public healthcare systems differ worldwide, with some offering far more comprehensive benefits than others. Here's a list of the best healthcare across the world, according to Legatum Institute's 2023 report on healthcare.
Legatum's "Health Pillar" measures the "extent to which people are healthy and have access to necessary services to maintain good health, including health outcomes, health systems, illness and risk factors, and mortality rates."
10 Countries With the
Best Healthcare
10 Countries With the
Worst Healthcare
Singapore
Central African Republic
Japan
South Sudan
South Korea
Chad
Taiwan
Lesotho
China
Somalia
Israel
Sierra Leone
Norway
Swaziland
Iceland
Liberia
Sweden
Guinea
Switzerland
Angola
What is private health insurance?
Unlike public health insurance, individual policyholders typically pay out of pocket for private health insurance. Private for-profit providers manage private healthcare, and plans and prices vary widely depending on the provider's policies and policyholder's demographics.
It's common (but not required) for employers in many countries to offer private health insurance coverage to employees as a supplemental benefit. 
Key differences between public and private healthcare
Public and private healthcare differ in several ways, including cost, range of services, and wait times to see specialists.
Cost
Public healthcare plans are generally less expensive—and often free—to residents. Residents who want additional coverage must typically purchase private healthcare insurance on an open marketplace or through employer-offered benefits packages.
Services
While public healthcare is less costly to residents, people with public insurance tend to have fewer options for medical services. Private healthcare plans typically offer a wider range of included services, making it easier for policyholders to access the care they need.
Urgency
Public healthcare recipients must often wait for medical treatment because the system triages patients who require urgent attention.
For example, in the U.K., patients could wait up to 18 weeks for non-urgent, consultant-led treatments when using the country's public healthcare system. This long wait time could lead to worsened symptoms and a longer recovery. 
Private healthcare insurance policyholders generally have faster access to care and potentially fewer long-term repercussions, thanks to shorter wait times for services.
Example: Healthcare in Mexico
For instance, consider the healthcare in Mexico: Despite its commendable affordability and accessibility, the country's healthcare system is overburdened, faces a shortage of doctors and medicines, doesn't cover all preexisting conditions, and requires long wait times for treatment.
As a result, employers in Mexico typically offer additional health coverage to ensure their employees receive the care they need.
Offering supplemental healthcare to employees
If the public healthcare system in the country where your employee lives is substandard or lacks basic services, you should offer supplemental healthcare to fill the gaps and retain talent.
Offering supplemental healthcare to international employees ensures your talent's access to quality healthcare. It also leads to the following employer benefits:
Stand out from competitors
Offering supplemental health insurance gives international employees peace of mind that they can access quality healthcare. Providing healthcare insurance to your global workforce helps you stand out from competitors who may not offer the same comprehensive benefits to their employees.
Improve talent retention
Providing a comprehensive benefits package with comprehensive healthcare insurance is an effective way to retain talent. Supplemental competitive healthcare benefits enhance employees' satisfaction and sense of security, knowing they have access to extended healthcare services.
Get our guide to learn how to improve your global benefits strategy and provide the benefits that top talent wants: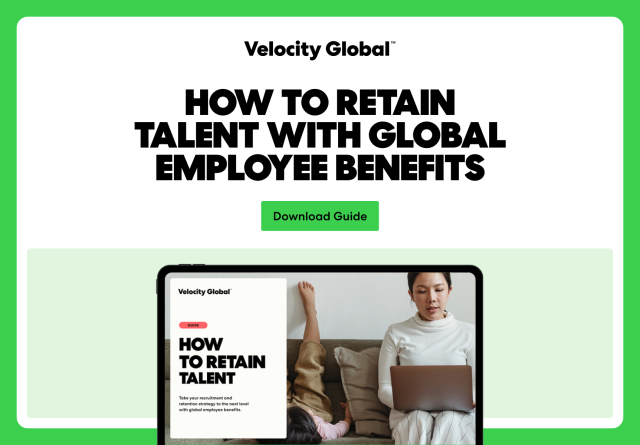 Support talent's well-being
Providing high-quality healthcare shows you care about your employees' well-being. Many supplemental healthcare packages include mental health benefits, like counseling or therapy, which is critical given the growing awareness of mental health's importance in the workplace.
Lower healthcare costs for talent
Supplemental healthcare benefits can help reduce the financial burden on employees. It often covers costs that basic health insurance might not, like co-pays, deductibles, or specific treatments. This reduction of out-of-pocket expenses eases financial stress, enabling employees to seek necessary medical care without worrying heavily about cost.
Enjoy potential tax incentives
In the U.S., when employers incur costs related to healthcare insurance for employees or dependents, those expenses are 100% tax-deductible. Your employees also have the opportunity to reap tax benefits if they're able to contribute to their plans using pre-tax money.
Healthcare-related tax incentives vary by country, including whether contributions to health plans are tax-deductible, types of healthcare costs covered, and criteria for eligibility. Be sure to consult a tax professional to understand the specific tax benefits available in each country.
The challenges of providing healthcare to global talent
Providing health insurance to a global workforce presents several challenges for domestic and international companies. Key issues revolve around the disparities in healthcare systems and the complexities of ensuring comprehensive coverage across various global markets.
Geographic variance. Managing health coverage for employees working from various states or countries demands in-depth research and investment in market-specific medical benefits, which is time-consuming and costly for busy HR departments.
Financial restraints. Offering diverse health plans across multiple markets can strain budgets, hindering the ability to cater to the needs of a geographically dispersed workforce.
Access limitations. Ensuring consistent access to quality healthcare is challenging in regions with disparities in medical infrastructure and healthcare standards. Providing employees with quality care no matter their location can be a difficult endeavor.
Given the complexities of providing quality health insurance to your global workforce, it makes sense to work with a partner that takes the guesswork out of the equation.
Simplify benefits administration to your distributed workforce
Whether you're considering global expansion or already have a distributed workforce, it's worth reviewing your employees' benefits packages. Robust and comprehensive healthcare insurance plans attract and retain talent—which is vital to ensuring international success.
Don't let the difficulties of benefits administration stand in the way of you and your global business goals. Partner with a global benefits expert like Velocity Global instead.
As an employer of record (EOR), Velocity Global assures your distributed team receives the highest quality of benefits. Our integrated Global Benefits solution removes the burden of benefits administration and compliance, allowing you to deliver consistent and comprehensive healthcare support to your distributed workforce, tailored to their needs and local markets.
We streamline HR complexities, simplifying the process of global employment, payroll, and benefits administration so you can hire, pay, and support talent in more than 185 countries.
Entice top-notch global candidates with impactful benefits they want most. Reach out to Velocity Global to get started.
Disclaimer: The intent of this document is solely to provide general and preliminary information for private use. Do not rely on it as an alternative to legal, financial, taxation, or accountancy advice from an appropriately qualified professional. © 2023 Velocity Global, LLC. All rights reserved.
Share via: