If your company is hiring foreign workers, you might consider setting up a formal establishment in another country. Still, while establishing a formal entity is one route to hiring international talent, it's not the only option.
This guide outlines how to grow your business in a foreign country without setting up a legal entity.
Can You Hire a Foreign Employee?
Yes, you can hire a foreign employee, but the process is not as straightforward as putting them on your payroll and cutting a check each month. While some companies opt to set up a legal entity in a different country to hire foreign employees, entity establishment is costly and time-consuming. Fortunately, there are other options to pursue employment without establishment.
How to Hire Foreign Workers Without an Entity
You don't have to establish a permanent foreign entity to hire foreign workers. Rather than setting up a legal entity, companies can engage contractors or partner with an employer of record (EOR) to hire employees and avoid the risk of noncompliance.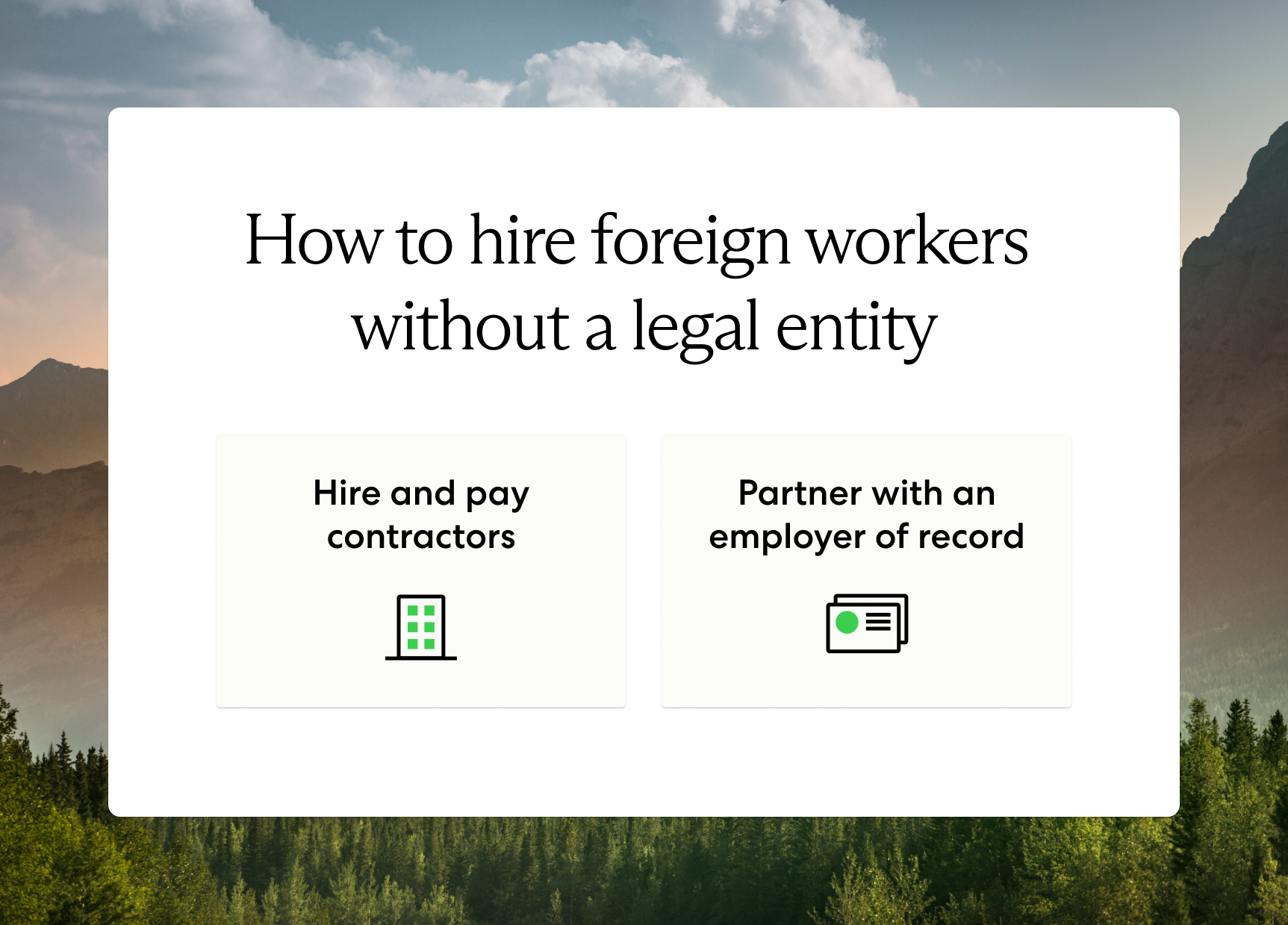 Hire and Pay Contractors
Companies often hire contractors to avoid the time-consuming and often costly process of onboarding new employees. There are several benefits to hiring contractors, including avoiding paying certain taxes.
However, some countries have strict rules around hiring contractors, which, when overlooked, can lead to hefty fines. Even companies that are savvy with foreign employment law risk facing contractor misclassification penalties.
It's important to seek legal guidance and take necessary precautions to ensure your business doesn't overlook foreign worker misclassification regulations.
Learn more: How to Avoid the Risks of Independent Contractor Misclassification
Partner With an Employer of Record
An employer of record (EOR) is a powerful solution for companies who want to ensure compliance when hiring foreign employees.
An EOR allows companies to hire foreign employees in a new country without the need for local entity establishment. Beyond managing compliance requirements, an EOR ensures locally compliant employment contracts, manages payroll and tax withholdings, and provides ongoing support for local labor laws and regulations.
An EOR is an efficient and compliant solution for businesses that plan to expand and hire foreign employees without establishing a permanent presence in a new country.
Learn more: What Is an Employer of Record?
How Does an Employer of Record Work?
An EOR legally employs your foreign talent, manages all payroll withholdings, pays supported employees on time, and ensures compliance with terminations and offboarding. Partnering with an EOR means companies don't have to worry about maintaining compliance and can focus on growing their business.
FAQs About Hiring Foreign Workers
Companies that choose to hire foreign workers take on an enormous responsibility to ensure compliance and avoid fines. Let's look at some common questions about global expansion and hiring foreign workers.
How Do I Pay an International Employee?
Paying international employees varies depending on how you employ the foreign worker.
If you employ the worker as an employee through a legal entity, it's important to work with a payroll partner that is well-versed in running payroll in that country, such as a multi-country payroll partner. Multi-country payroll allows businesses with international entities to quickly and compliantly pay employees across multiple countries.
If you choose to hire employees through an employer of record, the EOR pays your supported employees on your behalf. An EOR's global payroll function includes accurate tax withholdings and timely payments.
Can U.S. Companies Hire Foreign Workers?
Yes, U.S. companies can hire foreign workers, but they must follow the foreign country's local labor laws. Employment laws vary widely in different countries, which is why many companies opt to partner with an EOR to ensure compliance for all new foreign hires.
Read more about how U.S. companies hire and pay talent internationally.
Do Foreign Workers Need Visas or Work Permits?
It depends. If the foreign worker is a citizen or is allowed to work in that country, then the individual does not need a visa or work permit. However, if the worker is not legally allowed to work in that country, then the individual will require the correct visa or permit.
Businesses that expand into new countries should seek relocation or immigration services if their workers are not legally allowed to work in that country.
Save Time and Costs While Hiring Foreign Workers
Building a distributed workforce is exciting for any business, but that progress can be easily slowed down by red tape and compliance issues. Hiring foreign workers by setting up an entity proves to be complex, time-consuming, and costly. Companies can forgo these challenges by working with an experienced partner like Velocity Global.
Our global Employer of Record (EOR) solution allows companies to fast-track hiring and operations on the ground in their new location without the need for entity establishment. As your EOR partner, we handle onboarding, payroll, benefits administration, immigration services, and compliance on your behalf so you can focus on your global business goals.
Contact us today to hire foreign talent without setting up a legal entity.
Share via: