In the past few years, Saudi Arabia made sweeping labor reforms aiming to further empower both employers and employees. While these reforms made strides in making Saudi Arabia an attractive place to work for both Saudi nationals and expats alike, they can be confusing for foreign businesses operating in the country or digital nomads looking to work there.
This is a guide to labor reforms and termination procedures in Saudi Arabia labor law.
Saudi Arabia's labor reforms focused on employee mobility. Resolution No. 51848/1442, which went into effect in March 2021, made it easier for employees to leave their jobs.
Under Resolution No. 51848/1442, employees can now:
Leave jobs without their employer's consent when the contract ends
Leave their jobs before the contract expires if they give their employer 90 days' notice
Access an electronic portal to see job offers and input transfer requests
The new labor reforms also impact migrant workers. Previously, foreign employees living and working in Saudi Arabia on an Iqama visa and work permit couldn't exit the country without permission from their employer. Now, they can access the Saudi government's online portal and make their exit/re-entry request there. Employees also no longer need permission to exit the country permanently and emigrate back to their home country.
Learn more information on Saudi Arabia labor law.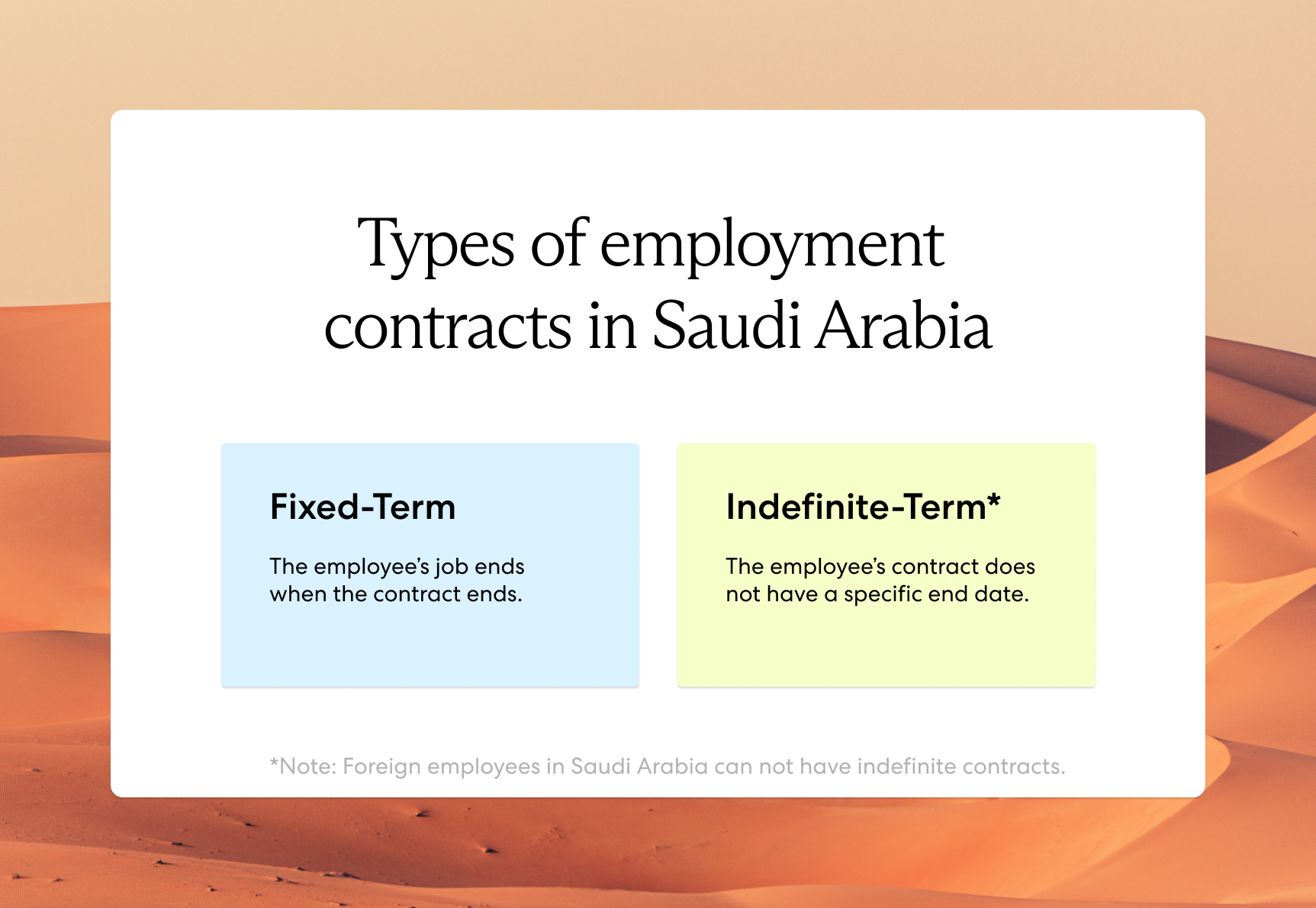 Employees in Saudi Arabia can have either fixed-term or indefinite contracts. Fixed-term contracts end at a specific date (unless renewed), and indefinite contracts don't. Indefinite contracts are not offered to expatriate employees.
At the end of a fixed-term contract, employees can do two things:
Choose not to renew their contract
Convert their contract to indefinite (if applicable)
If the employer chooses not to renew the employee's contract, they must give appropriate notice. Employers can also terminate fixed-term employees during the contract if the employee commits gross misconduct.
Employers can dismiss employees with indefinite contracts if they provide a written reason that is valid under Saudi labor law. The employer must notify the employee 60 days in advance if they're paid monthly and 30 days in advance otherwise.
If the employer wants to terminate the employee immediately, they need to pay them the wages they would have received during the proper notice period.
What Are the Penalties for Not Following Termination Procedure?
If you violate the termination procedure, a labor court will most likely determine that you wrongfully terminated the employee. In that case, they will usually require you to compensate the employee.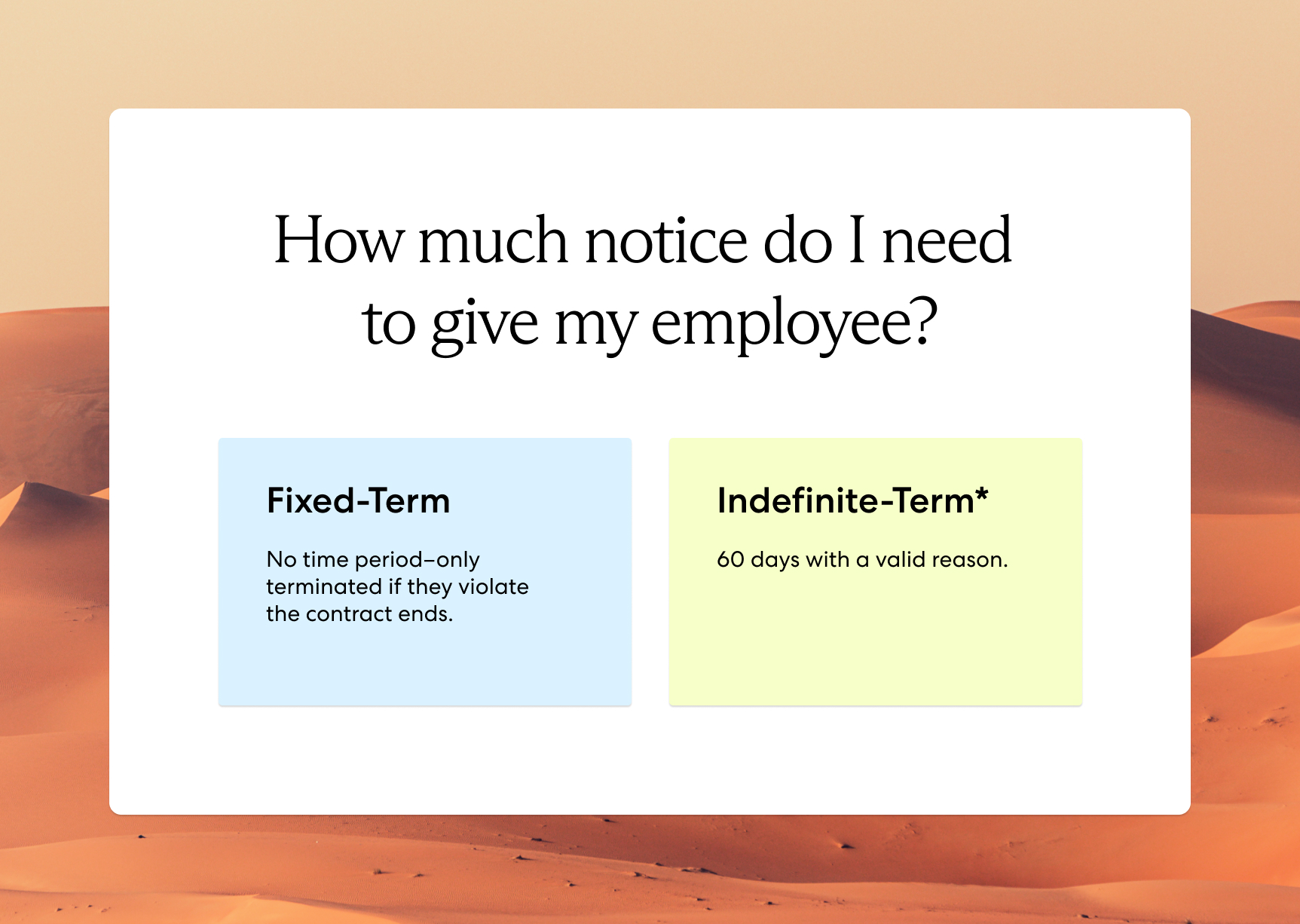 There isn't a specific amount of notice required to terminate fixed-term contracts. The assumption is that employers won't renew a fixed-term employee's contract after its end date as a form of termination. Employers can terminate fixed-term employees if they violate the contract or commit gross misconduct.
For indefinite-term contracts, employers must have a valid reason for terminating the contract and give the employee 60 days' notice. Valid reasons include issues like poor performance or misconduct.
Saudi Arabian employees receive End-of-Service awards following this formula: 15 days of pay for each year of the first five years of employment, then a full month of pay for each year after that. The employee's last noted wage is the basis for these wages.
Like any country, Saudi Arabia labor law has specific rules and regulations for everything from hiring to paying wages and termination. So if you're an employer looking to expand or comply with Saudi Arabia labor law, a global employer of record (EoR) like Velocity Global can help pay your workforce, provide benefits, and help navigate labor laws.
Contact us to see how we can help expand your business into the Middle East.
Share via: