India holds one-sixth of the world's population, many of whom speak English and are highly skilled in tech, IT, and other critical sectors. Naturally, global companies are seeking talent in India to work as remote contractors.
However, this poses an important question: How do you securely pay an independent contractor in India?
Although there are several payment methods available, companies must also consider other factors before engaging contractors, including taxation, IP protection, and compliance risks.
In this article, we outline everything you need to know to hire independent contractors in India and the best ways to pay them.
Yes, regardless of your location, you can hire an independent contractor in India. However, you'll need to correctly classify the contractor, prepare compliant contracts, and establish a payment structure and timeline. Many employers also set up intellectual property (IP) protection to distinguish and secure their business.
Once you've completed these steps, you'll be ready to hire and pay independent contractors in India. This process differs from hiring employees in India, which requires you to set up a local entity in India or partner with an employer of record (EoR).
The Contract Labor Act, 1970 regulates contractor classification in India. The factors that determine classification are diverse and many. These include:
Who pays the salary
Timeframe of alternative services
Tax treatment
Extent of the control and supervision of work
Specific conditions, such as who provides equipment for work completion and how the worker uses the equipment, also determine classification.
While you've designated your contingent workforce in India as contractors, local regulators may see them as employees under local Indian law. Misclassification can lead to fines, employee entitlement back pay, and other headaches.
Due to the nuances of Indian employment law, many companies rely on an experienced partner with local expertise to handle and ensure compliance.
Before you start paying international contractors in any country, you need to understand the legal requirements and risks, prepare independent contractor agreements, and establish payment structures and timelines.
Let's look at each of these in detail.
Understand the Legal Requirements and Risks
The legal requirements and risks of hiring independent contractors in India entail three key areas:
Permanent establishment. If you regularly do business in India, your work practices and conditions can trigger permanent establishment. If tax authorities in India regard your business as a permanent establishment, corporate taxes and penalties will apply.
Misclassification. There is a fine line between employee and contractor classification in India. As mentioned above, contractor misclassification in India can lead to a range of serious consequences.
IP protection. While you can easily navigate patent, copyright, and trademark regulations at home, obtaining rights overseas can be difficult. Failing to protect your intellectual property (IP) may hurt your revenue and marketing capabilities.
By clarifying your permanent establishment status, using fully compliant contracts, and protecting your intellectual property, you avoid trouble with local regulators and leave time to focus on scaling your business.
Prepare an Independent Contractor Agreement
Preparing independent contractor agreements in India requires a thorough understanding of Indian labor laws. The terms of the agreement also depend on your business's preferences and the contractor's needs. Things to consider include:
Description of the services provided
Terms and length of the project
Confidentiality
Intellectual property protection
Non-solicitation
Dispute resolution clauses
Payment details
Termination
And more.
To reduce the stress of navigating compliance requirements, some companies choose to use a contractor management solution that handles contractor agreements so they can focus on bringing in the right talent without additional burdens.
Establish a Payment Structure and Timeline
Employers can pay contractors in India by the hour, per project, once the project is complete, or a portion of their wages upfront. Payment structure and timeline may differ based on what works best for your business and contractor.
Once you've reviewed the legal requirements of hiring contractors in India, prepared compliant contract agreements, and set up a payment structure and timeline, the next step is choosing a payment method.
The most common ways to pay independent contractors in India are via bank transfer, an online money transfer company, money order, or contractor payment platform. Below are the pros and cons of each.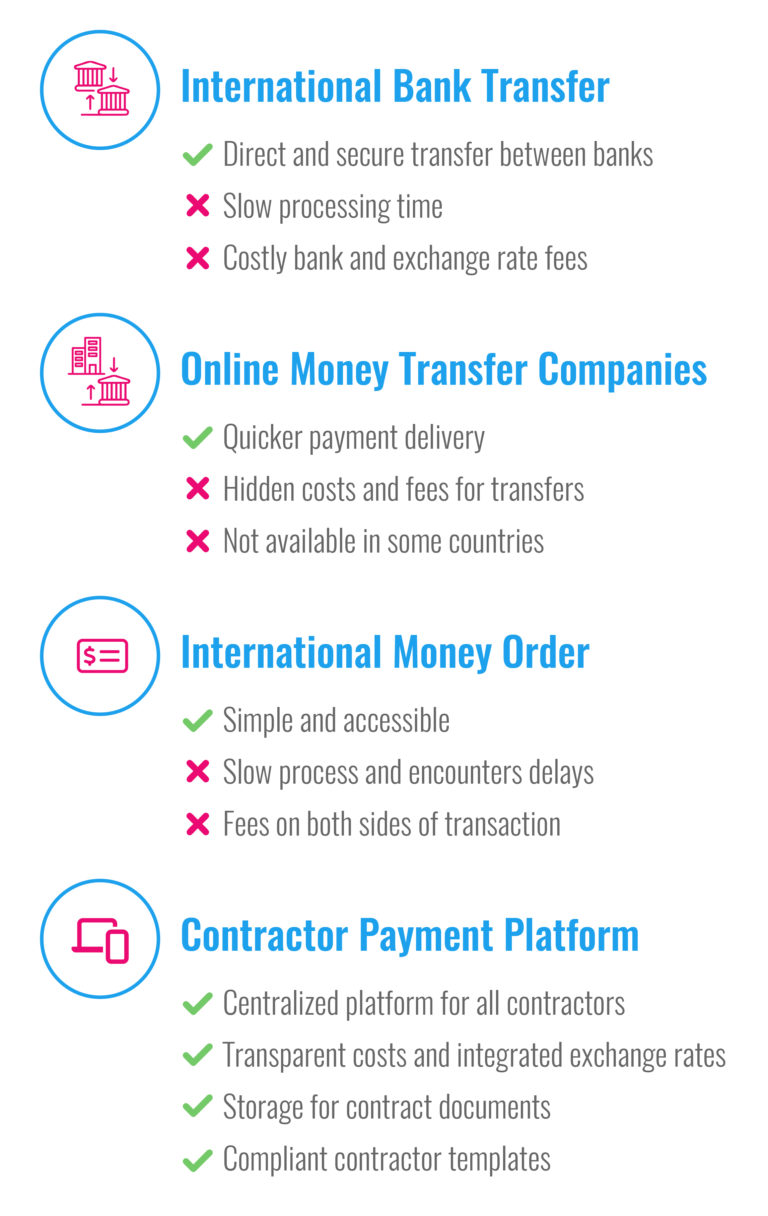 International Bank Transfer
An international bank transfer, or wire transfer, is a traditional method for sending money directly between two bank accounts worldwide. Funds are transferred via the Society for Worldwide Interbank Financial Telecommunication (SWIFT) network and are 100% secure.
However, transfers are relatively slow (about five days) and tack on fees for both the sender and receiver.
Online Money Transfer Companies
Online money transfer companies allow you to quickly send funds between user accounts internationally. They generally offer lower fees and reasonable conversion rates. Some, like Wise, offer physical account details in multiple countries, which helps you avoid international wire fees.
Upon receiving funds, a contractor can use a bank card connected to the account or transfer the balance to their local bank account.
However, transfer times can vary based on several factors, and these services aren't available worldwide.
If you choose an online money transfer company, check that it's available for your contractor in India and double-check the fine print for fees.
International Money Order or Cashier's Check
Both money orders and cashier's checks are secure ways to send money abroad. While there are fees associated with both methods, they're much smaller than wire transfer commissions.
Employers can purchase a money order from a bank, post office, or grocery store. It's difficult for anyone but the payee to cash it, and a lost money order can be quickly refunded at the place of purchase.
Cashier's checks can only be purchased from a bank, are usually purchasable for larger sums of money, and are slightly more secure than money orders. However, replacing a lost cashier's check can take up to 90 days.
With either method, simply purchase the amount you need to send in Rupees and mail it to your contractor in India. Still, both methods are time-consuming, and fees can vary depending on where you purchase them.
Contractor Payment Platform
A contractor payment solution is a cloud-based, centralized payment platform for approving invoices and securely paying independent contractors worldwide.
For example, a U.K.-based company looking to hire four developers in India can quickly onboard them with a contractor payment platform. The contractors submit invoices for approval via the online interface, and the business approves and pays the invoice in a few clicks. Plus, currency conversions are automatically applied.
Some contractor payment platforms even include features like locally compliant contract templates and secure document storage.
Paying contractors in India can be overwhelming. Beyond choosing a payment method, employers must also establish compliant contracts, confirm their tax liability, and abide by local labor laws. However, working with a trusted partner that has local expertise in the Indian market makes a world of difference.
Velocity Global offers an easy-to-use Contractor Payments solution that simplifies the process of onboarding and paying independent contractors in India. It eliminates the need for spreadsheets and email attachments and ensures your contingent workforce is always paid on time.
Get in touch with Velocity Global today to learn more about how to accurately and compliantly pay contractors in India.
Share via: