21st Ranked
Ease of Doing Business
HOW EOR CAN HELP
Benefits of hiring in Thailand
With Velocity Global's unique expertise and ongoing support, we make it easy for you to compliantly hire distributed talent in Thailand and beyond.
As the second-largest economy in Southeast Asia after Indonesia, Thailand is conveniently located as a hub for the continental ASEAN market (Association of Southeast Asian Nations). As a regional leader in the automotive, electronics, and tourism industries, the Thai market creates a tremendous opportunity for foreign businesses.
Thailand is richly endowed with agricultural resources. Agriculture represents six percent of Thailand's GDP but the sector employs roughly one-third of its labor force. Thailand is the world's largest exporter of tapioca products, rubber, frozen shrimp, canned tuna, and canned pineapple.
The Thai government is innovative in its approach to promote socioeconomic advancement. Over the past two decades, the Thai government has worked towards making the country's economy more favorable for foreign businesses.
Thailand has a highly educated and cost-effective workforce. Accordinging to the country's Board of Investment, more than 90% of Thai residents are literate. Thailand's workforce is less expensive compared to their Western counterparts due to its lower average daily pay rate.
Thailand's water, sewage, and energy infrastructure are underdeveloped and it slows urbanization. Small cities and rural areas suffer because of their inability to attract investors due to inadequate infrastructure.
There are high risks of corruption in Thailand. Businesses are likely to face bribery and other major obstacles in corrupt practices.
Thailand is one of the world's fastest-aging countries. The population aged 60 and over is projected to increase from 13% to 33% in 30 years alone.
Business meetings in Thailand are quite formal, as they are often preceded by a written invitation and followed by a phone call. Punctuality and formal attire is expected at all business meetings.
Giving and receiving business cards with both hands, while considering the details of the card before politely storing it away, is deemed respectful.
It can be perceived as impolite to begin business meetings without first engaging in small talk.
Small token gifts are often exchanged between colleagues during meetings as an appreciative gesture.
Sanuk is a guiding Thai principle in business, referring to the attitude of striving to enjoy and be satisfied in whatever we do. The sanuk mindset can blur the distinction between work and life.
Be wary of filling in periods of silence since it's common for some time to pass before giving a response.
The concept of 'face' plays an important role in Thai business. Thai colleagues maintain respectful reputations of themselves and their businesses. Avoid direct refusals and try using sensitive language for difficult conversations.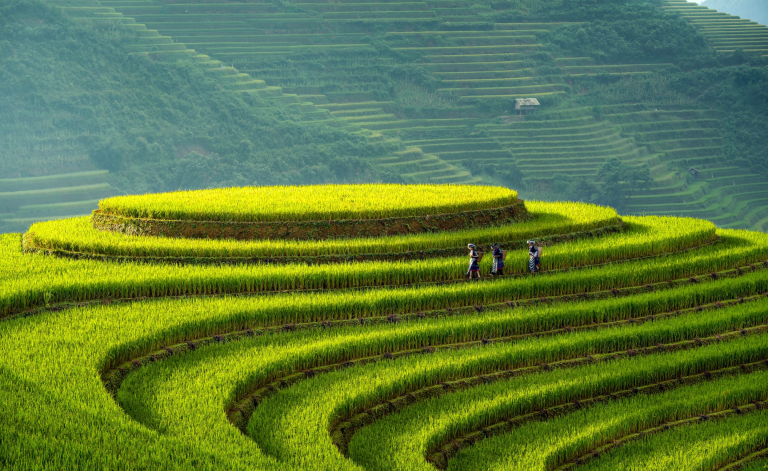 PAYROLL
Wages & Salaries in Thailand
March 31
Tax Due Date
In Thailand, the tax year is the calendar year. Tax returns need to be filed by March 31 for hardcopy filing and by April 8 for electronic filing.
Monthly
Payroll cycle in Thailand
The payroll cycle in Thailand is generally monthly and paid on the last working day, as agreed within the employment contract.
48HRS
Average working hours in Thailand
Thailand's labor code designates maximum working hours at eight hours daily and 48 hours weekly.
Employee Cost Calculator
Accurately budget payroll costs for your global team.
Get reliable insights into employee costs and contributions in Thailand so you can confidently expand your global workforce.
Request a Quote for Your Global Team
Please fill out your contact information and hiring details, and an expert from our team will be in touch with you shortly.
TAXES
Taxes and Social Security in Thailand
Thailand taxes its residents and non-residents on their income derived from business carried in Thailand, regardless of whether the resident received income in or outside of the country.
Thai residents who derive income from outside of Thailand are taxable on that income if it's remitted into the country during the year it was received.
Employees in Thailand are subject to eligibility requirements for the state's old-age retirement pension, as follows:
At least 55 years of age and at least 180 months of contributions to the Social Security Office.
The old-age retirement pension is equal to 20% of the employee's average monthly wages in the last 60 months before retirement, plus 1.5% for each 12-month period of contributions exceeding 180 months.
The minimum monthly wages used to calculate benefits are THB 1,650, and the maximum is THB 15,000.
As of 2022, the Thai income tax brackets are:
Up to THB 150,000: 0%
THB 150,001 to THB 300,000: 5%
THB 300,001 to THB 500,000: 10%
THB 500,001 to THB 750,000: 15%
THB 750,001 to THB 1,000,000: 20%
THB 1,000,001 to THB 2,000,000: 25%
THB 2,000,001 to THB 5,000,000: 30%
Above THB 5,000,000: 35%
The corporate income tax rate in Thailand is 20%.
LEAVE
Leave Entitlements in Thailand
Annual leave

Thai labor law guarantees employees annual paid leave of six days, if they have worked at least one year.

Sick

The Thai labor code designates up to 30 days for sick leave in a year, based on a medical report confirmation.

National and regional holidays

Thailand has 14 public holidays in a calendar year, which are not included in the minimum paid leave entitlement. Employees take public holidays in addition to annual leave. The following are national holidays recognized by Thailand:

New Year's Day (January 1)
Makha Bucha (February or March, the specific day fluctuates each year)
Chakri Day (April, the specific day fluctuates each year)
Songkran (April 13-15)
Labor Day (May 1)
Coronation Day (May, the specific day fluctuates each year)
Visakha Bucha (May or June, the specific day fluctuates each year)
Asalha Bucha (July or August, the specific day fluctuates each year)
Buddhist Lent (July, the specific day fluctuates each year)
Queen's Birthday (August 12)
Chulalongkorn's Memorial Day (October 23)
King's Birthday (December 5)
Constitution Day (December 10)
New Year's Eve (December 31)
TERMINATION
Termination and notice periods in Thailand
Both employers and employees can terminate an employment relationship by giving advance notice to the other. Generally, a one-month notice period is required unless stated otherwise in the employment contract.
Employers may terminate the employment relationship without advance notice by paying in lieu.
Employers do not need to give advance notice of termination or pay in lieu if the employee exhibits serious misconduct.
Severance pay is required when an employer terminates an employment contract. However, severance pay is not required if an employee is terminated due to serious misconduct.
The amount of severance pay is based upon an employee's length of service, as follows:
At least 30 days of wages for at least 120 days but less than one year of service
At least 90 days of wages for at least one year but less than three years of service
At least 180 days of wages for at least three years but less than six years of service
At least 240 days of wages for at least six years but less than 10 years of service
At least 300 days of wages for at least 10 years but less than 20 years of service
At least 400 days of wages for more than 20 years of service
Benefits
Benefits in Thailand
The Ministry of Labor provides overall administration of labor relations, workforce needs, and the promotion of employment in Thailand.
The Ministry of Public Health regulates the country's multi-sectoral public healthcare system.
Thailand's government benefits programs are administered by the Social Security Office (SSO). The SSO was founded in 1990 and is a department under the overall direction of the Ministry of Labor. The SSO collects contributions from employers and employees to maintain the Thai Social Security regime, which maintains old-age retirement pensions, pensions due to death, illness and injury benefits, disability benefits, and parental leave.
Countries
More Countries We Serve
Click on the countries and links below to learn more about a new market.